MARCH 16, 2021
We've made up for lost time says Bottas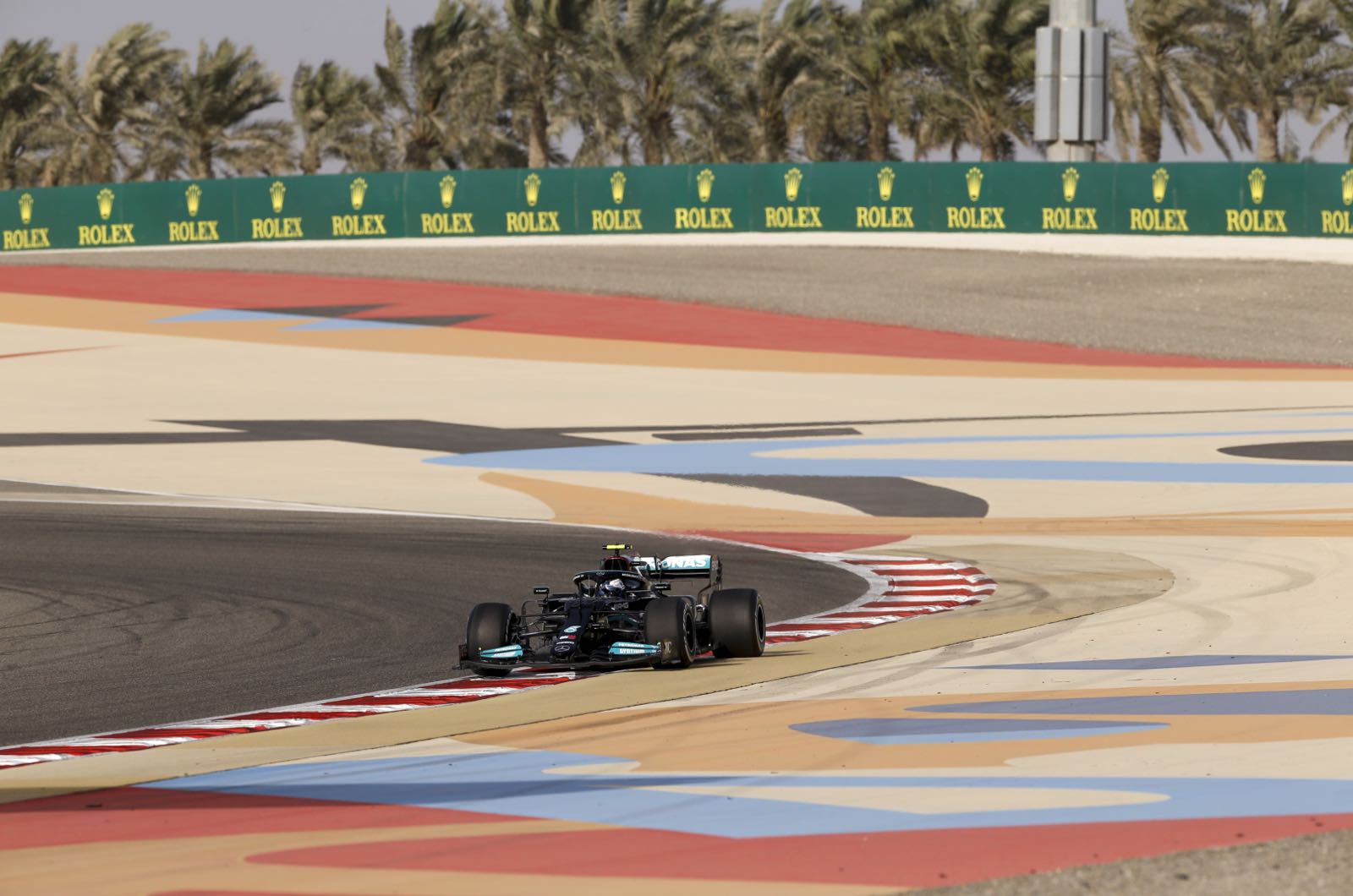 © Mercedes-Benz Grand Prix Ltd.
Mercedes endured its toughest pre-season since the introduction of the Hybrid Power engines seven years ago and left Bahrain as the team with the least laps completed over the course of the three days of running – only 304 laps between Hamilton (154) and Bottas (150) – while AlphaTauri, Alfa Romeo and Ferrari all completed over 400 laps in the same period of time.
Reliability was an issue, with gearbox problems costing Bottas his entire Friday afternoon session, but the main problem was the balance of the new W12, with a lot of understeer into the slower corners then becoming snap oversteer as soon as the drivers put the power down. Hamilton, who hardly ever makes a mistake, put his car on the gravel trap out of Turn 13 on Saturday and had another five (!) offs, with Bottas twice visiting the run-off areas as well.
By the end of Sunday, the team had tamed the unstable rear end of the W12 enough for the drivers to be able to push harder, but the lap times simply weren't there and Toto Wolff admitted, "there's a few teams that beat us on pace, no doubt about it, with Red Bull way ahead of the competition, so we'll have our work cut out for us if we want to be competitive right from the start of the season."
Valtteri Bottas, though, seemed less concerned than his boss, even joking to Sky TV that, "you know we're just sandbagging, right?" before admitting, "the rear of the car was quite nervous, to start with, so we've been calming it down steadily, but we're nowhere near where we want to be and there's a lot of work to be done before the start of Free Practice for the Bahrain Grand Prix."
Taking a positive approach to the issue, the Finn insisted that, "it feels like we've made some steps forward. Obviously, there's always more to find and more to gain but I think we, from my feeling, we went into the right direction, and it felt better. Still not 100% happy with the car as you would never be this at this early stage of a season. We keep working, we keep trying to get the balance better and get the car behave nicer and hopefully that way, be faster. It's just completely unknown, where we are at the moment, you know, with three days of testing with the first day being compromised it's so hard to say, but we really focus on our work, and try to be faster and faster."
For Bottas, it was really important that, "we made a decent recovery. I can't say that we fully achieved the mileage, we wanted to get into three days, but actually not that far off. On Saturday I felt like we made 95% most out of it, and on Sunday I would say 100%,, because we had a really solid day with a good amount of laps and quality laps and quality tests. So, considering what happened, day one, day two, day three went I'm pleased for that. But now it's time to turn that data into performance somehow, in, the next two weeks before the race."
He then concluded saying, "I've got full confidence the team will leave no stone unturned in the next ten days and when we'll start practicing for the Bahrain race we'll have almost all our issues solved. This team is like no other, no detail is left unchecked, so I'm confident in the team and in the car. It will be tight, for sure, Red Bull looks very strong, but we'll be up there, in the mix."
Other stories for MARCH 16, 2021