JULY 26, 2019
The equalizer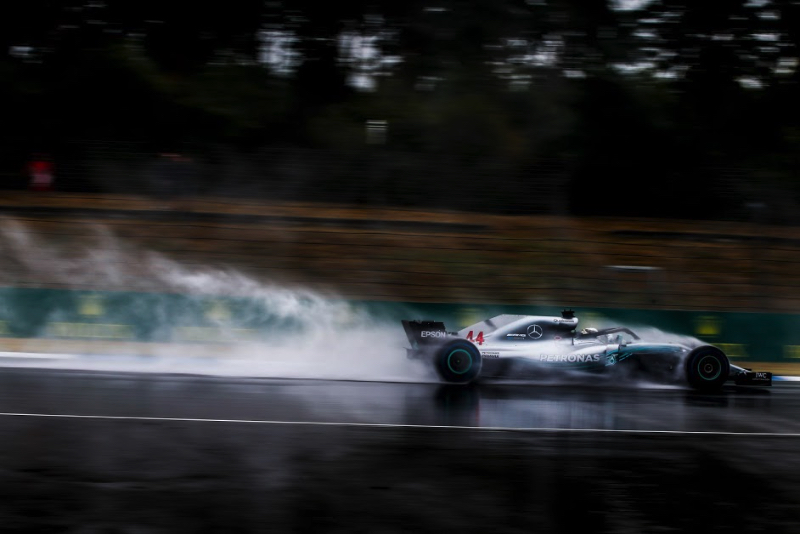 © RV Press
By Dan Knutson in Hockenheim
Rain is an equalizer. In slippery and tricky wet conditions a driver with more talent and an inferior car can challenge drivers in superior machinery.
So in one way it comes as a surprise Lewis Hamilton and Valtteri Bottas are happy that rain is forecast for qualifying and the race on the German Grand Prix weekend even though they have the dominant Mercedes cars.
The reason, of course, is that the Mercedes suffered a huge performance drop off in the heat of the Austrian Grand Prix and lost the race to Max Verstappen and Red Bull Honda.
Germany, like much of Europe, is sweltering in a heatwave. The ambient temperature at the start of Friday's Free Practice 2 in Germany was 97 degrees Fahrenheit (36 degrees Centigrade) and the track temperature was 122 degrees Fahrenheit (50 degrees Centigrade).
Mercedes has made changes to its cars since Austria, and they can now cope better with the heat. Hamilton was a close third in FP2 behind Leclerc and Vettel.
But Mercedes still had not fixed all its heat woes. So Hamilton welcomed the forecast of cooler temperatures and rain for Saturday and Sunday.
"It is definitely a good thing if it rains," Hamilton said. "There is not much we can do (to the car); it is a much bigger design issue when it gets hot which is not so easy to change. We are working towards it but it is very small steps and small increments which are not making a massive difference.
"But hopefully this weekend it will be okay in that sense. But if it stays this hot, we are going to struggle and be in trouble. If the next race (in Hungary) is this hot, we are going to be in trouble and on the edge as we were in Austria. But fingers crossed the weather comes in."
Hamilton and Bottas are not the only ones who want rain and a drop in the temperature.
"We haven't had any proper wet running this year so would be nice to try at some point," Verstappen said. "So I wouldn't mind if it happens here. We definitely wish it's going to be less warm than Friday. I'm sure with these kinds of extreme temperatures that we would not be the only team struggling. But, also, with new parts, in terms of cooling it should make our life easier."
Rain and a more bearable ambient temperature will certainly make life easier for the Mercedes team as well.
Other stories for JULY 26, 2019