German GP 2019
JULY 26, 2019
Practice 2 Report - The wobble effect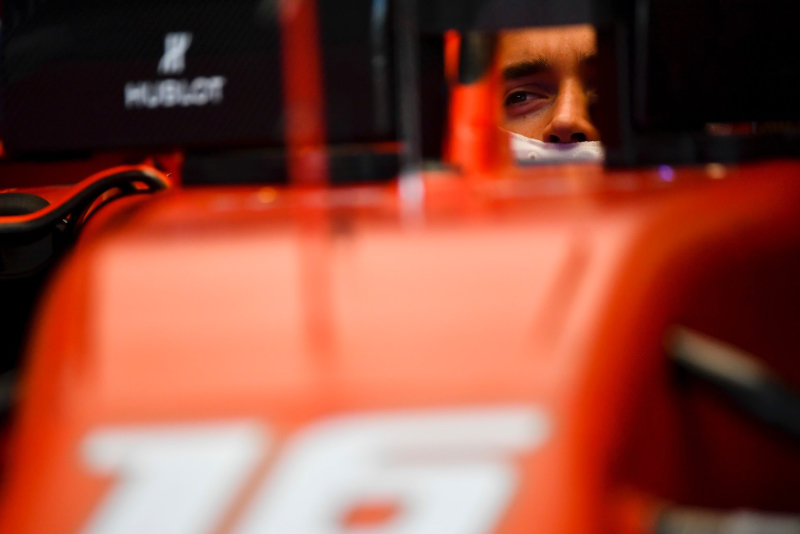 © RV Press
By Dan Knutson in Hockenheim
Ferrari drivers Charles Leclerc and Sebastian Vettel clocked the quickest lap times in Free Practice 2 for the German Grand Prix. They had done the same in FP1, albeit with the order flipped and Vettel in first. Mercedes was not out of the hunt, however, as Lewis Hamilton posted the third best time – 0.146 of a second slower than Leclerc. Had he not had a wobbling moment in the last corner of his fastest lap, Hamilton may have split the Ferraris or even beaten both of them.
The line-up for the weekend was: Mercedes – Hamilton and Valtteri Bottas; Ferrari – Vettel and Leclerc; Red Bull TAG Heuer –Max Verstappen and Pierre Gasly; Renault – Daniel Ricciardo and Nico Hulkenberg; Haas Ferrari – Romain Grosjean and Kevin Magnussen; McLaren Renault – Carlos Sainz and Lando Norris; Racing Point Mercedes – Sergio Perez and Lance Stroll; Alfa Romeo Ferrari – Kimi Raikkonen and Antonio Giovinazzi; Toro Rosso Honda – Daniil Kvyat and Alexander Albon; Williams Mercedes – George Russell and Robert Kubica.
The Ferrari topped FP1, with Vettel out front with his lap in 1:14.013.
Norris and the Haas drivers Grosjean and Magnussen were the first out on the hot track in FP2.
The ambient temperature at the start of the 90-minute session was 97 degrees Fahrenheit (36 degrees Centigrade) and the track temperature was 122 degrees Fahrenheit (50 degrees Centigrade).
That trio continued to circulate and put up some lap times with Grosjean fastest with his 1:15.673.
As usual, the top runners cooled their jets in the pits and did not even go out for an install lap early on.
As more drivers began to circulate, it was Leclerc who took the lead by clocking a 1:14.569. Vettel was next in line, 0.235 of a second slower than his teammate.
Hamilton did not go out in the first 15 minutes. His first flying lap, on the medium compound Pirelli slicks, was a 1:14.456 which put him out front. And now Bottas joined the action. His first: 1:14.497, which put him third ahead of Vettel, Gasly and Raikkonen.
Hamilton's second run on the mediums produced a 1:14.074. Bottas, on the hards now, was second.
Just under an hour remained when Grosjean tried the soft compound Pirelli slicks. A 1:14.179 put him second.
Sainz was next on the red sidewall softs. Seventh was the best he could do.
Now it was Vettel's turn for a qualifying sim. His 1:13.573 put him first.
Just before the midpoint of FP2 Leclerc replaced Vettel by posting a 1:13.449. And now Hamilton was on the softs. But he ran wide and this was only third – 0.146 seconds slower than Leclerc.
Bottas was fourth ahead of Grosjean, Stroll, Raikkonen, Hulkenberg and Perez.
Verstappen, tenth, had to abort his run due to a mechanical problem. It was a quick fix, however, and he jumped up to 10th.
The latter third of FP2 was used for race simulations.
Coming out of the final turn, Gasly crashed into the barriers on the pit straight with 16 minutes left in the session. That brought out the red flags and the medical car. He radioed that he was ok. The car certainly was not.
Nine minutes remained when FP2 was restarted. Everybody but Gasly and Hulkenberg, whose car had broken down, headed out for some final hot laps.
The top 10 at the end of the session were: Leclerc, Vettel, Hamilton, Bottas, Verstappen, Grosjean, Stroll, Raikkonen, Hulkenberg and Perez.