German GP 2019
JULY 26, 2019
Practice 1 Report - Heat Seekers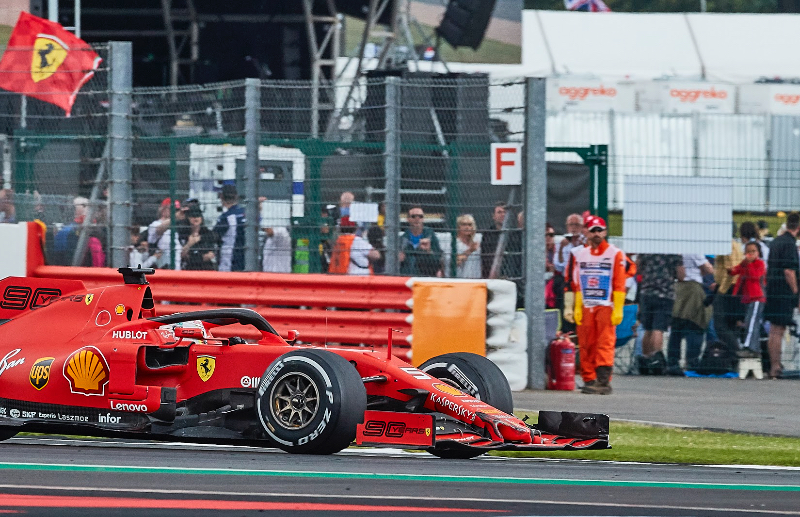 © RV Press
By Dan Knutson in Hockenheim
Ferrari drivers Sebastian Vettel and Charles Leclerc topped the lap times in Free Practice 1, run in hot conditions, for the German Grand Prix. Vettel had been asked the day before about competing in his home race, and what he expected from Ferrari's pace.
"It's always special to have the opportunity to race in your home country," he said. "We've seen some recent races that we've been very strong in terms of qualifying – but also race pace. So we're fairly open minded. We start the weekend, see where it goes; obviously it's going to be very hot initially and then probably cool off a little bit."
He was referring to the weather, which was forecast to be hot on Friday and cooler with rain the next two days.
The line-up for the weekend was: Mercedes – Lewis Hamilton and Valtteri Bottas; Ferrari – Vettel and Leclerc; Red Bull TAG Heuer –Max Verstappen and Pierre Gasly; Renault – Daniel Ricciardo and Nico Hulkenberg; Haas Ferrari – Romain Grosjean and Kevin Magnussen; McLaren Renault – Carlos Sainz and Lando Norris; Racing Point Mercedes – Sergio Perez and Lance Stroll; Alfa Romeo Ferrari – Kimi Raikkonen and Antonio Giovinazzi; Toro Rosso Honda – Daniil Kvyat and Alexander Albon; Williams Mercedes – George Russell and Robert Kubica.
"Hockenheim is a fun place to go racing," Stroll said of the 17-turn 2.842-mile (4.574 km) Hockenheimring. "I've been there many times in my junior career – especially when I was racing in Formula 3 – so I know the track really well. I just like the flow of the lap and it's a layout that creates close, side-by-side racing. These traditional European circuits are some of my favorites. It's a bit like Silverstone with big grandstands full of fans – it sometimes feels like a football stadium when you're in the final few corners of the lap. I really enjoy the atmosphere it creates."
Verstappen, with two large aero rakes adorning his Red Bull, was the first out in FP1.
The ambient temperature at the start of the 90-minute session was 90 degrees Fahrenheit (32 degrees Centigrade) and the track temperature was 104 degrees Fahrenheit (40 degrees Centigrade).
Everybody did an install lap except Hamilton and Bottas who were still in the pits 15 minutes into the session. The other drivers were also back in the pits after turning a lap or two.
Up until 18 minutes, only Sainz and Gasly had done a flying lap. And then the red flags came out as Magnussen parked on the track at Turn 13 and radioed that he had no power.
Eight minutes later, after the Haas was towed to the pits, the session restarted. As so often happens in cases like this, while the teams seemed to have no urgency to go out earlier in FP1, suddenly there was a rush to get out there. Even Bottas and Hamilton finally got into the act.
Verstappen posted a lap of 1:16.100. Bottas beat that with a 1:14.828.
Bottas was using Pirelli's soft compound slicks, and he got down to 1:14.805. Next came Hamilton, Verstappen, Leclerc and Vettel at the 35-minute mark of the session. But two minutes later Leclerc moved into the number two spot.
Next came the usual stop at 40 minutes when the drivers had to give a set of tires back to Pirelli. But it was extended by eight minutes due to the red flag delay. The top 10 were: Bottas, Hamilton, Leclerc, Verstappen, Vettel, Perez, Kvyat, Hulkenberg, Stroll and Ricciardo.
Russell was the only early taker as FP1 resumed.
Thirty-five minutes remained when Bottas got back out there. Others joined him on track.
Hulkenberg, in car #27, moved up to second place with 27 minutes left in the session.
Other drivers were now doing their quick runs on the soft compound. Hamilton got down to a 1:14.315 and led the pack ahead of Bottas, Sainz and Grosjean. But not for long, as Leclerc posted a 1:14.268 on the soft tires.
So now the order was: Leclerc, Hamilton, Verstappen, Bottas, Gasly, Sainz, Grosjean, Stroll, Vettel and Ricciardo with 20 minutes to go.
Moments later Vettel jumped up to first with a time of 1:14.013.
The drivers switched to race runs as the session wound down, so the top 10 remained the same with the hot Vettel in the number one spot.
With just under two minutes to go, Bottas went into the gravel trap between Turns 13 and 14, but he managed to extricate the Mercedes and get going again.