NOVEMBER 1, 2019
And now for something completely different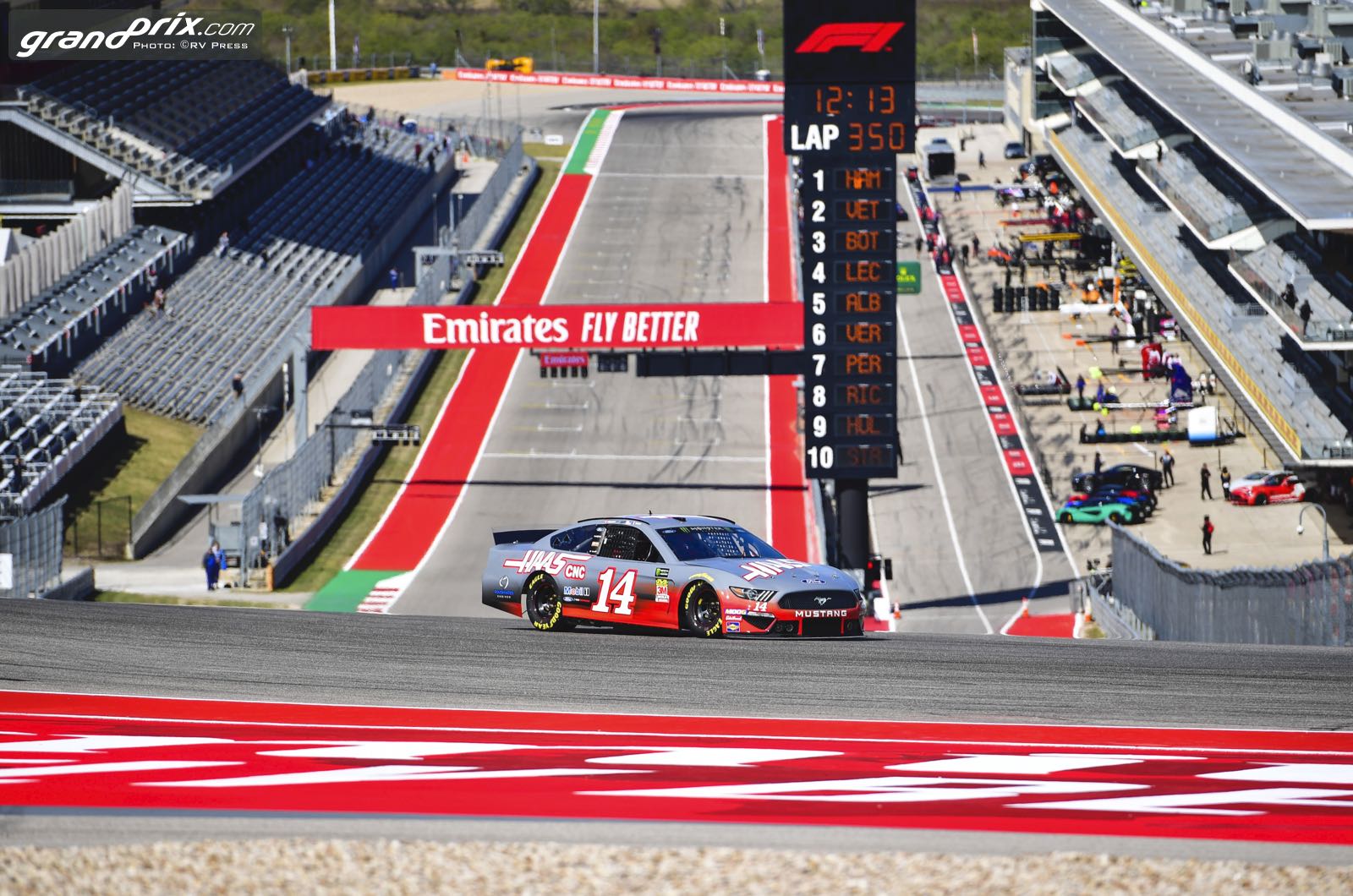 © RV Press
By Dan Knutson in Austin
Formula 1 and NASCAR are two of the most popular forms of motor racing in the world…and they could not be more different.
Haas F1 drivers Romain Grosjean and Kevin Magnussen found that out when they drove a NASCAR stock car around the Circuit of the Americas prior to the United States Grand Prix weekend.
"I think it's just a completely different way of cool," Magnussen said when asked to compare the difference between driving the F1 and NASCAR machines. "You can't compare. They're two completely different disciplines. And massively awesome in different ways. F1 is just perfection, efficiency and high-grip, big forces. NASCAR is just more like cool, badass fun. But F1 is fun. It's different."
Grosjean and Magnussen drove the number 14 Haas Automation Ford Mustang from Stewart-Haas Racing (SHR) that Tony Stewart raced in 2014, which was his last season before retiring from racing in NASCAR.
Before driving the car, Kevin consulted with his father Jan Magnussen who has vast experience racing in North America.
"Every time I spoke to him on the phone for the last half year, he's been saying you have to brake at 300 meters," Magnussen said, "so I braked at 300 and it's not that bad! It brakes okay, I don't know what he's used to, it's not that bad!"
What about the sound from the rumbling V8 Ford engine?
"I've heard these cars from the outside," Magnussen said, "and it's such an iconic sound, like the old V10, V8 F1 sound. NASCAR has such an iconic sound from the massive V8 engine; hearing that from the inside and controlling it from your own foot is such a cool experience."
Stewart drove the car, fitted with a passenger seat, and also gave Grosjean and Magnussen rides around the track. It was the first time Stewart has driven a NASCAR machine since his last race in 2014.
Magnussen and Grosjean also gave each other fast rides.
"We couldn't hear each other as we didn't have radios," Magnussen said of being Grosjean's passenger. "When I jumped in with him straight out of the pit box he braked exactly as late as you could into the first corner – I was sure we would go off! I was telling him [Magnussen gestured a braking motion]. He definitely didn't hold back."
Would Magnussen want to race in a NASCAR event?
"Yeah I'd love to have a go; not something I'd say no to," he said.
How about racing on the oval tracks?
"I don't know if I'd be good at it or not," he said. "I'd like to think that I'd figure it out. Driving it today doesn't feel difficult, but it's certainly a high level, these guys are bloody good at what they're doing. But I'd love to take on the challenge."
Other stories for NOVEMBER 1, 2019