Belgian GP 2000
Belgian GP, 2000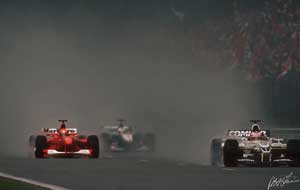 THEY say that when you go to Heaven - if you pass the entry examination - you will have two motor racing circuits to visit: there will be the Celestial Speedway, which will be modelled on Monza, and there will be Spa without the Belgians. Spa is the most wonderful road track that survives. Americans may talk of Road America or Laguna Seca and Australians of Bathurst but when they come to Spa they change their mind and go home...

"It makes Bathurst look like a kindergarten," said Australian racing legend and professional national hero Peter Brock after his first visit. "And I think I am qualified to make that statement. Spa is top drawer."

The circuit survives despite the fact that it is in a country which has no real right to claim a Grand Prix, due to conflicts in law regarding cigarette advertising: the central government has made this illegal but the local government allows it because otherwise there would be no race at all. The decision of the European Court of Human Rights that the ban is itself illegal has added to the confusion. Parking arrangements have not added to the popularity of local politicians and parking attendants to the Formula 1 people. Yes, we say in the paddock, but it is Spa. What we are really saying is that Spa is special. Monaco is where F1 makes its money and Spa is where F1 tops up on heroes. Spa is where the men stand out from the boys and it has been like that ever since the days when the likes of Tazio Nuvolari and Rudi Caracciola won the Belgian GP in the 1930s and 40s.

Every year Formula 1 goes to Spa with enthusiasm and a little sense of trepidation because when one has a shunt at Spa-Francorchamps one rarely has a small one. The cars are moving fast most of the time and in places like Eau Rouge and Blanchimont you just don't want to have a crash because the chances are you will end up upside-down, crawling from the wreckage. This year practice was rather tame in comparison to previous years when it was never long before the engines died and marshals waved red flags and everyone looked worried. This year it happened in the warm-up on Sunday morning when Giancarlo Fisichella dropped the ball at Stavelot and found himself scrabbling about on the tarmac as he squirmed out from beneath bits of what had been a Benetton.

The thing about Spa is that the driver can often outperform the car and so it can throw up startling results. Mika Hakkinen won pole position and is beginning to look like a man who is interested in winning the World Championship for the third time in a row, which is more than can be said for the Finn in recent months. The McLaren was obviously handling very well and with David Coulthard making a bit of a mess of the qualifying session, Mika emerged seven-tenths ahead of everyone else which is, as he said, a "massive" margin. But Mika knew that both of his major rivals had traffic trouble at vital moments and so the result looked better than the reality. "I have to see what the conditions are tomorrow," he said. "Anything can happen. Obviously I am very optimistic. It's great to have Michael and David behind but Michael was quite quick until he caught some traffic in the last sector. But even then, our car was quicker in the middle sector." Spa is all about finding the right compromise between straightline speed and downforce. "We got it right," said Mika.

Coulthard was not very happy because, in effect, he managed to get only one clear run in qualifying. He lost two runs to traffic, including a rather rude balking from Heinz-Harald Frentzen and then at the Bus Stop chicane on his final lap he had yellow flags which call for slowing down and no overtaking until further notice. Despite this David said that the car was not perfect. He was fifth on the grid. At Spa overtaking is easy enough and so the team was hopeful that in the race DC would be able to make up lost ground. But to win the World Championship David needs to beat Hakkinen and that is not going to be easy unless Mika makes a mistake or has mechanical trouble.

Michael Schumacher, usually an ace at Spa, was fourth on the grid and it was very clear that Ferrari is struggling a lot to keep up with the pace of the McLarens. Michael said that he had trouble with traffic and yellow flags but the fact remained that he was driving the car as hard as he could and he was a second off the pace. He would have gained a few tenths but he was never in with a chance of pole position. Evidence of the current struggles at Ferrari came from Rubens Barrichello who was down in 10th place on the grid. "All weekend I have been unable to find the ideal set-up," he said. "Finally on my third run I locked the wheels and ended up spinning."

With his usual opposition out of the way, Hakkinen found himself flanked by two new faces: Jarno Trulli in his Jordan and Jenson Button of Williams. Both men lost time because of the yellow flags and ended up separated by just two one-hundredths of a second. Both were delighted.

"I really enjoyed qualifying," Trulli said, "and it was amazing to go through Eau Rouge and Blanchimont flat. I'm not surprised to be on the front row. I knew it was possible and I hope that I will not have any more bad luck in the race."

Heinz-Harald Frentzen was rather overshadowed by his young team mate and ended up eighth although it looked as though he was almost as quick as Trulli. He wasted some of his chances by getting involved in a silly balking battle with Coulthard and he paid the price. He also made a mistake at the end of his fastest lap.

Button's third place on the grid was a truly remarkable effort for a driver on his first visit to Spa in an F1 car. Yes, he has raced at Spa in Formula 3 and with touring cars but this was something special. Even the most blinkered of Jenson's critics were stumbling around looking for a way of explaining it away. It was a magnificent effort and an indication that Frank Williams may come to regret his decision to farm Button out to Benetton for a couple of years. We are watching a classic rise to fame.

Jenson admitted that third on the grid was rather more than he had expected. He had the advantage that he knew the circuit (as at Silverstone where he was sixth on the grid) but he still felt that third was "a bit of a shock". But - and this is the sign of a really great driver - he was not totally happy. "You always want to do better," he said. "You always want to get that extra tenth. You are never happy until you're on pole."

Everyone at Williams was happy, except for Ralf Schumacher. A man with four years of experience cannot afford to be blown away by a newcomer and so Ralf spent the rest of the afternoon wandering around being followed by his own personal black cloud. Actually he should be happy because the fact that Button is being sent off to Benetton next year will mean that Ralf will not be shown up by Jenson. But then again, if Juan-Pablo Montoya is as good as everyone says he is, Ralf may struggle with the Colombian as well. He was three-tenths slower than Button and sixth on the grid.

Seventh on the grid was Jacques Villeneuve and he pointed out that if he had not lost a couple of tenths at the Bus Stop chicane with yellow flags he would have been fourth. He would have been, but then again everyone else would have been faster as well. Jacques restrained himself from crashing in Eau Rouge this year but pushed as hard as he dared and got sideways. He was not going to take it flat without knocking down trees. The BAR is not good for that.

Ricardo Zonta was 13th and lost all of his time to Jacques in Eau Rouge. It was not a bad effort given that in the morning he had struggled a lot.

Johnny Herbert was ninth on the grid and that was a good effort given the somewhat wayward nature of the Jaguar on occasion. The car was still eating tires but it was quick enough to give Herbert a bit of a bonus for once. Eddie Irvine complained about only getting one clear run in qualifying but had the good grace to admit that the few tenths he would have saved would not have moved him much up the grid order. He was 12th and the car was not going to go much faster than that because of handling troubles.

Benetton had a miserable time with Giancarlo Fisichella managing to salvage 11th place with a good run in the final minutes of the session after having to switch to the T-car when his own car lost power. As Alexander Wurz was using the spare things were very tight indeed but Fisichella delivered the goods. Eleventh was not great but in the circumstances it was certainly a good effort. Wurz also had engine trouble and so went to the spare, which was set up for Fisichella, and so he ended up 19th.

The Prost-Peugeot team looked a little better than usual with Nick Heidfeld 14th and Jean Alesi 17th. The Frenchman had a spin at the Bus Stop chicane. "We had hoped for better," said Alain Prost

Fifteenth on the grid was Pedro Diniz in the faster of the two Saubers. The Brazilian, who is not happy with the team at the moment, lost his fastest run because of Alesi's spin but the main problem was that the car did not handle well. Mika Salo complained of similar problems and lined up 18th. It was not a very impressive result for either Sauber driver.

Arrows was pretty unimpressive as well with Pedro de la Rosa 16th and Jos Verstappen 20th. Both drivers complained about understeer.

Minardi was where one expects to find them (at the back) with Marc Gene ahead of Gaston Mazzacane.

AT about five o'clock on race morning the gorgeous weather of the qualifying days disappeared as sheets of rain fell, and then a mist rose as dawn came. Then the rain came back and Sunday morning was really miserable. The warm-up showed that the track was treacherous as Fisichella struck a Benetton into the barriers at Stavelot with such force that the tires catapulted Giancarlo upside-down and he had to crawl from the wreckage. Hakkinen was fastest with Schumacher (of the M variety) second and Button third.

The rains stopped in mid-morning but the road was still wet as the grid lined up. But it was not that wet, Pedro Diniz was happy enough to start on dry tires, so why the race was started behind a Safety Car is a complete mystery. Perhaps it was the memory of a start in similar conditions in 1998 when half the field was involved in a huge crash and wheels and tires went everywhere. The result of this was that the excitement of a real F1 start was lost. In the course of the first lap (there is no parade lap when there is a Safety Car start) Diniz had a half spin and de la Rosa decided that it was wiser to overtake him rather than brake and be run into by everyone behind him. Poor old Pedro was rather miffed to be given a 10-second stop-go penalty as a result of being public spirited.

For the first couple of laps the track was obviously too wet for dry tires but quickly it began to dry. In those early laps Hakkinen disappeared at the head of the field, pulling out 10 seconds in the first five laps as those behind him slittered and slipped about. Trulli was obviously having trouble with Button and then Jenson tried a move but got it wrong and Michael Schumacher was able to slip into third at the Bus Stop chicane. Michael immediately tried to overtake Trulli who went wide at La Source. Button tried to follow Michael through but the move was misjudged and poor Jarno was tipped into a spin. Button just missed him but lost momentum and so lost out to Coulthard and to his Williams team mate Ralf Schumacher. The steering was also not quite right and so Button was out of the hunt for victory.

The whole field pitted in the laps which followed and this meant that Coulthard suffered because he could not pit when he really wanted to and had to do an extra lap while the team looked after Hakkinen. The argument was that Coulthard would lose only five seconds if he stayed out and would have lost more if he had been in the pits queueing up behind Hakkinen. With the benefit of hindsight it was the wrong decision and as a result David went from second to ninth and then he was stuck behind Frentzen.

At the front Hakkinen still led Schumacher but the gap was coming down. Schumacher's car was obviously behaving better on dry tires. On lap 13 Hakkinen touched a curb down at Stavelot and had a half spin. He held it as best he could but ended up on the grass and lost momentum. In a flash Hakkinen had turned a lead of five seconds into a deficit of five point six. Michael immediately piled on the pressure and pulled away more. By the time he pitted at half distance he was 11 seconds ahead. At the pit stops both men had rapid modifications done to their cars. Hakkinen rejoined on lap 27 and quickly closed the gap from six seconds to almost nothing in nine laps. Schumacher was clearly in tire trouble as he took to driving offline on the run up the hill in an effort to cool his tires. The key was at Eau Rouge where he lacked the grip and so lost momentum and thus carried less speed up the hill. Hakkinen drew ever closer.

On lap 40 Hakkinen challenged him on the run up the hill towards Les Combes. Mika was clearly faster but Michael was obviously not about to let Hakkinen through without a fight. Michael is combative by nature. He hides it well but there is an utterly ruthless streak in his character. That is why he is such a good racing driver.

Michael knew that Mika was lining up to overtake him and he steered the Ferrari to the right to cover a move, as he is allowed to do. Hakkinen had the momentum to make the pass but as he did so Michael lunged further into his path. At 200mph the two cars nearly touched wheel to wheel. It was mightily dangerous. After the race Hakkinen climbed out of his car and, after enjoying his win for a few moments, he engaged Michael in a cool and calm conversation about the move, showing from his hand movements exactly what was being discussed. After that conversation both men declined to talk about it in public.

You can say that Hakkinen was behind and so it was his duty to back off, but in order to back off a driver needs time to react. Mika was committed to his move when Michael came across on him. He had only a split-second to react. This time Hakkinen and Schumacher got away with it just as Coulthard and Schumacher got away with it at Magny-Cours, but next time it happens they may not. Michael brushed off suggestions that it had been dangerous. The FIA did nothing. It was racing.

Motor racing is dangerous and racing drivers are supposed to be swashbuckling heroes. This is fine as long as the FIA is absolutely sure that it cannot lead to anything fatal. Some of the modern drivers seem to think they can do anything they like without fear of killing themselves or their rivals. Wheel-over-wheel incidents are utterly unpredictable, either car can fly and cartwheel down the road. It is a long time since we saw an F1 car go end-over-end. They roll and they spin but there is nothing to stop them going end-over-end and such accidents can be fatal.

Dead drivers are easy to replace - although some in F1 have not forgotten the extraordinary public reaction when Ayrton Senna was killed at Imola - but the governing body needs to wonder what it will do if one of these cars goes cartwheeling into a crowd of photographers, a gaggle of fire marshals or a public area.

It did not happen on this occasion and so to write in this way will probably be attacked as being alarmist but if the current trend continues one day it is going to happen and the sport will have to account for itself in the real world.

A lap later Mika did the job properly. The two men were in the same situation as they came up the hill. This time Zonta's BAR was in the middle of the road. Michael had to decide whether to go to the left or to the right. He chose the left, expecting Hakkinen to follow him. But Mika had seen a chance on the right and he went for it. Between the BAR and the grass there was a gap just big enough for a McLaren and two cigarette papers. Hakkinen went through it.

"It was an amazing view as they went past either side of my car," admitted Zonta later. Hakkinen had a hint more traction and so he was alongside Michael when they were past the BAR. Michael thought about coming across, realized that he was too late and so fell behind Mika, and that was that. The game was over. Schumacher had been roundly beaten again. Hakkinen had even been able to screw up with the half spin and still come back to win. The only conclusion is that the McLaren is more gentle on the tires than is the Ferrari and one can only hope that the new Bridgestone tires which are due to come out in the last three races will better suit the Ferrari than the McLaren. Without them McLaren is going to walk it.

The pair finished first and second while their team mates both failed to achieve much. Coulthard, hobbled by his first pit stop and by Frentzen, managed to get ahead when the two men pitted together on lap 28. Once ahead he gobbled up the gap to Button and on lap 37 he moved to fourth. But there was no way he was going to catch third placed Ralf Schumacher.

David is going to have to pull a very big white rabbit out of his top hat at Monza if he wants to remain a contender in the World Championship.

Barrichello's race was similarly dull. After getting ahead of Herbert at the first corner he was able to get Frentzen just after the change from wet to dry tires. After that he was stuck behind Villeneuve until he stopped on lap 20. The Ferrari team had decided to change strategy and in the laps that followed Rubens turned in some really quick laps which took him past Irvine and Alesi. He was up to fourth when his third pit stop loomed. As he was coming into the pits his fuel pressure dropped. Ferrari was not going to admit it but he had run out of fuel and as the marshals in the pitlane got to the car before the Ferrari mechanics he would have been disqualified if he had rejoined. He did not.

Ralf Schumacher ended up third which was a good result. He took advantage of Button's boo-boo with Trulli and then was able to come into the pits first. This meant that his team mate was no longer a threat after the tire changes because he had dropped about 10 seconds behind and Alesi (who had stopped very early) was between them. From then on it was a rather dull race but Ralf scored his second podium of the year and was quite happy with that. Button ended up fifth as he was unable to do much to defend himself when Coulthard closed in on him in the later stages of the race. But fifth was not a bad result as it was his third lot of points in four races.

The final point went to Frentzen who battled hard first with Barrichello and later with Coulthard but was eventually beaten in the pits by the McLaren team which got Coulthard out faster. "I simply drove my race," he said.

The same could not be said of Trulli who was a bit grumpy at Button's error. "He should have waited a couple of laps as he would probably have got past me since I was struggling with my rear tires under the heavy fuel load," Trulli said. It was bad luck.

BAR's Villeneuve finished seventh which is where he was at the end of the first lap, so really there was no much to report. Frentzen and Barrichello both overtook him but he made up two places with the retirements of others. "It was a very boring race," he said. Zonta's race was not boring but hard work as his car was handling horribly and he ended up 12th.

Behind Villeneuve at the finish was Herbert and he too spent most of his time by himself. It was better than Irvine who ended up 10th. Jaguar called it a "solid race".

Between the two Jaguars in ninth place was Mika Salo's Sauber and this was a good effort because the Finn had started back in 18th position. He kept out of trouble and overtook Zonta and Irvine and chased Herbert in the closing laps.

Diniz made up a lot of ground from his choice of dry tires, emerging in 10th. He damaged his nose early on but it made little difference and he finished 11th, having been overtaken only by his team mate.

The less said about Benetton the better. After an horrible qualifying the team had an horrible race. Fisichella was in the spare having demolished his own car in the warm-up (although this was rebuilt by the team before the race began). It was not long into the race before Fisichella went out with electrical failure and was run into from behind by Verstappen. The marshals then finished off the perfect weekend by pushing the car off too quickly and backing it into a barrier. Wurz spent the afternoon in amongst the backmarkers. He lost time at his pit stop and ended up 13th just ahead of a Minardi.

Minardi's Marc Gene and Gaston Mazzacane both finished (the latter in 17th) but there was not much to report. The two were separated by the two Arrows with Verstappen 15th and de la Rosa 16th. The Spaniard never got over his stop-go penalty and Verstappen damaged his front wing when he ran into Fisichella when the Italian's car stopped.

Prost looked to have done something right for a change by bringing in their cars early and as a result Alesi was on course to score points until the fuel system of his car let him down. "I hope that this race has brought some oxygen to the team," he said.

Nick Heidfeld gained less from pitting early but had gearbox trouble and this eventually caused an engine failure on lap 13.
POS
NO
DRIVER
ENTRANT
LAPS
TIME/RETIRE
1
1
M.HAKKINEN
McLaren Mercedes
44
1h28m14.494
2
3
M.SCHUMACHER
Ferrari
44
1.103
3
9
R.SCHUMACHER
Williams BMW
44
38.096
4
2
D COULTHARD
McLaren Mercedes
44
43.280
5
10
J.BUTTON
Williams BMW
44
49.914
6
5
H.FRENTZEN
Jordan Mugen-Honda
44
55.984
7
22
J.VILLENEUVE
BAR Honda
44
1m12.380
8
8
J.HERBERT
Jaguar Cosworth
44
1m27.808
9
17
M.SALO
Sauber Petronas
44
1m28.670
10
7
E. IRVINE
Jaguar Cosworth
44
1m31.555
11
16
P.DINIZ
Sauber Petronas
44
1m34.123
12
23
R.ZONTA
BAR Honda
43
1 Lap
13
12
A.WURZ
Benetton Supertec
43
1 Lap
14
20
M.GENE
Minardi Fondmetal
43
1 Lap
15
19
J.VERSTAPPEN
Arrows Supertec
43
1 Lap
16
18
P.DE LA ROSA
Arrows Supertec
42
2 Laps
17
21
G.MAZZACANE
Minardi Fondmetal
42
2 Laps
R
14
J.ALESI
Prost Peugeot
32
Mechanical
R
4
R.BARRICHELLO
Ferrari
32
Fuel
R
15
N.HEIDFELD
Prost Peugeot
12
Engine
R
11
G.FISICHELLA
Benetton Supertec
8
Electrical
R
6
J.TRULLI
Jordan Mugen-Honda
4
Accident
Fastest Lap:
R.BARRICHELLO
Ferrari
30
1:53.803