Constructors
BAR (British American Racing)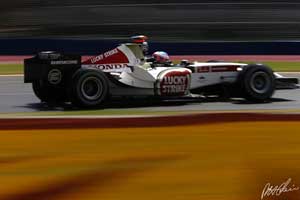 British American Racing was established in 1997 with ambitious plans to build a competitive Formula 1 team. It was led by Jacques Villeneuve's manager Craig Pollock but was controlled by the tobacco giant British American Tobacco (BAT), which controlled a majority shareholding in the team. Also involved were Adrian Reynard and Rick Gorne of Reynard Racing Cars and Julian Jakobi, Pollock's partner.

BAT invested large sums to begin construction of a completely new factory in Brackley and to recruit good staff but the biggest outlay was the purchase - for $26m - of the Tyrrell Racing Organisation in December 1997. Tyrrell ran in 1998 under BAR auspices but no money was invested and both Ken and Bob Tyrrell left the team early in the year.

BAR had promised works engines but in June announced that it had reached agreement to run Supertec Sport V10s - rebadged versions of the Mecachrome V10 which were themselves rebadged Renaults from the 1997 season.

BAR's first season in 1999 was a complete disaster but the team managed to secure a factory Honda engine supply for 2000 and things improved with fifth place in the Constructors' Championship, despite political in-fighting within the team. At the end of 2001 the board of directors decided that Pollock had to be replaced and so took on David Richards to run the team. He completely revamped the technical staff under new technical director Geoff Willis and convinced Honda to drop its supply of engines to Jordan and the team had high hopes for 2003 when it had Jacques Villeneuve and Jenson Button. At the end of the year Villeneuve was replaced by Takuma Sato and the team switched to Michelin tyres and in 2004 Button and Sato were competitive but failed to win a race. The team finished second in the Constructors' Championship. Richards had delivered an impressive turnaround.

It was a surprise therefore when it was announced that he was being replaced by Nick Fry after Honda and BAT formed a new partnership with the Japanese company owning 45% of the team. At the end of 2005 Honda completed the purchase of the team and it became Honda Racing F1.