Drivers
Eddie Irvine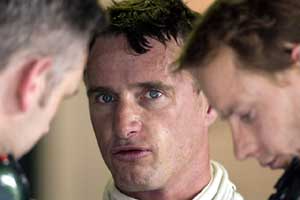 Few people in the F1 world really understand Edmund Irvine, the son of a former amateur racer of the same name from Newtownards in Northern Ireland.

The sport had been raised on a succession of intense, dedicated racing drivers who wore their hearts on their Nomex sleeves and would clearly donate body parts if it meant getting the right opportunity in the right car. Yet there was Irvine, always laid back, apparently not caring whether he succeeded or not. He had begun racing his father's historic single seaters rather than in karts, but then trod the traditional route of Formula Ford, Formula 3 and F3000 on his way to F1. For much of his career he was an unfancied runner, his nonchalance perhaps holding him back and preventing outsiders from taking him seriously. But Marlboro thought enough of his potential to make him a part of its racing ladder driver education scheme.

He made it as far as F3000 in Europe before the momentum sagged, as it so often does, and thereafter he switched to racing in the same series in Japan. Such a move had frequently been the death knell for other drivers' careers, but Irvine turned it to his favor. He won races and made plenty of money, and then used it as a springboard for two races with Jordan at the end of 1993. He marked his debut in the Japanese GP at Suzuka by taking a punch from race winner Ayrton Senna after suggesting that the reason he'd repassed the Brazilian after being lapped was that Senna was simply driving too slowly! That same brand of insouciance saw him banned for three races early in 1994, after a controversial four-car collision in the Brazilian GP had seen him banned for a race and then the ban tripled after Jordan appealed.

Given Marlboro's faith in him, it was fitting when Irvine was the surprise announcement as partner to Michael Schumacher when Ferrari revised its driver lineup for 1996. That first season provided a character-building lesson in the German's true speed, Schumacher doing most of the testing and consistently outshining his partner. But 1997 was better, 1998 better still. The man that so few really understood hid whatever true feelings he had behind his mask of indifference, and by 1999 his increasing pace was becoming an irritation to Schumacher. Some believe that the German's leg-breaking accident at Silverstone owed something to his frustration in finding his teammate unwilling to let him overtake.

Irvine had won the opening race of 1999; now he found himself leading the team. Two further victories followed, before the returned Schumacher gifted him a fourth in Malaysia. Irvine went into the final race only two points adrift of Mika Hakkinen. It was the classic fairy tale, the story of the understudy propelled on to center stage.

In the end, Irvine came up short. Perhaps it would prove the high point of his career, but already he had done sufficient to sign a lucrative three-year contract with Jaguar. IrvineÕs efforts at Jaguar were handicapped by poor machinery but at the end of 2002 the team decided that it no longer the garrulous Ulsterman. IrvineÕs career in F1 was over as no other teams showed much interest.