Constructors
Prost Grand Prix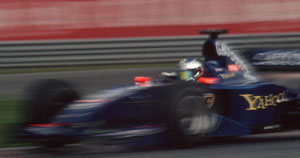 On February 13, 1997 Alain Prost bought the Ligier team from Italian Flavio Briatore. The following day he signed a three-year deal with Peugeot for 1998-99-2000. He inherited Olivier Panis and Shinji Nakano, Mugen-Honda engines and Bridgestone tires. It was not an easy season although the JS45 was very competitive when the Bridgestone tires were working and Panis finished fifth in Australia, third in Brazil and looked a likely winner in Argentina until his car broke down. In Monaco he was fourth and in Spain second so he went to Canada in third place in the World Championship. Unfortunately he broke both legs in an accident and had to replaced by Jarno Trulli. The Italian did well, leading the Austrian GP in dominant fashion before his engine failed. Panis returned in September and scored a point in the Luxembourg Grand Prix at the Nurburgring. A few weeks later the team hired Bernard Dudot to be its technical director.

Trulli was signed to drive alongside Panis in 1998 and Loic Bigois designed the Prost-Peugeot AP01. While this was being produced the team moved from the old Ligier base at Magny-Cours to a new factory at Guyancourt near Versailles.

Unfortunately the new car was not reliable, modifications to the troublesome gearbox made the car handle badly and the 1998 season was very disappointing. Prost did a deal to use John Barnard as a technical consultant and that was announced in December 1998 with Barnard's B3 Technologies helping Bigois and the design of the AP02. Panis and Trulli both agreed to stay in 1999 and the AP02 proved not to be a bad car although the Peugeot engine had become too big and too heavy. Prost bolstered the technical team midway through 1999 by hiring Alan Jenkins to be his new technical director and in the autumn hired Formula 3000 Champion Nick Heidfeld and Jean Alesi to drive in 2000. The 2000 season was a disaster with Jenkins fired in the midseason. Prost restructured again, bringing in Joan Villadelprat as managing director and Henri Durand as technical director and selling a shareholding in the team to the Diniz Family. Alain also did a deal for the team to use Ferrari engines in 2001 and there was much optimism at the start of 2001 that the team was finally moving in the right direction. But the money ran out and at the start of 2002 Prost went out of business, leaving a debt of around $30m.