Drivers
Jean Alesi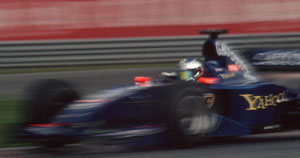 Incredibly, the history books relate only one Grand Prix victory for Jean Alesi, after the Franco-Sicilian had benefited from Michael Schumacher's misfortunes to win the 1995 Canadian Grand Prix. Fittingly, it was Jean's 31st birthday.

A mercurial and forceful racer, Alesi had first come to prominence with some excellent performances in Formula Three in 1985 and '86, running his own Dallara-Alfa Romeo. The following year he ran with the crack Oreca team, and after a false start he swept majestically to the French F3 Championship. The runaway success catapulted him in to F3000 with Oreca for 1988, and everything suddenly ground to a halt. There were numerous problems within the team, and while Johnny Herbert and Roberto Moreno made their names in similar Reynard 88Ds, Alesi struggled, becoming more demoralized as the season wore on. By the end of it, his career seemed to have petered out.

Eddie Jordan still believed in his outstanding ability to race hard, and gave him a chance for 1989. Teamed with Martin Donnelly, Alesi proved the find of the season and clinched the championship despite racing in F1 for Tyrrell from the halfway point of the year.

When Michele Alboreto left Tyrrell just before the French GP, Alesi was thrust into the limelight. At one stage on his debut at Paul Ricard he was running as high as second behind Alain Prost. Eventually he finished a stunning fourth.

As other strong results flowed - including a sensational second place in Phoenix in 1990 to Senna (whom he repassed at one stage after losing the lead), and another in Monte Carlo - Frank Williams and Ferrari moved in. Alesi actually inked a contract with the British team, before taking umbrage at the signing of Nigel Mansell. He admitted that his heart ruled his head, and instead he took up Ferrari's offer to partner Prost in 1991.

Over the following five years his story became one of promise tragically unfulfilled as the red cars struggled. More than once he seemed set to win, only for fate to intervene. By 1995 Ferrari had tired of his histrionics, which were born of his desperation to win, and replaced him with Michael Schumacher. Alesi moved for an unhappy two seasons to Benetton, where he won nothing. Then came Sauber, where he underlined his tremendous ability to race but where his patience also ran out. In 2000 he signed a two-year deal to race for his old Ferrari partner, Alain Prost.

This was a frustrating time and in the middle of 2001 Alesi left the team to take the opportunity to drive forJordan in place of Heinz-Harald Frentzen. In October Alesi announced that he was to retire from F1 and began looking at a career with Mercedes-Benz in the German Touring Car Championship (DTM). As part of the deal Jean was given the opportunity early in 2002 to test a McLaren-Mercedes F1 car, which he did with great gusto.

He was involved in attempts to establish a secondary Mercedes-Benz F1 team in 2005 with the Japanese sponsor Direxiv but these failed to come to fruition. He continued to race in the DTM until the end of 2006.