Drivers
Giancarlo Fisichella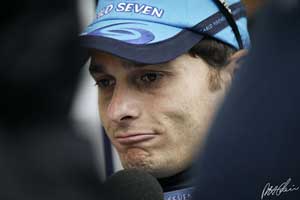 Like Luca Badoer, Giancarlo Fisichella had a glittering karting career in Italy which promised great things as he headed towards F1. But also like Badoer, he has yet to deliver.

He should have been champion in the karting world series in 1991, but was held back to runner-up slot by ill fortune. Nevertheless, his performances in Italian F3 the following season demonstrated his ability once again. After two seasons with lesser teams he dominated the series with RC Motorsport in 1992, winning half of the 20 races. Earlier in the year he won the prestigious Monaco F3 race, and he ended a fabulous year by adding the other jewel in the crown, the Macau GP. Minardi lost no time snapping him up as its test driver for 1995, when he kept his hand in racing for Alfa Romeo in the ITC. For 1996 Giancarlo Minardi made him a fully-fledged F1 driver.

Though a Minardi was hardly the best car in which to make an impression, Fisichella succeeded in doing so and was rented out to Eddie Jordan for 1997. His season began badly, with a serious accident in testing at Silverstone which left him to race in Melbourne with a broken knee, and another shunt in Brazil. Then teammate Ralf Schumacher turfed him off the road in Argentina as they fought over second place behind an unwell Jacques Villeneuve. At Jordan, they secretly worried that his Italian psyche would have been irreparably damaged by the setbacks. Instead, Fisico fought back, and was soon outperforming Schumacher Jnr. He was fourth at Imola, sixth at Monaco, third in Canada, and then led at Hockenheim until a puncture forced him to abandon his fight with eventual winner Gerhard Berger. He had his revenge with a stunning second place behind only Michael Schumacher on his first visit to Spa, where he had been the only driver to match the German's pace and flair during the wet opening stages. He rounded up the year with fourth place in Austria.

Jordan wanted to keep him, but manager Flavio Briatore had him attached to a long piece of elastic that bounced him into his current seat at Benetton. Sadly, however, his career has lost momentum there. 1998 brought second places at Monaco and Canada, but although he repeated the result in Montreal in 1999 the British cars lacked the pace of their Schumacher days. Fisico's desperation was all too evident when he threw away the lead of the GP of Europe by spinning off the track.

Fisichella stayed at Benetton until the end of 2001 when his contract came to an end. He moved to Jordan in 2002 but as the team was by then struggling for money he was frustrated until the start of 2003 when he pulled off an impressive, albeit fortunate, victory in Brazil. This put him in the spotlight again and he joined Sauber in 2004 and did such a good job that at the end of the year he was being chased by both Renault and Williams. He ended up signing for Renault for 2005 and had a good year in 2005, winning in Australia and helping Renault win the Constructors' title.

In the 2006 he was overshadowed by Alonso but was retained when the Spaniard quit to go to McLaren. Fisichella became lead driver at Renault along with Heikki Kovalainen. Renault was unable to repeat the success of the previous seasons however, and things were not helped when Fisichella was disqualified in Canada for passing a red light while exiting the pits. When Alonso returned to Renault for 2008, Fisichella moved to the new Force India team.