European GP 1999
European GP, 1999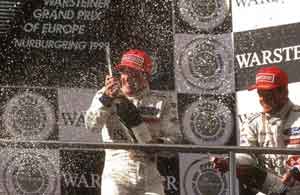 World Championship hopeful Heinz-Harald Frentzen needed a good result to stay in the running and he took pole position in his Jordan-Mugen Honda, ahead of the McLarens of David Coulthard and a demoralized Mika Hakkinen. Ralf Schumacher confirmed the progress made by Williams by qualifying fourth while Ferrari was in disarray with World Championship challenger Irvine in ninth place and Mika Salo 12th.

At the start Frentzen led Hakkinen and Coulthard but there was a nasty crash in the midfield: when Damon Hill slowed suddenly, Alexander Wurz swerved to avoid the Jordan and tipped Pedro Diniz's Sauber into a roll which tore the rollbar off the Sauber. The Safety Car had to come out to slow the cars down while the debris was removed from the track. After it was withdrawn Irvine made some progress through the field but then it began to rain. Some drivers pitted and others did not. Amid the confusion Irvine was left sitting in the Ferrari pit with only three wheels on his car. Hakkinen stopped and rejoined with wet tires. The star in the damp conditions was Ralf Schumacher who overtook Coulthard and challenged Frentzen for the lead. The rain stopped and so Hakkinen had to pit again and then, during the mid-race pit stop sequence, Frentzen's Jordan cut out as he went into the first corner after his stop.

This left Coulthard in the lead but it rained again and David made a mistake and slid off. Ralf Schumacher took over but soon afterwards suffered a puncture. That left Giancarlo Fisichella in the lead in his Benetton but he too made a mistake and spun out, leaving Johnny Herbert to come home for a most unexpected victory in his Stewart-Ford. He was followed by the Prost-Peugeot of Jarno Trulli under heavy pressure from Rubens Barrichello in the second Stewart-Ford. For a while Luca Badoer was fourth in his Minardi but this broke down and Ralf Schumacher took the place while Hakkinen managed to scramble past Marc Gene in the second Minardi to score two points for fifth place.

Irvine finished seventh - out of the points.