SEPTEMBER 18, 2023
Rivals tip Red Bull to bounce back at Suzuka
Toto Wolff says Red Bull's rivals must not fall into the trap of thinking the team's dominant new era may already be coming to an end.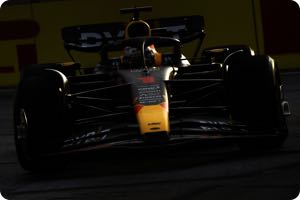 After a record-setting ten wins on the trot, Max Verstappen found himself at the wheel of a particularly difficult car to drive in Singapore.
McLaren's Lando Norris, after finishing second behind Ferrari's Carlos Sainz on Sunday, said of Red Bull's sudden decline: "When I watched Max's onboard yesterday, I kind of laughed because I've never seen a car that bad before.
Max was also laughing about it, the Briton added. But we'll see next weekend. I think they'll probably be back at the top.
Indeed, Verstappen - who must now wait until Qatar to get his first chance of wrapping up a particularly dominant third consecutive drivers' title on the trot - seemed happier after recovering to fifth on Sunday.
He qualified outside the top ten, and said he may have been able to do even better than fifth without the Singapore safety cars.
After that it went quite well on the medium tyre, said the Dutchman. Still, it wasn't our normal standard, he admitted to Viaplay.
"We need to understand why the car failed to perform well, especially in qualifying. But next week we are in Suzuka that should normally suit our car much better.
"I knew this day would come anyway so I'm totally fine. Everyone always says 'Look how easy everything is for them', but you see it's not easy.
And when you find yourself in the catch-up role, you don't win, Verstappen added.
Red Bull boss Christian Horner thinks that without the inopportune timing of the safety car, Max would have been fighting with the Ferraris, Lando and the Mercedes.
We learned a few lessons in the race and have a good idea of what was going on for us here, he added. Max and Checo (Perez) did a lot of overtaking on a track where it's not easy to overtake.
Horner thinks Red Bull simply made some mistakes whilst preparing for Singapore prior to the race weekend.
The simulations before the weekend led to incorrect conclusions, he said. "The engineers then got lost trying to correct course.
The car fell completely out of the window. So we've revealed some weaknesses. We understand the problems. If we were to come here again, everything would look completely different.
Dr Helmut Marko is also not particularly worried.
We had the fastest car in the field in the last stint, the Austrian told Servus TV.
Others, however, think Red Bull's grip on Formula 1 may be starting to loosen in this second half of the season.
If you think about it, I think they haven't really been developing, said Mercedes Lewis Hamilton - third in Singapore.
"McLaren brought an upgrade here. Others are bringing upgrades, but they (Red Bull) are working on next year's car. They have less wind tunnel time so they're probably using some of this year's time on next year's car.
They are so clearly ahead that maybe they're developing their car less and we are still pushing to develop our current one. But time will tell, Hamilton added.
According to Ferrari's Sainz, Singapore was probably a one-off slip for Red Bull.
I wouldn't be surprised if the still winning the last races of the season, he said.
As for Mercedes' team boss Toto Wolff, he thinks Red Bull will bounce back quickly.
We shouldn't go from 'they're so good' to 'they're not so good' so wildly, he told Sky Deutschland.
"They've had such a dominant season. The car is by far the best and the driver has proven everything. Singapore has always been a strange track.
They will come back again, Wolff explained.
(GMM)