SEPTEMBER 18, 2023
Driver hierarchy on the move at Ferrari
As Carlos Sainz stakes his claim on a now-likely Ferrari contract extension, teammate Charles Leclerc is having more of a struggle in 2023.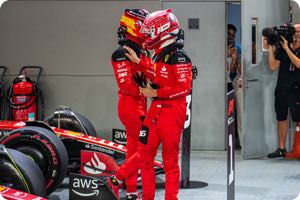 As Red Bull faltered in Singapore, Spaniard Sainz took his stand-out performance at Monza to the streets of the city-state to secure a solid and smart second career victory.
Concurrently pushing for a new deal for 2025 to be wrapped up sooner rather than later, he said he has been working on upping his game incrementally - culminating in an obvious step forward since the summer break.
It's that in the summer break you always have a bit more time to relax, to meet with engineers to look at the things that have worked, the things that are not working, Sainz explained.
That's why probably these last few races have been a step forward and now the target is to keep it going until the end of the season and hopefully into next year with a more competitive car.
At the same time, Leclerc - previously seen as Ferrari's favourite - has struggled.
I'm struggling a little bit more with the car - since the restart of the break actually, he admits.
Quite a bit of understeer, but then also quite snappy. It's been so difficult to predict what is the car going to do on the track, which I then pay the price for with the confidence I have inside the car, Leclerc added.
Ferrari team boss Frederic Vasseur admits that Sainz, 29, appears to have been unleashed since the summer break.
I'm not surprised by how well Carlos drove here, the Frenchman insisted. "Here in Singapore, he was among the best in every single session.
I don't think there is a driver who would have managed the last ten laps as cleverly, Vasseur added after the Singapore GP.
When asked what Sainz has steadily been doing better as the 2023 season progressed, he explained: "It's the mental preparation for the weekend, but the main difference is that he's there from the first lap, from the first practice session.
That helps a lot. But we're talking about small details in the approach.
(GMM)