SEPTEMBER 18, 2023
Ricciardo will not be at Suzuka
Liam Lawson will definitely keep filling in for the injured Daniel Ricciardo at Suzuka this weekend.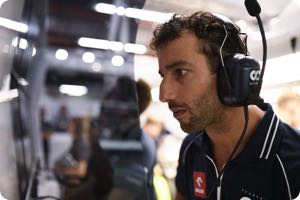 Since filling in for Alpha Tauri at the last moment from Zandvoort following Ricciardo's crash and broken hand there, the 21-year-old New Zealander has seriously impressed.
He has already caught up with team regular Yuki Tsunoda's points haul for the season and is tipped to be competitive at Suzuka this weekend - a circuit he knows well as he races full-time in the Super Formula series.
But when asked about the Japanese GP, Lawson said in Singapore: "I don't know if I'll drive there yet.
It would be nice, as I know the track much better than here. It should be so good there with a Formula 1 car.
However, he said the decision and Ricciardo's recovery is out of his hands - as is Alpha Tauri and Red Bull's deliberations over his next move for 2024.
There are so many aspects to it, said Lawson. "If I try to think about everything at once, I can easily put too much pressure on myself.
"I don't know how long I'll be here, so I just focus on doing everything I can when I am in the car.
I've been waiting for this opportunity for a long time and I finally got it, so I'm trying to take full advantage of it.
New Alpha Tauri CEO Peter Bayer said in Singapore that driver talks about 2024 are in full swing, and Lawson said he regularly catches up with Dr Helmut Marko.
After every race I talk to Helmut, he said, and I have no doubt that after this one we'll talk again. But to be honest, I can't say anything about next year yet.
According to insiders, both Japanese Yuki Tsunoda and Ricciardo should be worried about the new 'Lawson factor' when thinking about their 2024 seats.
Ricciardo is watching someone score points in his car in their third race, former F1 driver Robert Doornbos told Ziggo Sport.
That's bound to eat at you. I think it's obvious that Lawson will be offered a permanent seat next year.
As for this weekend's Japanese GP, meanwhile, CEO Bayer has some very good news for Lawson.
Daniel is flying on to Australia now for his physiotherapy and will support us morally, but he will not be there (at Suzuka) live, he told Servus TV.
(GMM)