NOVEMBER 24, 2017
2018 McLaren chassis to be 100pc evolution
McLaren's 2018 car will be an "evolution" of the current one.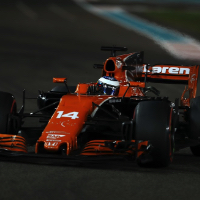 McLaren's 2018 car will be an evolution of the current one.
That is the news from Eric Boullier, the British team's boss.
He told Brazil's Globo that although McLaren is switching from Honda to Renault power for 2018, the team is happy with its actual chassis.
"It has the least power, but we have one of the best cars in high speed corners," Boullier said in Abu Dhabi.
So despite the forthcoming move to customer Renault power, he revealed: "We are not radically changing the car. The 2018 car will be a 100pc evolution of the current car.
"The radiators required by the Renault unit are smaller than those of Honda, making our aerodynamic task easier," Boullier added.
"But I cannot tell you anything else."
Boullier also said McLaren will enter 2018 with another healthy budget, even though former team supremo Ron Dennis said previously that the team must have works engine backing.
"(Bahrain's) Sheikh Al Khalifa and Mansour Ojjeh have a different vision," he said.
"They made a decision for the sporting side, so we should not have a smaller budget in 2018," Boullier insisted.
(GMM)