Abu Dhabi GP 2017
NOVEMBER 24, 2017
Practice 1 Report - The beginning of the end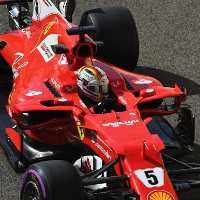 By Dan Knutson in Abu Dhabi
Free Practice 1 for the Abu Dhabi Grand Prix marked the beginning of the end of the last race weekend of the 21-race 2017 FIA Formula One World Championship. FP1 ended with two four-time world champions Sebastian Vettel and Lewis Hamilton clocking the fastest lap times.
The lineup for the weekend was: Mercedes Lewis Hamilton and Valtteri Bottas; Red Bull TAG Heuer Daniel Ricciardo and Max Verstappen; Ferrari Sebastian Vettel and Kimi Raikkonen; Force India Mercedes Sergio Perez and Esteban Ocon; Williams Mercedes Felipe Massa and Lance Stroll; McLaren Honda Fernando Alonso and Stoffel Vandoorne; Renault Nico Hulkenberg and Carlos Sainz; Toro Rosso Renault Pierre Gasly and Brendon Hartley; Haas Ferrari Romain Grosjean and Kevin Magnussen; Sauber Ferrari Marcus Ericsson and Pascal Wehrlein.
FP1 reserve drivers in action for this final FP1 were George Russel in Perez's Force India, and Antonio Giovinazzi in Magnussen's Haas.
The drivers have mixed emotions about the 21-turn 3.383-mile (5.444 km) Yas Marina circuit.
Facility-wise it is definitely one of the best," said Bottas. "Everything is just perfect, you know: our garages, hospitality. For us, plenty of good hotels around and all that is nice. I like evening races; I like the timetable of the weekend and also how it is on the track with the lights. That's all nice. As a track, my honest opinion is that it is quite average, it's not one of my favorites, not one I hate."
"The track itself is actually quite interesting," opined Verstappen, "because a lot of corners, they follow up on each other so if you miss one you're not well positioned for the other one so it's quite technical in that way. I would have liked it to be a little bit faster, those corners, but it's a bit like in Mexico, you know, there are quite technical areas where you have to be well positioned for one corner and then the next."
Hartley and Hulkenberg were the first out on track.
The ambient temperature at the start of the early afternoon 90-minute session was 79 degrees Fahrenheit (26 degrees Centigrade) and the track temperature was 109 degrees Fahrenheit (43 degrees Centigrade).
Pirelli's slick tire compounds for the weekend were the soft, super soft and ultra soft.
In no hurry to do too many laps early in the session, most drivers did an install lap or two and parked in the garages. Only five even clocked a time in the first 20 minutes, with Hamilton best at 1:41.135.
Then the action picked up, and 30 minutes in, all but three drivers had done a flying lap, with Raikkonen now on top with his lap of 1:39.841 on the ultra softs.
At the 40-minute break, the top 10 were: Raikkonen, Vettel, Verstappen, Perez, Ricciardo, Hamilton, Vandoorne, Massa, Hulkenberg and Russel. Alonso had done eight laps but not set a time.
When things resumed, Hamilton used the ultras to get down to a 1:39.126.
Verstappen, also on the ultras, got within 0.028 of a second of Hamilton's time.
With just under half an hour to go, the top 10 was now Hamilton, Verstappen, Bottas, Raikkonen, Vettel, Perez, Massa, Ricciardo, Alonso and Grosjean. All used the ultra soft Pirellis.
Eighteen minutes remained when Vettel got down to a 1:39.006. Then Hamilton started to lap even faster until he slid wide.
Other than a few harmless spins, there was not much excitement in this session as the drivers started doing long runs.
The final top 10 of this final FP1 were: Vettel, Hamilton, Verstappen, Raikkonen, Bottas, Perez, Alonso, Vandoorne, Massa and Ricciardo.