Abu Dhabi GP 2017
NOVEMBER 24, 2017
Practice 2 Report - Toppers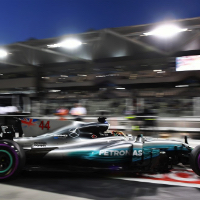 By Dan Knutson in Abu Dhabi
Sebastian Vettel and Lewis Hamilton set the fastest time in Free Practice 1 for the Abu Dhabi Grand Prix. The same pair topped FP2, but this time Hamilton went quicker than Vettel.
The lineup for the weekend was: Mercedes - Hamilton and Valtteri Bottas; Red Bull TAG Heuer - Daniel Ricciardo and Max Verstappen; Ferrari - Vettel and Kimi Raikkonen; Force India Mercedes - Sergio Perez and Esteban Ocon; Williams Mercedes - Felipe Massa and Lance Stroll; McLaren Honda - Fernando Alonso and Stoffel Vandoorne; Renault - Nico Hulkenberg and Carlos Sainz; Toro Rosso Renault - Pierre Gasly and Brendon Hartley; Haas Ferrari - Romain Grosjean and Kevin Magnussen; Sauber Ferrari - Marcus Ericsson and Pascal Wehrlein.
Vettel's quickest time in FP1 was a 1:39.006 on Pirelli's ultra soft tires. The other tires available were the soft and super soft.
Alonso and Magnussen got things underway in FP2.
The ambient temperature at the start of the 90-minute session was 77 degrees Fahrenheit (25 degrees Centigrade) and the track temperature was 90 degrees Fahrenheit (32 degrees Centigrade). The risk of rain was zero percent.
Raikkonen set the early pace with a 1:40.224 on the super soft tires. Then Hamilton beat that with a 1:38.912 on the same compound. Ricciardo took over second after clocking a 1:39.346.
Vandoorne had a short, harsh spin at Turn 20 and stalled the car, but he managed to restart it and headed for the pits.
Just about everybody ran and evaluated the super soft Pirellis in the first part of the session, and after 25 minutes the order was Hamilton, Ricciardo, Bottas, Vettel, Raikkonen and Verstappen.
But now the ultra runs began, with Bottas turning a 1:38.609 and then a 1:38.537. Vettel then clocked a 1:38.026 only to have Hamilton top it with his 1:37.877.
That changed the order to Hamilton, Vettel, Raikkonen, Bottas, Ricciardo and Hulkenberg, followed by Alonso, Vandoorne, Verstappen and Sainz. But Verstappen then jumped up to sixth.
Now the first round of fast runs was over. Just before the midpoint of the session Ricciardo started another ultra run and moved into third with a 1:38.180.
With just under 40 minutes remaining, Ocon slotted into seventh. Not to be outdone, Perez out did his teammate and took over the seventh slot. Hulkenberg was now ninth while Alonso took over tenth.
That pretty much ended the qualifying sims and the drivers now began doing race sims. Everybody except Grosjean was out pounding around the track with 20 minutes to go.
So FP2 ended with Hamilton and Vettel on top, followed by Ricciardo, Raikkonen, Bottas, Verstappen, Perez, Ocon, Hulkenberg and Alonso.