Australian GP 1999
Australian GP, 1999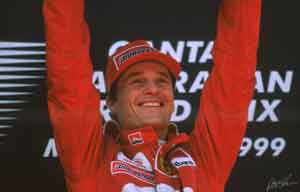 Qualifying in Melbourne had seen the McLarens of Mika Hakkinen and David Coulthard dominant. Michael Schumacher was 1.3secs off the pace in his Ferrari with Eddie Irvine down in sixth place, outgunned by Rubens Barrichello in the Stewart-Ford and Heinz-Harald Frentzen in the first of the Jordan-Mugens.

But Irvine's luck was in. At the start both Stewarts caught fire - causing lots of smoke and red faces. Then Michael Schumacher failed to get away for the parade lap and so he would have to start at the back. The second row of the grid had disappeared and with Irvine beating Frentzen to the first corner it was just a matter of catching the two McLarens.

After five laps the McLarens were 10secs clear. Eight laps later Coulthard headed for the pits with gearbox trouble. A Safety Car bunched up the field again and at the restart everyone went racing except Mika Hakkinen. There was something wrong with the accelerator.

Irvine took the lead and spent the rest of the afternoon controlling the race. Michael Schumacher had a series of adventures as he tried to catch up and so it was left to his brother Ralf to finish third. The retirement rate was such that Barrichello started from the pits in the spare car and was still able to finish fourth.