OCTOBER 9, 2016
Vettel plays down Italian media criticism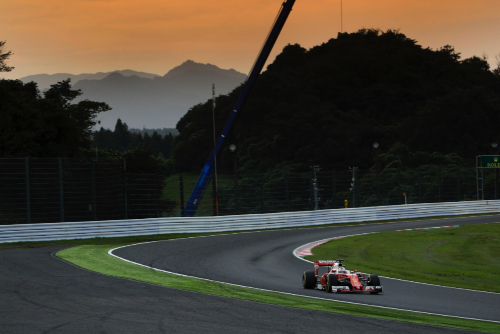 © Active Pictures
Sebastian Vettel has played down hefty criticism by the Italian press, who say the German's Ferrari career is in "crisis".
The Italian reports followed Vettel's first-corner crash in Malaysia, but came before team boss Maurizio Arrivabene admitted the German driver might not be retained by Ferrari beyond 2017.
Germany's Bild am Sonntag newspaper asked Vettel about the criticism at Suzuka, including the line that the four-time world champion has "lost his talent".
"The first headlines were 'Vettel is not so bad', so I think it will continue to go up and down with the media," he said.
"It's just proof of how highly the team is valued in Italy. On a bad day, the coverage is fierce, but that is because of how Ferrari is valued in Italy.
"Nothing against Mercedes, but I don't think that every German is automatically a Mercedes fan. But Ferrari is a way of life," added Vettel.
Asked, however, how a driver in the spotlight deals with that kind of negative attention, he answered: "On bad days it's a burden but on good days it gives you an incredible boost.
"Of course we are not happy with our performance so far, but that cannot be changed overnight."
Vettel also admitted that the negative coverage affects Ferrari's staff, as well.
"Of course, many people read newspapers, but more importantly is how we deal with it internally. If the criticism is fair, we have to live with it, but it's also true that many little things are totally inflated," he added.
(GMM)
Other stories for OCTOBER 9, 2016