Japanese GP 2016
OCTOBER 9, 2016
Race Notes - Rosberg wins in Japan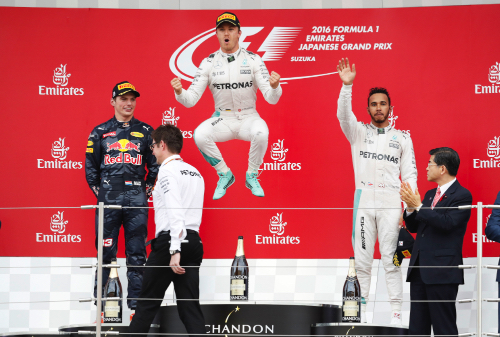 © Active Pictures
By Mark Karp
Nico Rosberg won the Japanese GP at Suzuka today in his Mercedes GP, 4.9 seconds over the Red Bull of Max Verstappen in second place, followed just behind by Lewis Hamilton in the Merecedes in third, 5.7 second behind the winner.
Mercedes GP with the result locks up the Constructors title for the third straight year. Rosberg now leads Hamilton by 33 points in the Drivers championship with four races remaining.
The finish is Hamilton's 100th career podium finish.
Sebastian Vettel (20.2s), in the Ferrari finished fourth, followed by his team mate Kimi Raikkonen (28.3s) in fifth place, Daniel Ricciardo (33.9s) in the second Red Bull was sixth, Sergio Perez (57.4s) in the Force India-Mercedes was seventh, his team mate Nico Hulkenberg (59.1s) was eighth, Felipe Massa (97.7s) in the Williams-Mercedes was ninth and his team mate Valtteri Bottas (98.3s) was the final points finisher in tenth place.
Before the start, earlier in the day there was rain, but the weather has appeared to have settled and it not expected to rain during the race. Rosberg has never won at Suzuka, while Vettel has finished first or third in every race he has competed in here. Also, no one has won in the past having started on the second row of the grid.
Once again this weekend the drivers will have the same three compound tyres to choose from as in Malaysia - the yellow-sided soft tyre, white-sided medium tyre and the orange-sided hard compound Pirelli tyre. The drivers must use the hard compound tyre at some point during the race alongside one of the other two compounds. The top ten will start on soft tyres, and it is expected the drivers will make two pitstops.
Rosberg sits on pole ahead of Hamilton on the front row, the Red Bull's of Verstappen and Ricciardo start on row two, Perez in the Force India and Vettel - with a three-spot penalty - start on the third row, Romain Grosjean in the Haas and Raikkonen - with a gearbox penalty - start from the fourth row, and Hulkenberg and Esteban Gutierrez round out the top 10 on the grid.
The grid cleared and the drivers set off on the formation lap - the lights went off and the race begins with Hamilton making a slow start off the line, Rosberg takes the lead from Verstappen, Perez, Ricciardo, Vettel, Hulkenberg, Raikkonen, Hamilton, Grosjean and Gutierrez the top ten.
On lap 2 Vettel passes Ricciardo for fourth place. Rosberg pulls out a 1.7 second lead over Verstappen, and sets fast lap at 1m37,331s.
On lap 3 at the first corner Vettel passes Perez and is up to third and is charging hard.
Hamilton tells his team "Sorry guys". they respond, "don't stress Lewis".
Raikkonen passes Hulkenberg for sixth.
On lap 7 Hamilton passes Hulkenberg into the first corner for seventh place - 15 seconds behind the leader Rosberg.
On lap 8 Raikkonen puts a wheel off but continues. The drivers are starting to struggle on the soft compound tyres. Perez, Ricciardo, Raikkonen and Hamilton line up to battle for fourth.
On lap 10 Verstappen, Ricciardo both pit for hard tyres. Hulkenberg and Gutierrez pit the next lap.
On lap 12 Rosberg pits from the lead for hard tyres., along with Vettel, Perez and Raikkonen.
On lap 14 Hamilton pits from the lead for hard tyres and comes out in sixth place just ahead of Raikkonen and Perez battling for eighth.
Hamilton passes Ricciardo out of the Spoon corner for fifth.
The next lap Hamilton takes Bottas and is now up to fourth. Perez is battling on the tail of Massa in eigth place.
On lap 17 Ricciardo takes Bottas for fifth. Then Raikkonen passes Bottas on the medium tyres as well for sixth.
On lap 19 Perez passes Bottas into the first corner and is up to seventh place.
Verstappen tells Red Bull, "Understeering a little bit but also a little bit of oversteer".
Rosberg sets fast lap at 1m36.753s.
At lap 20 Rosberg leads Verstappen by 3.9 seconds, followed by Vettel (6.9s), Hamilton (19,6s), Ricciardo (26.3s), Raikkonen (27.7s), Perez (34.4s), Hulkenberg (39.5s), Bottas (42.4s) and Massa (45.2s) in tenth place.
On lap 21Hulkenberg passes Bottas on the outside of the chicane for eighth place. Gutierrez spins at the chicane but continues.
On lap 24 Daniil Kvyat pits for hard tyres. Grosjean passes Joylon Palmer for 12th.
Verstappen reports that his is starting to lose his rear tyre grip - he trails Rosberg by 4.6 seconds.
A number of cars start to line up behind Felipe Nasr in 13rh place.
Massa finally makes his first stop onto hard tyres - looking to go with one stop.
On lap 27 Raikkonen pits and takes another set of hard tyres. Bottas and Marcus Ericsson pit as well.
Carlos Sainz looks to pass Fernando Alonso at the first corner, but runs wide but continues.
McLaren tells Alonso, "okay Fernando, we need to push now." Alonso responds, "I wish - which tyres do we push on?
On lap 29 Verstappen pits from second for another set of hard tyres. Raikkonen sets fast lap at 1m36.084s.
On lap 30 Rosberg pits from the lead for more hard tyres. Perez pits from seventh for medium tyres.
At lap 30 Vettel leads Hamilton by 6.0 seconds, followed by Rosberg (11.9s), Verstappen (15.4s), Ricciardo (22.3s), Raikkoenen (32.7s), Perez (54.1s), Hulkenberg (54.7s), Massa (72.9s), and Bottas (73.8s) in tenth place.
Vettel is complaining of lapping cars, saying "it's ridiculous".
Hamilton is slowly catching Vettel, 4.3s behind the Ferrari.
On lap 32 Ricciardo pits from sixth for hard tyres.
The next lap Hamilton pits from second place for more hard tyres, and rejoins just ahead of Raikkonen in fouth place.
Raikkonen sets fast lap at 1m35.990s.
On lap 34 Vettel pits from the lead and switches to soft tyres - and rejoins behind Hamilton in fourth.
Hamilton sets fast lap at 1m35.458 seconds. Vettel is battling half a second behind Hamilton.
Vettel sets fast lap the next lap at 1m35.118 seconds on lap 35.
Vettel tells Ferrari that Hamilton is pulling away on the straights - the team responds "keep your head down, the race is not over".
At lap 40 Rosberg cruised in the lead over Verstappen by 5.7 seconds, followed by Hamilton (9.0s), Vettel (11.2s), Raikkonen (19.5s), Ricciardo (31.1s), Perez (48.4s), Hulkenberg (51.8s), Massa (74.2s), and Bottas (77.2s) in tenth place.
Hamilton is closing on Verstappen to under 2 seconds.
Vettel continues to complain about the lack of blue flags for backmarkers.
On lap 45 Hamilton closes to just over one second behind Verstappen in second place, and shadows the young driver.
At lap 50 Rosberg leads Verstappen by 5.8 seconds, followed by Hamilton (6.3s), Vettel (16.4s), Raikkonen (26.8s), Ricciardo (31.9s), Perez (54.6s), Hulkenberg (59.1s), Massa (91.9s), and Bottas (93.3s) in tenth place..
On lap 53 Hamilton made a move on the outside of the chicane, and end up running straight and rejoining, still in third.
The order remained the same to the finish and Rosberg won ahead of Verstappen and Hamilton.