JUNE 23, 2014
Tempers fray as Ferrari looks to 2015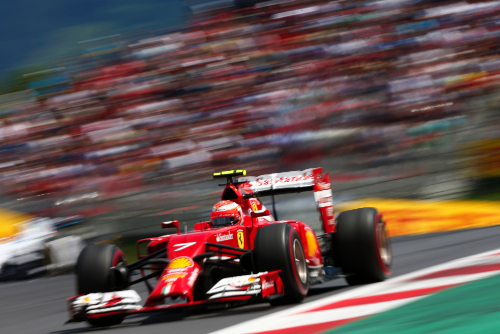 © Active Pictures
When told on Sunday to push up to his nearest rival, the radio answer from Ferrari's Kimi Raikkonen was immediate.
"Well, give me more power!" the Finn told his engineer.
Raikkonen has notably struggled since returning to the Italian team in 2014, but so too has Ferrari with its newly V6-powered F14-T.
"Kimi complained about the engine," new team boss Marco Mattiacci conceded after the Austrian grand prix, "but it's up to us to give him a car with which he can deliver his value."
In red uniforms, tempers are fraying all over the Maranello based camp, whose cool Jean Todt, Ross Brawn and Michael Schumacher-led era now seems entirely of another time.
Now, rumours of discontent are rife.
Spain's Marca reports that, after the Canadian grand prix, Mattiacci had an angry exchange with Pat Fry, whose technical role at Ferrari has been in doubt for several months since the arrival of James Allison, who leads the 2015 project.
Marca claims Briton Fry offered to resign after the Montreal row.
"It's rubbish," a spokesman insisted. "Do not listen to these rumours."
Mattiacci, however, does not deny that a frank exchange after Canada took place, as Ferrari plots a desperate course to improve.
"I like meetings where people talk openly and honestly and no one is silent," he told Spanish television in Austria.
"After Canada, we held meetings to discuss our weaknesses and in what direction we should go for the future."
That is because, although Raikkonen wants more "power", Mattiacci said Ferrari needs to work on every single area of the car for 2015, not just the underperforming engine.
"I would not isolate one area," he said. "I do not think that all of our problems are related to the engine, although the one Mercedes has produced is excellent."
Indeed, in Austria, Mercedes-powered cars totally dominated the top seven finishing positions -- with the only exception being Fernando Alonso in fifth place.
He may not have a winning car, but - when it comes to driver skill - Alonso has the respect of the entire paddock.
Asked how satisfying that is, he answered on Sunday: "Not much, to be honest. It's been like that for five years.
"There is always a satisfaction that everyone believes you are doing the maximum in the work you do -- drivers, team bosses, fans.
"But I would rather have less respect and more trophies."
Alonso is quoted by AS newspaper as admitting that closing the gap to Mercedes in 2014 is "impossible".
2015, however, is another thing, despite rumours he is desperate for a change of scene after five barren years in red.
When asked if Mercedes' dominance can be ended after just one season, Alonso hesitated as he admitted: "Yes ... yes.
"I think a lot can happen from one year to the next, as we saw from the past year to this one.
"Especially this year, with these regulations, everything is very new, so I expect 2015 to be another huge step for everyone, including Mercedes, but those who are below them have more room to improve.
"We will catch up to Mercedes. That is our hope," Alonso concluded.
(GMM)
Other stories for JUNE 23, 2014