Austrian GP 2014
JUNE 23, 2014
Race Report - The 4-M Club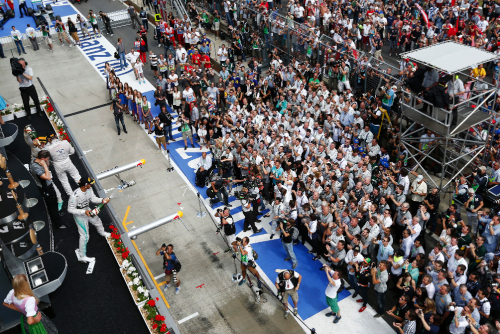 © Active Pictures
The club members eligible to win the Austrian Grand Prix contained just four members: The factory Mercedes entries of Nico Rosberg and Lewis Hamilton. And teammates Valtteri Bottas and Felipe Massa in the Mercedes-powered Williams cars.
For the record, the leader board for the 71-lap race around the Red Bull Ring set in the picturesque setting of the Sytrian Alps played out as follows:
Lap 1 to 13: Massa
Laps 14 to 15: Bottas
Laps 16 to 26: Sergio Perez/Force India
Laps 27 to 40: Rosberg
Lap 41: Bottas
Lap 42: Massa
Laps 43 to 47: Fernando Alonso/Ferrari
Laps 48 to 71: Rosberg
The reality, however, was that the Mercedes duo of Rosberg and Hamilton, even though their cars had overheating brakes and power units, would be unbeatable.
Rosberg, who started third, won. Hamilton, who gridded ninth, sliced his way to second place.
Massa, who started from the pole, plummeted to fourth during the first pit stops, and that is where he finished.
Bottas qualified a career high second and finished a career high third.
Massa took the lead at the start of the race. Rosberg grabbed second from Bottas who quickly grabbed it right back. And so it was a Williams one/two as the cars came by to complete the first lap. At the end of that lap, Hamilton had vaulted from ninth to fourth.
"I had a rocket start," Hamilton said. "It's something we've be working hard on all year and it was one of the best I've ever had. You can't ever plan what's going to happen but I managed to put the car in all the right places and climb to P4 by the end of the first lap."
Massa, Bottas, Rosberg and Hamilton ran in close formation until the first round of pit stops between laps 13 and 16. That put Perez, on a different tire strategy, in the lead. Next came the 4-M Club now in the order of: Rosberg, Bottas, Hamilton and Massa. Slow in and out laps, traffic and cold tires had dropped Massa down to fourth. Bottas, meanwhile, had a 2.1 second stop and come out in second place.
Perez led until he pitted at the end of lap 26.He would eventually finish sixth.
"Today we got a very positive result for the team, especially considering where we started the afternoon," he said. "When you start in 16th it is always going to be difficult to make up ground, but I had a very strong start and made up a good few positions.
"It was especially important to pass Jenson [Button] because he was on a similar strategy to mine: it was a key moment for my race. The strategy worked; we showed once more that we can manage the tires well, and we had a very strong race pace, as we have had all year. It was nice to be in the lead for a while, although we obviously knew that the cars behind us were on a different strategy."
The 4-M Club continued to circulate out in front until the next set of stops around lap 40 which put Alonso in the lead for five laps until he pitted. He may have been first for a while but Alonso's Ferrari didn't really have that sort of pace. He finished fifth,
"I think that I can consider this to be my best race of the season," he said, "because finishing eighteen seconds off the Mercedes in a race without a Safety Car or any particular incidents, is a good result. It was impossible to keep Hamilton behind me and fifth place is really the best we could do today, because the first four cars were quicker and therefore deserved to finish ahead of us. We pushed hard all race without any problems, which means that little by little, we are improving."
The order was now Rosberg, Hamilton, Bottas and Massa. And the reality was that the Williams boys had no hope of winning this race even though the Mercedes cars were suffering.
"We were beaten by a faster car and a better organized team, so hats off to them because they did a better job than us today," Williams' Head of Vehicle Performance Rob Smedley said. "We were not without problems ourselves and had to manage systems on the car - brakes, tires, and it was all about that, and about consolidating and making sure we got third and fourth, and we didn't do anything silly trying to race Mercedes and finish fifth or sixth, or worse."
So now it came down to a battle between Hamilton and Rosberg. Hamilton closed in but could not overtake.
"We were managing the brakes a lot today, because I was in traffic for most of the race and it was the most important thing to bring the car home, so that was a real balancing act," Hamilton said. "But the strategy worked really well for me to get into second position, then I tried to start pushing Nico - but he didn't make any mistakes and I didn't have the chance to overtake."
Rosberg won for the third time this year.
"It wasn't the easiest of races - trying to manage certain things that were a bit on the limit on the car," he said. "But in the end I had a very, very fast car again, so it was fantastic to win today. It's great also to get a one-two here in Austria and it's great to come back here to Austria. I mean Austria for sure deserves a race. The fans have been amazing, the atmosphere has been spectacular this weekend, so thank you very much for that and yeah it's been awesome."
Bottas was delighted with third.
"We were really strong the whole weekend and that's down to all the hard work," he said. "Of course it was a good track for us. You never know what's going to happen in the next race but overall we are making progress. Step-by-step we are getting there, getting closer to the positions where we belong. I'm really happy.
"The race today: it was really nice to have a really nice, clean race. Good points for the team. We've had some issues lately, been a lot of talk, not maximizing car we had but I think today we showed what we can do."
Massa could have been third but for his pit stop, but was still pleased with the overall result.
"I am very happy for Valtteri, he did a great job," Massa said. "We had a good fight with the Mercedes but it was clear we were never going to win. I had to manage my tires the whole race and also struggled with traffic. To stop first and come back out fourth is a bit disappointing but that's racing. It was a positive weekend for the whole team and an emotional one as well.
"The main thing is that we got 27 points which means we move up in the Constructors' Championship. We have progressed a lot but there still work to do to close the gap to Mercedes."
McLaren brought upgrades for its car to Austria but the best Kevin Magnussen and Jenson Button could do was seventh and 11th.
"I really thought we were going to finish sixth today," Magnussen said, "but Checo (Perez) just had too much pace at the end of the race. That wasn't great, but it's positive that we're making improvements. We've made progress this weekend, but we still need to keep pushing: we still need to find good, efficient downforce.
"Still, I think we got everything out of our package this weekend. It's tough racing in the midfield pack, like we did today, but we're going to get there. It's maybe difficult to see it from the outside, but, believe me, we're making improvements all the time."
Daniel Ricciardo (Red Bull) passed Nico Hulkenberg (Force India) on the last lap to claim eighth place. Ricciardo started fifth but fell to 10th.
"It was frustrating today; it's never nice going backwards on the first lap," said Ricciardo who won in Canada two weeks earlier. "Off the line, it was actually one of our better starts this year, although I think Kevin (Magnussen) on the inside got a better one. I tried to hang around on the outside, which was the wrong thing to do, because you basically lose too much on the exit. So I then got swamped on the long straight.
"We already struggle on the long straights as it is, but even more when you get a poor exit. So I was frustrated with myself and I will have to look if maybe I could have cut to the inside and done anything better. From that point on we tried to push and catch the others, but we just didn't have that much pace. It wasn't until the last bit that we were able to overtake the Force India. The last lap move put a little smile on my face, but other than that it wasn't a great race for us - we've got a bit of work to do."
Hulkenberg's ninth place kept his streak alive - he has earned points in every race this season.
"It was quite a tough afternoon and more difficult than I was expecting," he said. "Inside the car I was struggling with the balance quite a lot, which hurt our pace and also had an impact on the tire wear. So I think it was just a general lack of pace which stopped me from being able to get a better result."
An unhappy Kimi Raikkonen rounded out the top 10.
"This was another very difficult race for me," the Ferrari driver said, "despite having gone in a different direction yesterday to try and improve the performance. Unfortunately, it did not bring the improvements I'd hoped for and again here I found myself fighting the handling of the car.
"At the start I made up one place, but already on the second lap I began to have a problem with the brakes overheating and this meant I had to slow down. At the time of my first pit stop, my tires were completely worn and on my in-lap alone I lost two places. We should definitely have stopped sooner. Compared to the start of the season, progress has been made, even if there's still a lot to do as our speed still doesn't allow us to fight for the top places."
The next race is the British Grand Prix. Will the 4-M Club dominate that as well?