JUNE 23, 2014
Mistakes cost Hamilton, rivalry hurting Mercedes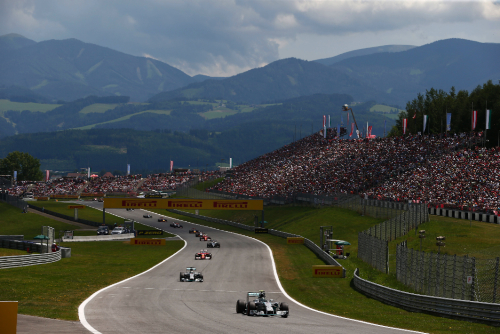 © Active Pictures
Key mistakes in Austria blew out Lewis Hamilton's championship deficit by another 7 points.
The gap to teammate Nico Rosberg is now 29 points with almost half the 2014 season gone, and conspiracy theorists on Sunday wondered if Mercedes is now actively favouring its German title leader.
According to them, Hamilton's almost 2 second deficit to Rosberg across his two pitstops at the Red Bull Ring was more than just a coincidence.
"I don't know," Hamilton said on Sunday when asked about his crew's slow service compared to Rosberg.
"I have to have a look at the feedback and just see what the team say about the stops.
"Obviously it's frustrating when you lose time because you're constantly doing everything you can to gain a tenth here, a tenth there, so when you lose quite a chunk - two seconds over two pit stops - it's tough," he added.
Actually, an initial analysis shows that Hamilton positioned his car poorly for his first pitstop, before a wheel rim problem slowed down the second stop.
Undoubtedly, a more pressing issue for Mercedes is the competition.
Six weeks ago in Spain, the silver-clad team's winning advantage was an enormous 50 seconds, but in Monaco, Red Bull's Daniel Ricciardo was on the pace.
The Australian then won in Canada, and Williams' Valtteri Bottas was just 8 seconds behind when the chequered flag waved for Rosberg in Austria.
Team boss Toto Wolff admitted on Sunday that he thinks the heated rivalry between Rosberg and Hamilton's respective sides of the garage is allowing more unified rivals to catch up.
"Transparency is suffering a little bit," he said. "And we need to make sure this is not detrimental to the team.
"Every race we need to learn. And we can only learn if we have an open and transparent way of working with each other.
"The drivers' main agenda is about winning the drivers' championship. Our main agenda is about winning the constructors' championship.
"Maybe first we need to win the constructors and then we can unleash them," added Wolff.
Some believe the proximity to the chasing Williams in Austria, who even monopolised the front row of the grid, is because Mercedes de-tuned its performance in the wake of the reliability problems in Canada.
Team chairman Niki Lauda, however, said the de-tuning accounted only for "two tenths per lap" in Austria.
"I note with surprise that the lead we had in Montreal has shrunk virtually to nil," the great Austrian is quoted by Auto Motor und Sport.
"Almost the whole race, Williams had the same speed as us -- we beat them only by better tactics and tyre wear. So now the alarm bells must ring now."
(GMM)
Other stories for JUNE 23, 2014