SEPTEMBER 29, 2017
Sainz to finish season with Toro Rosso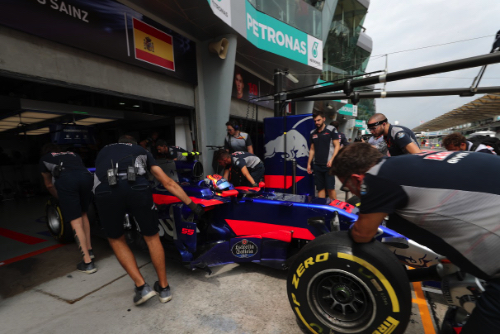 © RV Press
Carlos Sainz says he is staying in his Toro Rosso seat for the rest of 2018.
In the weeks before Malaysia, there were rumours the Spaniard would make his move to Renault before this season is concluded, to make way for Pierre Gasly's debut.
But Gasly is instead debuting in the ousted Daniil Kvyat's place this weekend, meaning Sainz looks set to stay until the Abu Dhabi finale.
Reportedly, the Sainz move was called off because Jolyon Palmer and his father Jonathan Palmer turned down Renault's EUR 3 million 2017 contract buyout offer.
In Singapore, Toro Rosso team boss Franz Tost emotionally told Sainz on the radio that he wanted him to stay.
"I appreciate Franz's confidence in me," Sainz said at Sepang.
"For now there is no worry, because at the moment I know that I will finish the season in Toro Rosso. It looks like that's going to happen."
(GMM)
Other stories for SEPTEMBER 29, 2017