SEPTEMBER 29, 2017
Palmer eyeing long term Indycar switch for 2018
Jolyon Palmer has admitted he is eyeing a potential switch to Indycar for 2018.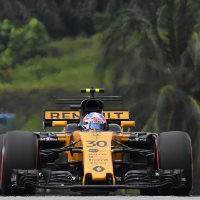 Jolyon Palmer has admitted he is eyeing a potential switch to Indycar for 2018.
After a tough couple of seasons with Renault, the son of former F1 driver Jonathan Palmer will be replaced by Carlos Sainz next year.
Palmer, 26, admits it could be the end of his F1 career for now.
"If I leave formula one at the end of the year, a new chapter will begin," he said in Malaysia.
"I will do everything to ensure the project is for the long term."
The leading rumour is that Palmer and his father are putting together a package to move across the Atlantic to America's top open wheeler category.
"Formula one is an excellent series and I would like to stay," he said, "but if you do not have financial guarantees or you're not one of the top drivers, then every year you feel the pressure.
"I want to be in a series where I have a long-term contract and can enjoy the racing.
"Let's see what happens. At the moment I don't have a plan, only different options that need to be considered."
Palmer has been linked with a move to Williams, but insiders do not believe he is a serious candidate to replace Felipe Massa next year.
Palmer said: "That team has a vacancy that several drivers are being linked to. There are chances and I'll do my best, but I don't want to rely only on that option."
Fellow F1 driver Romain Grosjean says he sympathises with Palmer's situation, but told the British driver to look ahead to a bright future.
"One thing life has taught me already is that when F1 stops, there is still a life," he is quoted by Ekstra Bladet newspaper.
"Yes, your social media is less but you still have friends and family. And there are many good series apart from formula one so that you can do what you love," the Frenchman added.
(GMM)