German GP 1962
German GP, 1962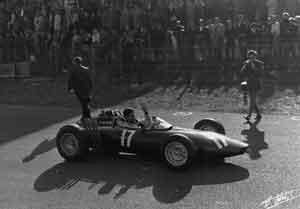 After missing the French GP and sending only one car to the British GP, Ferrari was back at full strength for the German event with four cars for Phil Hill, Giancarlo Baghetti, Ricardo Rodriguez and Lorenzo Bandini. All the other major players were present while Jack Brabham had swapped his Lotus 24 for the all-new Brabham BT3.

There were some major crashes in qualifying with Graham Hill's BRM being hit by a TV camera which fell off Carel de Beaufort's Ecurie Maarsbergen Porsche. This caused Hill to go off and Tony Maggs also had a big crash when he hit oil which had been dropped on the track by Hill's car. Fortunately neither driver was hurt and Hill was able to set the second fastest time. He was slower than Dan Gurney's Porsche but ahead of Jim Clark's Lotus and John Surtees's Lola. The second row of the 4-3-4 grid featured Bruce McLaren's Cooper, Jo Bonnier's Porsche and the BRM of Ritchie Ginther.

On race day the start had to be delayed when a torrential rainstorm swept the Eifel hills. When the race eventually started Clark's Lotus failed to get away (the driver haven forgotten to switch on the fuel pumps) and so Gurney took the lead with G Hill behind him. Then came a fast-starting P Hill, Surtees, Bonnier, McLaren and Rodriguez. Surtees was able to get ahead of P Hill on the second lap and a lap later G Hill was able to take the lead from Gurney. The American then began to drop back with a battery problem and so Surtees was able to move to second on lap five.

Clark, in the meantime, had driven up through the field and took fourth place on lap eight. At the same time Gurney was able to fix the battery problem and moved up again to attack Surtees. The showdown never really developed and Graham Hill was able to win the race by 2.5secs while Gurney was third less than two seconds behind Surtees. Clark had to settle for fourth with McLaren fifth and Rodriguez sixth.

Brabham retired the new Brabham after eight laps with a throttle problem.