Drivers
Richie Ginther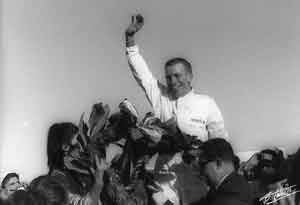 American Grand Prix drivers are a rare breed and winners are even more rare but Hollywood-born Richie Ginther is probably one of the least known. This small, freckle-faced Californian grew as one of the same gang of aspiring racers as Phil Hill.

Ginther made his F1 debut in the Monaco Grand Prix of 1960 at the wheel of a Ferrari, finishing sixth. This was followed in Italy with an assured run to second place behind Hill. The team was impressed enough to give him a job in 1961 and his chase of Stirling Moss in Monaco was the performance which put him firmly into the limelight.

At the end of the 1961 season Ginther decided that it was a good moment to move on and signed to drive the second BRM alongside Graham Hill, thus beginning a relationship which saw him end the 1963 season as runner-up in the World Championship. Ginther was a splendid team player and a great test and development driver. These qualities earned him a drive with the Honda F1 team in 1965 and he won his only Grand Prix victory that year in Mexico City, the final race under the 1.5-litre F1 regulations.

Ginther retired from racing in 1967 while waiting to do a qualifying run for the Indianapolis 500.

He died of a heart failure while on holiday with his family in France in 1989.