Drivers
Phil Hill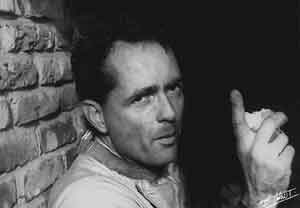 A cerebral performer who combined legendary concentration behind the wheel with a rather nervous and sensitive demeanor away from the cockpit. A product of the West Coast US sports car racing scene, Hill came to race in Europe briefly in the early 1950s and was eventually offered a works Ferrari drive at Le Mans in 1955. He was to win the famous French endurance race on three occasions and was promoted into the Ferrari F1 team midway through 1958. Hill played a key role in winning Mike Hawthorn's World Championship in 1958, the American slowing and waving his British colleague ahead in the Moroccan Grand Prix, enabling Mike to finish second in this race behind Stirling Moss' Vanwall. In 1961, Ferrari made sure it was well prepared for the first year of the new 1.5-liter F1 regulations and Phil certainly profited by this, winning the Belgian and Italian Grands Prix to take the title by a point from his teammate Wolfgang von Trips who was killed in the same event.

Hill quit Ferrari at the end of 1962 and moved with a number of other Ferrari staff to Carlo Chiti's ATS team. This was not a success. He raced for Cooper in 1964 but then dropped out of the F1 scene and spent several years racing for Ford and then Chaparral in the United States. His last major win came in 1967 when he won the BOAC 500 at Brands Hatch in England. He was 39. After he retired from the sport he established a classic car restoration business with Ken Vaughn in the 1970s. He also did occasional work as a TV commentator for ABC and writing articles for Road & Track magazine. His son Derek raced in Formula 3000 in 2001, 2002 and 2003.

Hill expanded his business as a vintage car collector and restorer. He attended a variety of events, and was a frequent judge at the Pebble Beach Concours d'Elegance. He died on August 28, 2008 from complications of Parkinson's Disease.