French GP 1959
French GP, 1959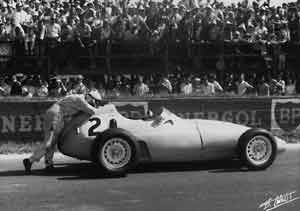 The third round of the World Championship took place at Reims with the Ferrari team having expanded to field five cars. Tony Brooks, Jean Behra and Phil Hill were joined by Olivier Gendebien while Ferrari's American agent Luigi Chinetti had found a new rising star from the United States called Dan Gurney.

The Cooper team was running Jack Brabham, Bruce McLaren and Masten Gregory, while Rob Walker fielded only Maurice Trintignant as Stirling Moss was driving a BRM for the British Racing Partnership, which had been formed the previous year by his father Alf and his manager Ken Gregory. The BRM factory team ran Jo Bonnier, Harry Schell and Ron Flockhart. Team Lotus fielded Graham Hill and Innes Ireland again and there were a variety of Cooper-Maseratis run by Scuderia Centro Sud and by High Efficiency Motors and there were even some old 250Fs run by Scuderia Centro Sud and by Scuderia Ugolini.

Practice resulted in Brooks setting the fastest time for Ferrari with Brabham second and Phil Hill third. The second row was shared by Moss and Behra and on row three Bonnier was alongside Gregory and Trintignant.

At the start Brooks took the lead with Moss second and Gregory third. Behra was left behind on the grid. In the early laps problems developed at the Thillois hairpin where the surface was breaking up and Gregory suffered a cut face when he was hit by a stone. Several others retired with mechanical problems related to flying stones. Brooks stayed at the front for the rest of the afternoon while the battles behind him ebbed and flowed. Trintignant worked his way to second but then he spun and stalled and had to push-start his car. This put Brabham up to second but he soon fell victim to Phil Hill and to Behra, who had driven a magnificent comeback. Soon afterwards Behra's engine failed. Moss then began a charge and overtook Brabham for third and chased after Hill. Moss was without a clutch and went off and stalled. He was disqualified for receiving outside assistance. Victory went to Brooks with Hill second and Brabham third.

There was drama at Ferrari where a frustrated Behra lost his temper with Ferrari team manager Romolo Tavoni and threw a punch. It cost him his job...