Drivers
Harry Schell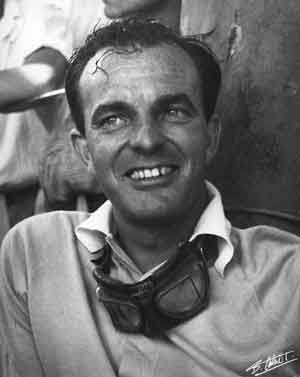 Harry OíReilly Schell was born in Paris in 1921 to American parents. His father Laury was a racer and his mother, the former Lucy OíReilly, was a feisty and smart Irish-American heiress, who won the Coupe des Dames on the Monte Carlo Rally in 1929. Laury Schell ran Ecurie Bleu in the 1930s fielding Talbots and Delahayes but shortly before the war the pair were involved in a road accident. Laury was killed and Lucy seriously injured and it was left to the 18-year-old Harry Schell to run two cars for Ecurie Bleu at Indianapolis in 1940. Schell, who spoke only French, had a crash course in English.

After the war he was a regular on the very active French racing scene and he made his Grand Prix debut at Monaco in 1950 at the wheel of the first rear-engined F1 car, the Cooper-JAP. In the years that followed he raced Formula 2 machinery for HWM and Gordini, while enjoying his life as a playboy. In the mid-1950s he drove a Maserati and finished second in the Rome GP and third at Aintree.

In 1956 he drove a Vanwall in the French Grand Prix at Reims, where he battled for the lead against a trio of Lancia-Ferraris. In 1957 he drove a works Maserati, finishing third in the Pescara Grand Prix, and produced a career best second place in the 1958 Dutch Grand Prix in a BRM P25. He was also an active sports car racer and in 1956 partnered Stirling Moss, Jean Behra and Maurice Trintignant to victory in a Maserati 300S at the Nurburgring.

A very popular driver, Schell was a partner in a bistro called LíAction Automobile which was a famous meeting place for members of the French racing scene.

He stayed with BRM in 1959 but then switched to the Yeoman Credit Cooper team in 1960. On May 13 that year he was killed while qualifying in the wet for the International Trophy non-championship F1 race at Silverstone.