Drivers
Jean Behra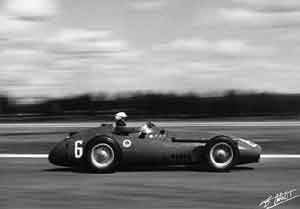 Born in 1921 Behra took up motorcycle racing in 1938 but was robbed of his best racing years by the war. In the post-war era he raced for Moto Guzzi and won four French national titles between 1948 and 1951. In 1949 while at Mont Ventoux for a motorcycle race he tried his hand at car racing at the wheel of a Maserati and found that he liked it.

This was followed by a race at Montlhery in a Talbot, a run on the Monte Carlo Rally in 1950 and then at Le Mans and in the Bol d'Or. At the end of 1950 Amedee Gordini, looking for a driver to race for his Simca-Gordini team decided that the biker, despite his age, had potential and signed him alongside Maurice Trintignant, Robert Manzon and Andre Simon. These were frustrating times because the Simcas were under-powered and unreliable but in 1952 at the Grand Prix of Reims, Behra hit the headlines when he took on and beat the Ferrari factory team.

Behra stayed with Gordini for two more seasons of frustration but then finally signed for Maserati for 1955. He was up against the mighty Mercedes team with Juan-Manuel Fangio and Stirling Moss and had little chance of victories but he did win the non-championship races at Pau, Bordeaux and Bari. When Mercedes-Benz pulled out Moss signed for Maserati and Behra was forced to be his number two for 1956. When Moss switched to Vanwall for 1957 Behra thought he would get number one status but then Fangio appeared and once again Behra had to be the bridesmaid as Fangio swept to the World Championship. Behra's most impressive result was victory in the non-championship Moroccan Grand Prix.

In sports car racing he enjoyed some success notably winning the Sebring 12 Hours with Fangio in 1957. The 1958 season saw him sign for BRM but the car was unreliable although Behra did well for Porsche in sports car races and hillclimbs. Finally in 1959 he joined Ferrari to partner Tony Brooks. Unfortunately, after retiring from the French Grand Prix at Reims with a piston failure, Behra fell out with the team manager Romolo Tavoni and ended up punching him. Behra was fired. Still employed by Porsche he went to Avus to race an F2 Porsche in the German GP. There was also a sports car event and he was driving a Porsche RSK when he lost control on the wet banking and crashed at high speed. He was killed in the initial impact but his body was thrown from the car and into a flagpole.