Pescara GP 1957
Pescara GP, 1957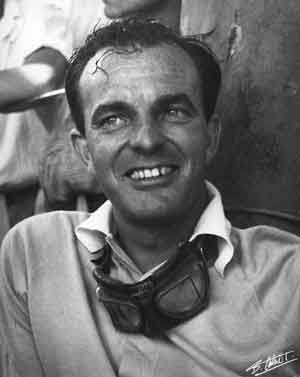 The cancellation of the Belgian and Dutch GPs earlier in the season enabled the FIA to include the Pescara GP in the World Championship for the first time, although it had been taking place since 1924. The 16-mile road circuit was a dramatic one but practice was limited and Enzo Ferrari did not bother to send cars for Mike Hawthorn and Peter Collins, partly because the World Championship had already been won by Juan-Manuel Fangio and partly in protest against Italian government moves to ban road racing, following Alfonso de Portago's accident earlier in the year in the Mille Miglia. Luigi Musso managed to convince Ferrari to lend him a car and entered the race as a privateer.

The battle was therefore between Maserati and Vanwall and it was Maserati's Juan-Manuel who set the fastest time in qualifying with Stirling Moss second in his Vanwall. Musso was third. The second row of the 3-2-3 grid featured the Maseratis of Jean Behra and Harry Schell while row three had Vanwall's Tony Brooks and Stuart Lewis-Evans split by the Scuderia Centro Sud Maserati of Masten Gregory.

At the start Musso took the lead but there was drama when Maserati privateer Horace Gould hit a mechanic who was slow to get off the grid. Vanwall's challenge was blunted on the first lap when Brooks retired with mechanical troubles. Moss took the lead from Musso on lap two but the two car remained together. Fangio ran third but the field thinned out quickly as the hot temperatures took their tool with Lewis-Evans losing nearly a lap because of two tire failures, Behra suffering an engine failure. On lap 10 Musso disappeared when his engine blew, the oil causing Fangio to have a spin which damaged one of his wheels. By the time Fangio rejoined Moss was uncatchable. He was even able to stop for a drink and to have his oil topped up. Schell finished third with Gregory fourth and Lewis-Evans grabbing fifth at the end of the race from the fourth Maserati factory driver Giorgio Scarlatti.