APRIL 7, 2011
Schumacher: as long as it's safe, you just get on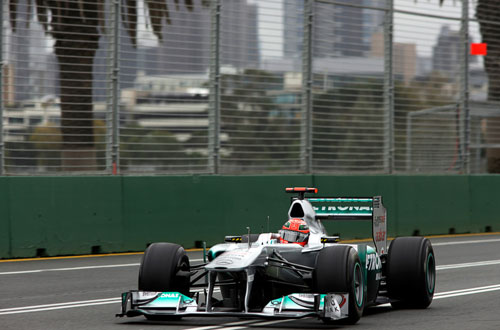 © The Cahier Archive
With Kuala Lumpur suffering regular tropical storms around the start time for qualifying and the race in Malaysia this weekend, Michael Schumacher shrugged off any suggestion that the track action should revert to an earlier start time.
"Bernie would put it every time in these conditions to make it more exciting!" Schumacher smiled as the thunder slapped overhead. "It is what it is and we don't hear the thunder in the car. You just have to get on with it. It's not done just for the weather conditions, there are other purposes. As long as it's safe, you just get on." The later start time is better suited to European audiences and more popular with advertisers.
Schumacher added: "These days it's an easier lottery because let's say the race starts in bad conditions, you have to start behind the Safety Car and your tyres are specified, so you know you're on the extreme wets. When the race starts and the conditions are a bit more normal it's a bit more of a lottery but, again, less difficult in terms of preparation because I've had basically no rain running. The Barcelona test was so wet you couldn't run and so it's going to be an interesting experience if it happens for the first time. I don't know the tyre evaluation between intermediates and heavy wet tyres, for example, but for most people it's the same, so let's see who wins there."
Schumacher denied that the demands of the KERS and DRS system mean that drivers are busier than they have ever been and struggling to cope.
"The steering wheels are not the most complicated," he said. "I think it was 2004 that I had the most possibilities in terms of functions. And if you ask about 'drivers' I think you have to differentiate between 'a' driver and 'some' drivers..."
If the Malaysian race is dry, however, Schumacher said it is hard to know whether post-Australian modifications will solve issues that afflicted Mercedes in Australia.
"These days," he said, "it's about simulation and wind tunnel programmes that you run to help yourself but the reality sometimes teaches you different circumstances. So, every time, you try to understand and correlate and we will find out this weekend if we have made a step forward. After Australia, I don't think you have seen the real car yet. It was a big surprise to all of us but maybe every moment and every track is different so we have to stay open-minded."
Other stories for APRIL 7, 2011