APRIL 7, 2011
Analysis: Webber looks ahead to Malaysian GP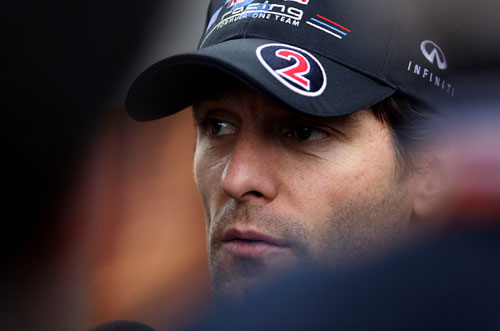 © The Cahier Archive
Mark Webber is confident of a stronger Malaysian Grand Prix after disappointment at home in Melbourne, but was tight-lipped about the specifics of the car problems that afflicted him in Melbourne.
"There were a few issues post-race which did not help and I'm not going to go into it too much deeper than that," he said in Kuala Lumpur, ahead of the second round of the FIA Formula 1 World Championship at Sepang this coming weekend. "We'll do a better job and get more out of the car and hopefully hang out at the front. I'm not going to make a meal of what happened in Melbourne, let's talk about Malaysia..."
Webber admitted that with Red Bull having won last year's race at Sepang, which he started from pole, and shown so well in the season-opener two weeks ago, he has to be confident, but also suggested that there are a few unknowns.
"This place is pretty brutal on track temperature which is going to be interesting on tyres and nobody knows how that's going to unfold," he said. "This will be the most extreme situation Pirelli has faced, so let's see how they go."
Webber added that while Red Bull's Australian qualifying performance showed a strong margin of superiority, the pattern of tyre performance is yet to be established and that qualifying performance may not necessarily translate on race day.
"Okay, one of out cars was in a different league in qualifying in Australia," he admitted, "but Lewis (Hamilton) didn't have too bad a race. We didn't run KERS in Australia but it's a no-brainer here, you need it working well and reliably. It's still a bit of a nervous time to a degree because Melbourne is a pretty unique racing track. Some teams want to improve their qualifying pace and some teams want stronger race performance.
"We've seen the Ferraris in the last few years and certainly last year, being good in the race but a bit out of position and a bit snookered in qualifying, particularly last year when qualifying was very dominant. This year it's less so and Fernando also had a poor first lap in Melbourne, so the tyre situation for the different teams is interesting. And clearly, looking at Vitaly (Petrov, who finished third in Melbourne), whatever the gap was in qualifying it was not that in the race. So the tyre situation is very sensitive at the moment."
Webber thinks that the Drag Reduction System (DRS) rear wings will also be much more potent in Malaysia than they were in Australia.
"I got pretty close to Fernando a few times and was expecting to put more pressure on," he admitted, "but I think it might have been a characteristic of the corner onto the start/finish finish straight in Melbourne. It's too quick and also the entry to Turn 1, even if you got close it's easy for the guy to manipulate the line and give you a different trajectory. Here will be a different story. If you're in the zone on the apex of T15, if the DRS doesn't work here I don't know where it will. We've got a slow corner to open it up, a slow corner at the braking point and Heathrow airport in the middle as well (a long straight), so it should work!"
Other stories for APRIL 7, 2011