APRIL 7, 2011
Alonso: Australia no disaster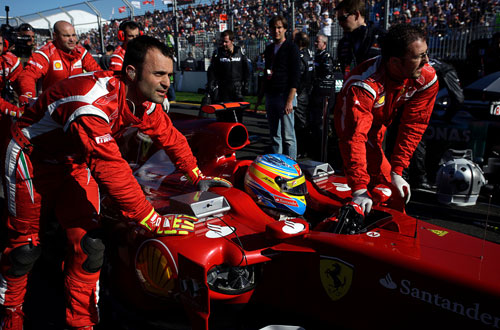 © The Cahier Archive
Ferrari's Fernando Alonso denied that the season-opening race was any kind of disaster for the team but says that he believes Ferrari can have a much better weekend and be significantly more competitive in Malaysia.
"We were fourth in Melbourne," the Spaniard said, "and Webber was fifth and Button sixth. "But, saying that, Australia is a special circuit and layout and the performance doesn't repeat. Even so, I'm not a fan of talking about tyre temperatures as an explanation. Okay, we were fighting with Button and Webber on a sunnier Sunday but the car needs to be fest everywhere in all conditions."
Alonso dismissed any idea of KERS, run by Ferrari in 2009, giving him an advantage in Malaysia in view of the fact that Red Bull have not run the system thus far and did not use it in Australia. "We did use it in '09 and straight away when we fitted it to this car it was okay, so maybe there's a bit of an advantage with installation and experience but performance-wise I think KERS will be pretty similar among everyone."
Other stories for APRIL 7, 2011