JUNE 24, 2012
Alternator problems stop Vettel and Grosjean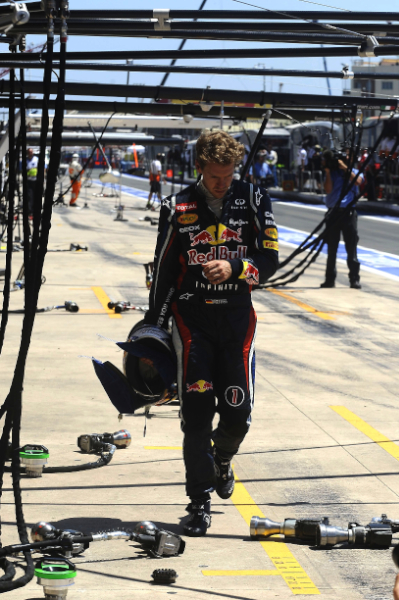 © The Cahier Archive
By Tony Dodgins
The Red Bull and Lotus teams suspect that the same Renault alternator problem cost Sebastian Vettel and Romain Grosjean their chances of winning the European GP.
Vettel was leading the race by 20s from Grosjean when the Safety Car emerged on lap 29 due to debris on the circuit from contact between Jean-Eric Vergne and Heikki Kovalainen. When it pulled off five laps later and the race resumed, Vettel immediately ground to a halt.
Fernando Alonso pulled off a superb move to pass Grosjean for the lead but the Frenchman still looked handily placed behind the Ferrari, with his team telling him he could expect less tyre degradation in the closing stages. Unfortunately, the Lotus also stopped on lap 41, with 16 still to go.
"We're not 100% sure," said Lotus's Alan Permane, "but we think that it was an alternator. We think it was the same as Vettel. It's easy to be hacked off because we could have had a shot at winning the race, but we wouldn't have done if Vettel hadn't had the failure as well."
Permane did not believe that the failures were linked to less cooling prevalent during a safety car period.
"We've looked at the temperatures and everything looked under control. It's not something that made it fail, there wasn't a high power demand or anything like that. Everything looks normal.
"We knew three or laps beforehand. It wasn't charging the battery and what actually stopped the car was the fuel pump not working. I'm sure that with two bits of data they'll fix it for the next race."
At Red Bull, meanwhile, there was palpable disappointment at suffering the failure after such a dominant showing by Vettel. A balanced Christian Horner said, however: "It's frustrating when you're in that position, of course, but I believe that was our first mechanical retirement since Korea 2010."
Other stories for JUNE 24, 2012