European GP 2012
JUNE 24, 2012
Sunday Team Quotes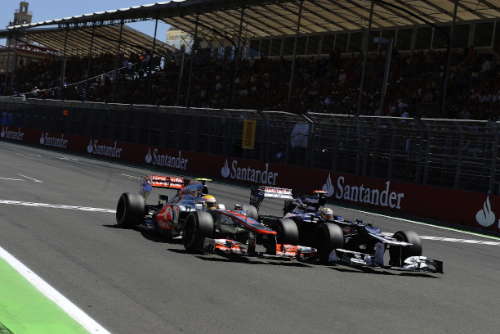 © The Cahier Archive
Red Bull-Renault
Mark Webber (4th): "I'm very happy with that, obviously it's been a tough weekend up until today, but you never know what's going to happen. In the middle of the race I wasn't too happy and I didn't really know what was going on. Then there was a bit of attrition at the front and the strategy worked out. We got it all working well today and we got some good points. It was a crazy day today - but I got points, so I'm happy with that."
Sebastian Vettel (DNF, Alternator): "At the moment it's not entirely clear what the problem was. I lost acceleration, the engine stalled and I couldn't do anything; that was it. You can't change it now. Up until that point it was clear we were strong, I was very happy in the car and had the pace. We were very quick today and it felt good. The initial re-start after the safety car was fine, but we're not sure of the exact problem, we'll need to look into it."
Christian Horner, Sporting Director: "It was a bitterly disappointing race for Sebastian who had done everything right. He looked to be in comfortable control of the race until unfortunately during the safety car period we had a suspected issue with the alternator, which caused him to retire. We need to get the car back to fully understand the failure which we will work through with Renault, as it looked similar to the one that Grosjean had today. Mark drove a tremendous race and the strategy worked well. He started on the hard tyres then went onto the softer tyres, picking off cars getting into tyre trouble at the end, so it was a great recovery from Mark who drove well. Others had their bad luck today too. In addition to Mark's drive, another positive is that we leave Valencia knowing we have a fast car. We've extended our lead in the Constructors' and Mark's recovery was very strong."
Cyril Dumont, Renault: "Today was a real disappointment as Sebastian was well ahead and seemed to have the race in his pocket. Then the alternator overheated, stopped supplying electrical power and the engine shut down. We're not sure exactly why - it could be a number of things - but it's definitely something we'll look at when we get back to Viry. Congratulations to Mark though, from almost the back to fourth is a fantastic result."
McLaren-Mercedes
Jenson Button (8th): "This was a really difficult race to read. I got a poor start, was boxed in at Turn One, and had to lift to prevent Fernando [Alonso] and myself hitting the wall at Turn Two. I don't think we did a bad job in terms of strategy - the car felt good and kept improving during the race - but, when the Safety Car was deployed, I think a few others lucked in to a better strategy. And, today, also, we just didn't get lucky. Finally, massive congratulations to Fernando - he did a great job. Hopefully we can do the same thing at our home grand prix in two weeks' time!"
Lewis Hamilton (19th, Accident): "Big congratulations to Fernando - he did a great job today to come from all the way back in 11th. We lost some points today - fortunately, however, a couple of other drivers fighting at the front also missed out, so it's not the end of the world. It just makes things a little bit tougher. Today was just a bad day in the office - but that's motor racing, and I'm already looking forward to the next grand prix, my home race at Silverstone."
Martin Whitmarsh, Team Principal: "I suppose you'd have to describe the 2012 European Grand Prix as an exciting race for spectators, but a frustrating race for Vodafone McLaren Mercedes. Clearly, we'd like to have scored more points than we did today. But, as I've said before and I'm quite sure I'll have cause to say again, the comparative performance of Formula 1 cars is extremely close this year - probably closer than ever before - and this year's races are consequently very unpredictable. Having said all that, it goes without saying that everyone at Vodafone McLaren Mercedes is looking forward immensely to our home race, the Santander British Grand Prix at Silverstone, on whose famous Tarmac we hope to put on a fantastic show, and record an excellent result, in front of the most enthusiastic and knowledgeable motorsport fans in the world."
Ferrari
Fernando Alonso (1st): "This has been an unforgettable day for me and I can't find the right words to express my feelings! Winning in my country is an indescribable emotion: I still remember the victory in Barcelona in 2006 and winning today in Valencia with this fantastic team, is amazing, especially when we are going through such a difficult time at the moment in Spain. It's nice that sport and I'm thinking of the wins for the national football team and Nadal, might be able to give people something to smile about. Stopping on the slowing down lap? I don't know what happened but it came at the right moment, because I was in front of the grandstands and I was able to celebrate with my fans! Sport always delivers the same lessons in that there are highs and lows and things change quickly. Yesterday we didn't make it to Q3 and today we have won: it means that we should never give up, right to the chequered flag. It's a nice present for everyone who has come from far away, maybe even sleeping in their cars and then staying in the grandstands in this torrid heat. At the start, it was not easy to make up places and I tried to delay the braking to the maximum at Turn 4, staying on the outside. Then I started to fight my way up and, after the Safety Car, I began to think a podium could be possible. Then I attacked Grosjean and managed to pass him, although I was worried that I might have sustained some damage when we touched. After two or three corners I realised everything was alright and I relaxed. When I went into the lead after Vettel retired, we were all hoping the tyres would last to the end. I was always talking to my engineer who told me I was running the same pace as those following me: in the end, there was not much left, but unlike Canada, the others were in the same situation. It was emotional being on the podium with Andrea Stella, because he has also worked with Michael and Kimi: he could celebrate in the best way possible a totally unexpected win, given our grid position. Thinking back to yesterday, what happened confirms there is still a lot of work to be done and we have to be honest about this, to ourselves and to our fans. We will do all we can to win this championship, but we still don't have the quickest car and we must push to reach this objective as quickly as possible."
Felipe Massa (16th): "What do you want me to say, nothing went right today! From lap 8 onwards I started to feel there was something not right at the back of the car and, at the end of the race, the team found some damage that had completely ruined the balance and the aerodynamic downforce level. From being able to attack the Force India, I went to losing a second a lap! I am very disappointed, because I had a good pace and could keep up with the group Fernando was in. Then there was also the collision with Kobayashi and there, any hope I had of finishing in the points evaporated. The car was going very well today and it was at the level of the best, I am pleased for Fernando, who drove a fantastic race to win, but there's also some bitterness as today could have been very nice for both of us"
Luca di Montezemolo: "This is Ferrari at its very best, the one everyone wants to see! Fernando was extraordinary and it's hard to find the words to describe his race. I am very sorry for Felipe, who was really unlucky: he was going very well and I'm sure he could have brought home a good result if not for all the problems he had. Today has shown the spirit of a team that never gives up and it also reflects the spirit of our homeland in Emilia Romagna, where so many people are going through a particularly difficult time after the earthquake a few weeks back: let's hope this victory will at least have put a smile on their faces!"
Stefano Domenicali, Team Principal: "We are very pleased with this victory, but we won't let it go to our heads. Yesterday, we had said that the result of qualifying did not reflect our potential and I think today's performance proves we were right. A shame for Felipe, who really got hit with one misfortune after another, first with debris ruining the balance of his car, then with the fact the Safety Car period came immediately after he had pitted and finally, the collision with Kobayashi: he had started in fine style and had everything in hand to get a really good result. Fernando was spectacular, in terms of showing aggression and in the way he managed the car and tyres. We could tell that this weekend felt very special to him and the win was really emotional for him and the whole team. Today, some of our competitors had reliability problems and that serves as a reminder that this aspect is crucial for success: in such a closely matched season, a no-score carries a high price in the classification. We said it at the beginning: these twenty five points will definitely not go to our heads. We are well aware how things can change in the blink of an eye and we must continue to work on improving the car's performance, because it is still not at the level we want."
Pat Fry: "While yesterday we were maybe too sure of ourselves in Q2 and not particularly lucky, today we did everything to perfection with Fernando, while Felipe was really incredibly unlucky. The fact that this morning, we could never have expected this win makes it all the more sweet. We profited from the reliability problems of others but that's part of the game and it's a reminder of how important it is to ensure that the cars are sufficiently robust and not just fast. Fernando was fantastic, aggressive when he had to attack in the opening moments and very clever in managing every stage of the race. We must improve our performance because this weekend, the Red Bull showed it had made quite a step forward again and we aren't where we want to be, meaning ahead of everyone. We have more developments coming, but we are perfectly aware that our competitors won't be twiddling their thumbs. Now we can enjoy this fantastic win for an evening, a win which is down to everyone working here at the track and, above all, in Maranello. But then we must get down to work again to be as well prepared as possible for the Silverstone round. We are facing three races in four weeks and we must not relax, not even for a second."
Mercedes GP
Michael Schumacher (3rd): "Wow, I did not even think of getting on the podium for any second in the race today, so what a wonderful result! Finally it happened! After such a long time waiting and for jumping on the podium so unexpectedly, I feel extra happy. I think that was the best answer to give to everybody who started doubting our work: get the car together and fight back; never give up, as anything can happen. A big thank you to the team and to everybody who kept on believing we would get on the podium again. That's what team work is about. A special word for my mechanics and engineers who have done a fantastic job this weekend after some difficult races this year. I didn't think a podium was possible - not even at the end of the race, because it was pretty busy in the last laps and I had lost count of where I was. Then when I crossed the line, I asked the guys where I was and they said "Third - on the podium!" It's one of those moments that you enjoy deeply as a driver. We were close a couple of times but it was great for it to happen in a spectacular race like this, through strategy and lots of passing on a circuit where overtaking is difficult."
Nico Rosberg (6th): "That was a really exciting race. I had a bad first few laps and lost positions, then the Safety Car came out at a bad moment for me. After the restart, I thought I would end up finishing out of the points, because I had the oldest tyres and therefore no grip, which made it very hard to defend. We had planned to try a one-stop strategy but had to convert to two stops, and thanks to the strategy guys, we were on fresh tyres when everybody else was struggling. I was in P12 on lap 47 and P6 at the end, so it clearly worked and we are very happy with a good team result after such a chaotic race, with two cars in the top six. A great result for Michael with his podium and I am happy to score some more nice points."
Ross Brawn, Team Principal: "Congratulations to Michael and the team on a fantastic and well-deserved podium finish. Michael demonstrated today that if we can give him the opportunities, he will get a great result. And well done to Nico as well. He was in quite a difficult position at one stage but came back and gave the team a really strong points score today. The early part of the race was quite difficult for us, and our early strategy did not come together as the tyres behaved differently to our pre-race predictions. So we had to react, and we did so extremely well, leaving our stops as late as possible to give our guys fresh rubber at the end. It was such an exciting end to the race, and I am very proud of both of our drivers, everyone here in Valencia, and back at our factories in Brackley and Brixworth today."
Norbert Haug, Mercedes Motorsport Director: "A marvellous race from Michael with the right speed and the right strategy. Coming from 12th on the grid to third on the podium is a good achievement, which Michael truly deserves and he achieved that with a great drive. Nico started sixth and lost five places during the first lap, which was a big handicap - so to climb back to sixth place was a good recovery. Since his win in China, Nico has scored one point less than Fernando Alonso, who brought home the most points in the last six races. As for the rumour spread by another team that Michael used his DRS flap where he should not have done, I can confirm that this was not the case, as our data proved and the stewards of the meeting confirmed. I am really pleased for Michael and the team. We always believed in each other and today was the first of hopefully more podiums to follow."
Lotus-Renault
Kimi Raikkonen (2nd): "Second place is okay but the win is what I really wanted. We didn't quite have the pace for it today. I got a good start but I was blocked by Pastor (Maldonado) at the first right-hander and lost quite a few places which put me a bit behind. We made a good recovery from that position and had quite a hard fight with a few people - overtaking and being overtaken. I couldn't get the tyres up to temperature quickly enough after the safety car, and I made a small mistake on the re-start lap too. I was able to fight back as we had good race pace again. Today was close but the race win was just out of reach."
Romain Grosjean (DNF, Alternator): "Basically the car lost power and switched off. I couldn't even call my engineer on the radio as the radio was dead. The race was almost perfect up until that point: we had a good start and a good strategy. I don't think we were that far from our first win. The positives of this weekend are that we battled right at the front and we showed good pace. Sebastian (Vettel) was very strong and I don't know if we could have caught him. When he had his issue, I was in second place behind Fernando (Alonso) and it was then that I thought we could challenge for the lead because we knew that our tyre degradation was going to be less than his. Unfortunately fate decided otherwise..."
Eric Boullier, Team Principal: "It's a good result for the team and for Kimi. Second brings a lot of points, and we also didn't lose ground on the teams ahead of us in the championship standings. On the other side of the coin, it's been a disappointing day for Romain as he was in such a good position for at least a podium finish. This is racing, and we will work closely with our partners to ensure we don't see a failure like this again in the future. Both drivers and the team worked very well this weekend and we have shown that if we achieve a good qualifying position we can fight for the win."
Alan Permane, Chief Race Engineer: "I'm very happy for the team to be on the podium again with a strong second position from Kimi. I'm sorry for Romain as he was in a good position before what we believe was an alternator failure resulted in a lack of fuel pressure, causing his car to stop. He was right in the fight to be on the podium again so that was unfortunate. Our tyres held up well against the opposition and we did see overtaking once the tyres of other cars dropped away. It was quite a straight-forward call for the final pit stop under the safety car, and we could see that there was enough space between both cars to double stop them. Both drivers did very good jobs today. We know we need to look at getting heat into the tyres quicker after a safety car, but otherwise a very strong weekend."
Riccardo Penteado, Engine Support Leader: "Second position for Kimi shows the strength of the car in race conditions. We have to apologise to Romain however, who could also have got a very decent result here as well. The alternator failed at about two thirds distance and the car stopped due to no electrical power. We will look into this thoroughly and see what happened in this instance."
Force India-Mercedes
Nico Hulkenberg (5th): "A great result for everyone in the team today and for me personally. Fifth place is a great achievement after a very long and difficult race. The two-stop strategy worked well, but the last stint was very long and it was hard to hold off the cars behind me on fresher tyres in the last few laps. So the race was a bit messy at times, but very entertaining and it feels great to come through and score such a good result for the team. We got a bit lucky with some cars dropping out, but we were in the right place to capitalise on things so I'm very happy about today."
Paul di Resta (7th): "We went very aggressive by only stopping once and in fact we were the only car to pull off this strategy. Of course, when you're stopping once you really don't want a safety car period and it certainly hurt my race and cost me some track position. But with the way the race unfolded we can't be too disappointed to finish seventh and it's great to have another two-car points finish. On the whole our relative pace through the race was strong, but it was hard to keep the tyre performance towards the end and I was really fighting the car in the closing laps. There was some attrition ahead of us, but we were there to pick up the points when it mattered."
Dr. Vijay Mallya, Team Principal: "A thoroughly enjoyable race today and I'm delighted to see our cars come home in fifth and seventh places, our strongest result of the season and Nico's best finish in Formula One. It was a rollercoaster race with many twists and turns, but I feel we have come away with the points we deserved given our performance level this weekend. Both drivers pushed hard, kept out of trouble and made their different strategies work. Paul recovered the ground he lost under the safety car and Nico had to drive most of the race without KERS, so it was an excellent performance by him. The result today sets us up perfectly for Silverstone in two weeks' time where we will be determined to build on this momentum in our local race."
Sauber-Ferrari
Sergio Perez (9th): "It was a difficult race today. We risked quite a lot with our strategy and in the end the tyre degradation was huge. You can say two points are not a bad result if you've came from 15th on the grid, but the most important thing now is to improve our qualifying performance. I was 15th on the grid for the second consecutive race and there is a lot more to achieve if I could only start further up the grid."
Kamui Kobayashi (DNF, Accident): "What a race today, however, I am very disappointed. I definitely had a good start from seventh. I made up two positions straight away and then overtook Pastor Maldonado on lap one. I was fourth and it looked promising. Then at my first pit stop after 14 laps we had a problem with the front left wheel. After that I was 11th and still had a good chance. On lap 20 I was following Kimi Raikkonen, who was overtaking Bruno Senna, and then was on the inside next to Senna. I had the wall and nowhere to go when we touched. I had to pit for a nose change. Later, when the race was restarted after the safety car period, I was fighting with Felipe Massa for position. Our cars touched and this time the damage was too bad to continue."
Peter Sauber, Team Principal: "From my perspective it was a race of missed opportunities. Things went against us today, and in the end we had to be satisfied with getting just the two points Sergio scored. Kamui was unlucky when he was hit by Bruno Senna. He couldn't benefit from his great qualifying performance."
Giampaolo Dall'Ara, Head of Track Engineering: "Kamui made a brilliant start, had a great first lap and moved up to fourth, so things were really looking good for him. But then at the first pit stop we lost time with the front left wheel. As a result, Kimi Raikkonen was able to overtake him in the pits, and Fernando Alonso was also able to pass him. Then he was hit by Bruno Senna and had to pit again. It was at an unlucky moment because the safety car came out just a few laps later, and then he had a racing incident with Felipe Massa so had to stop due to the damage on the car. Sergio started on the medium tyres, and in the beginning he was stuck behind Senna. Therefore we opted for an early pit stop after lap ten to get him out of traffic. However, the second set of tyres, softs now, started to degrade earlier than expected, so we had to pit him again on lap 25. But he was unlucky with the safety car which came out just three laps later. The plan was then to go to the end on the soft tyres, knowing this was ambitious, but in the end with the old tyres he couldn't defend against Michael Schumacher and Mark Webber. All in all it was a very difficult race."
Toro Rosso-Ferrari
Daniel Ricciardo (12th): "The final result of the race is disappointing. I think I drove well and the team deserved better. Apart from my finish position, it was a really good race. I had a good getaway off the line, passing a couple of cars. But the opening lap was a bit of a mess and as I tried to overtake some cars down the inside, Perez got me round the outside. My first stint was strong and I was in touch with our competitors, then the second stint was also good. The Safety Car did not really work in our favour. After my second stop I was pushing to the end and I had Petrov going quite slowly in front of me, I went to get around him and he defended by going a bit wide. So I tried to switch back and I feel I gave him some racing room, but we still made contact because perhaps his move was a bit too aggressive. Anyway, that cost me a chance to get into the points, but there were some positives to take away from this race, even if they are not so visible from the outside."
Jean-Eric Vergne (DNF, Damage): "It's a big shame not to finish the race as I was picking up my pace on the Option tyre, having started on Prime and it also means it's my first retirement this season. As for the incident with Heikki, I felt I was ahead and as I started to turn into the corner, we collided and his front wing clipped my rear wheel and there was too much damage to the floor and it was impossible to change the damaged rear wheel so there was no way for me to continue. I think it was just a racing incident."
Williams-Renault
Pastor Maldonado (10th): "It was an unlucky race for us as we were looking strong for a podium finish. We were struggling at the beginning of the race but at the end I passed Lewis (Hamilton) and then he came back across. I jumped across the kerb but there was nothing I could do and we made contact. I was on a great lap after a great race. The car was feeling good and we had good pace."
Bruno Senna (11th): "I feel quite disappointed with today as we had good pace and the right strategy. It would have been difficult but it was working for us. However, after losing time with the puncture and then receiving the drive-through penalty it would have been difficult to get into the points even in a race like today. We got lucky with the timing of the safety car but on a positive note we had good tyre management and so we were looking competitive. Now we need to put it behind us and see it as a lesson learned."
Mark Gillan, Chief Operations Engineer: "It was a very eventful race from which we should have secured a decent haul of points, so it is clearly disappointing to come away with a single point. As a team we will thoroughly review the weekend, regroup and aim to come back stronger at Silverstone."
Laurent Debout, Renault: "It's a real shame to lose a potential podium in the final laps like that. Tenth position doesn't really do justice to the performance of the car all weekend - Pastor's third position on the grid shows what we were capable of."
Caterham-Renault
Vitaly Petrov (13th): "I'm really pleased with how today's race went. I made a pretty good start and was just behind Heikki after the first corner - I was pretty careful into T1 as I didn't want to make any mistakes and from that point it was really about managing the tyres and following the instructions from my engineer. I want to thank the boys for the fantastic job they did in the pitstops, particularly when I had to box for a new nose late on in the race. Even though we were running tenth at one point I'm not sure a point was quite within reach today, but it's really encouraging to see how we've progressed here and we know we have more to come in Silverstone so we have something good to fight for and that's great for the whole team."
Heikki Kovalainen (14th): "My start wasn't the best I've had this year but I was keeping pace with Webber and Ricciardo for the first few laps. Unfortunately we had a KERS issue early on and that obviously hit my pace for the whole race. We had opted for a two stop strategy so for the first stint I was looking after the tyres until we boxed. The stop went well and my pace was good but then Vergne made what looks like a rookie mistake, hit me and I had to come in for a new nose. From that point I was just trying to get to the end of the race and with about five or six laps left the tyres were gone. Despite that 13th and 14th is another decent result for the team. We've had a very good weekend here and now we can look forward to making more gains at the next race so we leave on a positive note."
Riad Asmat, Chief Executive Officer: "What a race! That's what makes this the greatest sport on the planet, right throughout the grid. I am very proud of the job the whole team did today. The pitstops were excellent, the strategy calls were spot on and both drivers pushed as hard as they could. The two incidents obviously cost us time on both cars, but it is very good to see that we are so close to the pack ahead - enough to give Heikki and Vitaly a chance to fight and another 13th and 14th place helps us consolidate our place in the Championship, so this has been a good weekend."
Mark Smith, Technical Director: "Our final positions today are just reward for a very good performance right across the whole team today. Without the contact with Vergne and Ricciardo we may have been able to finish a couple of places higher, but we have to be pleased with how we reacted to the incidents on track, and the fact that we have clearly made some gains here. We have more upgrades to come for Silverstone and if we keep up this level of momentum we have a very exciting second half of the season ahead of us."
HRT-Cosworth
Pedro de la Rosa (17th): "The truth is that I gave it my all in this race, I emptied myself, and I'm satisfied. It was a very long race and towards the end, right in the middle of a battle, my rear tyres went and all I could do was hold on until the end. To be honest I could have done without the last seven laps. It was the typical survival race where the cars with most degradation get the wrong end of the stick, but we knew beforehand that it would be tough. But the best thing is that we maintained a good rhythm and managed our brakes for them to last. Perhaps I should have been a bit more conservative when I had Pic behind but I preferred to risk. If the tyres held out, great, and if not, great too. I'm satisfied because we did well the entire weekend in front of our fans. They deserve the best and I think that they see us fight in every race and we're improving, so I can only thank them for their support."
Narain Karthikeyan (18th): "I got off to a good start and managed to hold my position. We had a tough battle for the first 15 laps and our car was going very well on the straights but the degradation of the rear tyres started affecting our performance. After the pitstop I was behind Pic and it wasn't easy to drive so I was unable to catch him up. But we had a good last stint on the prime tyres which, unfortunately, got hampered by a drive-through penalty as a result of speeding in the pit lane. Had it not been for this then perhaps I could have finished in a better position but the important thing is that we made it to the finish line in very challenging conditions."
Luis Perez-Sala, Team Principal: "I'm happy because, after what happened in Montreal, we finished the race with both cars and didn't encounter any problems. We fought the entire race and, although in the end we didn't finish out on top, I'm very proud of the team because it's the first time we've battled one-on-one in a race. Both drivers raced very well and we had no trouble with the pitstops either. We're closer every race but we have to keep on working to continue like this. To finish off I would like to congratulate Alonso because he completed an excellent race, winning after starting in 11th position. This proves that nothing is impossible."
Marussia-Cosworth
Charles Pic (15th): "Having not been so pleased with where I ended up in qualifying yesterday, by contrast I am very pleased with how things have gone for myself and the whole team in today's race. I think we got the most from our strategy and made everything work well in our favour. I am happy to see the improvement in our race pace and we are back in a better place versus the Caterhams ahead. I am also pleased that we were able to put the HRTs back behind us again and in that sense I had an enjoyable race to be able to do the job we needed to do here. I would like to thank the team for all the hard work over the weekend and especially today when we all pulled together to get the best possible result. It has been a frustrating time for everyone, but I think we can now look forward to the team's home race in two weeks with a little more confidence and with two cars back in play, hopefully push the improvements some more."
John Booth, Team Principal: "Charles did everything we could have asked of him today after carrying the weight of our expectations on his shoulders. He drove a very determined race to ensure we are back in a more comfortable position between the Caterham and HRT teams. That's not the 'end game' of course, but it's good to know we have turned the corner after Canada and we are heading back in the right direction. It was not an entirely straightforward race as we had the setback of Charles having to pit early for his first stop for a nose change after his front wing end plate was damaged. Nevertheless, we achieved the right outcome and that is the positive we will take away from here and use to motivate us for our home race, the British Grand Prix, in two weeks' time. We now have some work to do with our new aero package for Silverstone, where we look forward to having Timo back to full strength. He will have been bitterly disappointed to miss out on what was a more positive race performance for us today and also a great show across the field; we saw some fantastic racing here in Valencia this year."