European GP 2012
JUNE 24, 2012
Race Notes - Alonso wins thrilling European GP in Spain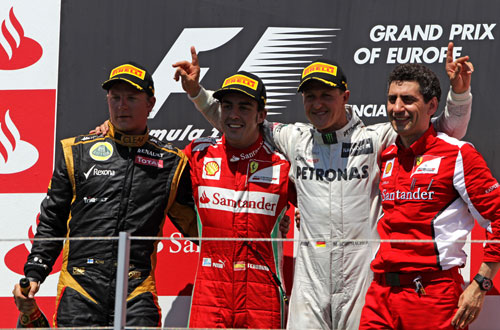 © wri2.net
Fernando Alonso won the European Grand Prix at Valencia today in the Ferrari - after starting the race from 11th place on the grid. Kimi Raikkonen in the Lotus-Renault finished in second place, 6.4 seconds behind the winner, followed by Michael Schumacher in the Mercedes GP, 12.6 seconds behind.
Sebastian Vettel led the race comfortably from pole, and after a mid-race safety car for debris, the Red Bull broke down, handing the lead to Alonso. Romain Grosjean, who was running second, then broke down as well. In the closing laps, Raikkonen passed Hamilton for second place, the McLaren driver then fell into the clutches of Pastor Maldonado - the two making contact, leaving Hamilton in the tyre barriers.
The victory is Alonso's 29th career win, and with his second win of the season becomes the first repeat winner in 2012. Schumacher's third place means that at 45-years old he is the oldest podium finish in F1 history. It has been a long time since Schumacher's last podium - coming with his win at the Chinese GP in October 2006.
Alonso now leads the drivers championship standing with 111 points, over Mark Webber on 91 points, Hamilton on 88 and Vettel with 85. The constructors championship positions remain unchanged with Red Bull still leading with 176 points, over McLaren with 137, Lotus with 126 and Ferrari with 122 points.
Webber (13.6s) in the Red Bull-Renault finished in fourth place, followed by Nico Hulkenberg (19.9s) in the Force India-Mercedes in fifth, Nico Rosberg (21.1s) in the second Mercedes GP was sixth, Paul Di Resta (22.8s) in the Force India was seventh, Jenson Button (24.6s) in the McLaren-Mercedes was eighth, Sergio Perez (27.7s) in the Sauber-Ferrari was ninth and Pastor Maldonado (34.6s) limped home after contact with Hamilton finished in the Williams-Renault in the final points paying position.
Before the start, Vettel will start from pole, and is looking for his third win in a row at Valencia. Timo Glock will not start today, suffering a stomach ailment.
The top ten drivers are all starting on soft tyres, while Schumacher, Perez, Jean-Eric Vergne and Webber are starting on medium compound tyres potentially looking to run a one-stop strategy.
At the start Vettel takes the lead at the first corner with Hamilton in second, while Grosjean passes Maldonado for third, Alonso up to eighth. On the first lap Kobayashi takes Maldonado for fourth, Raikkonen takes Hulkenberg.
At the end of the first lap Vettel leads Hamilton by 1.9 seconds followed by Grosjean, Kobayashi, Maldonado, Raikkonen, Hulkenberg, Alonso, Di Resta and Massa in tenth.
Raikkonen runs wide while trying to pass Maldonado.
On lap 2, Vettel's lead is up to 4.0 seconds.Grosjean is pressuring Hamilton for second place.
On lap 3 Rosberg is warned by Mercedes that his rear tyres are already "critical", while Grosjean is urged to get past Hamilton.
On lap 4 Vettel sets fastest lap at 1m45.5 seconds, and resets it the next lap pulling out to a 7.6 second lead.
On lap 6 Felipe Massa is closing in on Di Resta in ninth place. Vettel sets another fastest lap at 1m45.1s - the rest of the field running in the 1m46s or slower.
On lap 7 Button passes Schumacher for 12th place.
On lap 10 Charles Pic and NarainKarthikeyan make minor contact, Pic losing a piece of his front wing. Alonso closes on Hulkenberg in seventh. Grosjean makes a move on the outside of turn 12 and makes it stick, taking second place from Hamilton.
At lap 10, Vettel leads Grosjean by 11.4 seconds, followed by Hamilton (12.3s), Kobayashi (13.4s), Maldonado (14.6s), Raikkonen (15.1s), Hulkenberg (19.0s), Alonso (19.5s), Di Resta (22.7s) and Massa (24.5s) in tenth.
On lap 11 Button and Perez are the first to stop, Button taking mediums tyres, Perez switching to soft tyres.
On lap 12 Massa pits and switches to medium tyres.
One lap 13 Raikkonen is all over the back of Maldonado in fifth. Perez sets fastest lap on his new tyres at 1m44.6s. Alonso passes Hulkenberg for seventh - the team telling Alonso that now is the time to push. Raikkonen passes on the outside of Maldonado to take fifth.
On lap 14 Hamilton pits from third place, switching to medium tyres and rejoins in ninth. Alonso passes Maldonado for fourth.
On lap 15 Kobayashi, Raikkonen Maldonado Hulkenberg, Ricciardo and De la Rosa all pit.
Still to pit, Vettel leads Grosjean, Alonso, Di Resta, Rosberg, and Schumacher.
On lap 16 Alonso pits from third, taking another set of soft tyres. Hamilton, on fresh tyres, passes Schumacher for fifth.
On lap 16 Vettel pits from the lead, along with Grosjean in second place, both staying on soft tyres.
On lap 18 Alonso passes Webber, yet to stop, for eighth. Grosjean passes Rosberg for third place. Vettel sets fastest lap at 1m 44.5s
On lap 19 Alonso passes Senna for seventh. Alonso then passes Schumacher for sixth, Grosjean passes Di Resta, yet to make a stop, to take second place back.
On lap 20, Raikkonen passes Webber. Webber and Schumacher pit. Raikkonen passes Senna for seventh, then Kobayashi touches Senna in the rear. Senna half-spins at high speed, but continues and then pits with a shredded right-rear tyre.
At lap 20 Vettel leads Grosjean by 19.0 seconds, followed by Hamilton (22.9s), Di Resta (24.7s), Rosberg (25.2s), Alonso (28.6s), Senna (32.8s), Raikkonen (33.0s), Kobayashi (33.8s) and Maldonado (34.1s) in tenth.
On lap 22 Alonso passes Di Resta, the last man not to have pitted, for fourth place. Rosberg pits from fifth.
On lap 23 Raikkonen passes Di Resta for fifth. The next lap Di Resta pits switching to medium tyres - trying for a one-stop race.
Senna is handed a drive-through penalty for causing the collision with Kobayashi - although it looked the opposite in the replay.
On lap 26 Grosjean sets fastest lap at 1m44.4s. Ricciardo passes Perez around the outside of turn 12 for tenth place, while Senna serves his drive-through penalty. Button pits the next lap from 13th place.
On lap 28 Grosjean sets another fast lap at 1m44.1s, while Massa pits.
On lap 29 Vergne and Kovalainen touch, both ending up with punctured tyres. With debris on the track, the Safety Car is deployed.
Grosjean, Alonso, Raikkonen, Hamilton, Maldonado and Hulkenberg all pit. Hamilton has a problem on the stop with the car falling off the jack - Alonso passes him for position. Vettel pits at the end of the lap and comes out still in the lead, switching to medium tyres.
Behind the Safety Car, Vettel leads Grosjean, Alonso, Ricciardo (still to needing to pit), Raikkonen, Hamilton, Rosberg, Schumacher, Webber, Maldonado in tenth, Hulkenberg, Di Resta, Kobayashi, Massa, Button, Perez, Petrov, De La Rosa, Pic, Kovalainen, Senna and Karthikeyan in 22nd place.
The top runners all on the medium compound tyres.
At the end of lap 33 the safety car pulls into the pits and the race resumes. Alonso comes around the outside of Grosjean and passes the Frenchman at turn 2. Massa and Kobayashi make contact -
Vettel slows with a problem with his car to stop at the side of the track - Alonso now leads with Grosjean, Ricciardo, Hamilton, Raikkonen, Schumacher and Webber following.
On lap 35 Hamilton passes Raikkonen for third place, as Vettel's Red Bull is pushed off the track. Vettel visibly upset, throwing his gloves as he walks away from the car.
On lap 36 Grosjean continues to follow closely behind Alonso in the lead. Kobayashi pits.
On lap 37 Schumacher passes Ricciardo for fifth place in the DRS zone. Alonso sets the fastest lap at 1m44.1s.
On lap 38 Ricciardo pits from sixth place. In traffic Webber loses three place to Maldonado, Hulkenberg and Di Resta in half a lap. Alonso lead stands at 0.7 seconds over Grosjean.
On lap 39 Webber pits, switching to soft tyres. The top four are running within three seconds of each other. Karthikeyan is give a drive-through penalty for speeding in the pits. Perez is looking to pass Button, who is struggling with his rear tyres. Webber sets fastest lap at 1m42.717s.
On lap 41 Grosjean. running in second place, slows to a stop with an alternator problem, and is out with under 20 laps to go. Perez passes Button for seventh. Webber sets fastest lap at 1m42.7s.
At lap 42 Alonso leads Hamilton by 3.5 seconds, followed by Raikkonen (4.6s), Maldonado (9.9s), Hulkenberg (11.5s), Di Resta (13.9s), Perez (16.3s), Button (17.8s) Rosberg (19.1s) and Vitaly Petrov (22.5s) in tenth place.
At lap 43 Webber looks for a way past Schumacher for 11th place.
Lotus tells Raikkonen that they think Alonso's tyres will go off before the end of the race (much like at the previous race in Canada), and that if he can get past Hamilton that he has a chance to win.
On lap 46 Schumacher, and then Webber both pass Petrov for 10th and 11th place, pushing the Caterham out of the points.
Raikkonen is continuing to pressure Hamilton, right on the McLaren drivers rear.
On la 47 Rosberg pits from ninth place, switching to soft tyres. Perez, with fresher tyres, pressures Di Resta for sixth place.
On lap 48 Petrov and Daniel Ricciardo make contact in turn 14, with the Australian's car jumped up in the air - Petrov then pits minus his front wing.
On lap 49 Schumacher passes Button eighth place, then Webber follows through into ninth - Button struggling.
At lap 50 Alonso leads Hamilton by 3.6 seconds, followed by Raikkonen (5.0s), Maldonado (9.4s), Hulkenberg (12,9s), Di Resta (15.4s), Perez (15.7s), Schumacher (20.6s), Webber (21.7s) and Button (24.1s) in ten place.
On lap 51 Rosberg sets fastest lap at 1m42.614. Hamilton edging slightly closer to the leader each lap, with Raikkonen right behind.
On lap 53 Schumacher and Webber continue to run in formation, and pass Perez for seventh and eighth place.
On lap 54 Petrov passes Massa. Schumacher passes Hulkenberg for fifth place. Rosberg sets another fastest lap at 1m42.1s.
On lap 55 Raikkonen battles with Hamilton, and can't get past. A few corners later Raikkonen takes second place. Hamilton is now fading on his tyres and Maldonado battles with him. The two touch and Hamilton ends up in the wall, out of the race. Maldonado limps around with damage, Schumacher is up to third place.
Alonso hols on to take the win in his home country, after starting the race in 11th place. Raikkonen finishes second and Schumacher in third.