SEPTEMBER 26, 2023
Verstappen's father enjoying rallying hobby
As Max Verstappen utterly dominates Formula 1, his famous father has returned his focus to his own racing.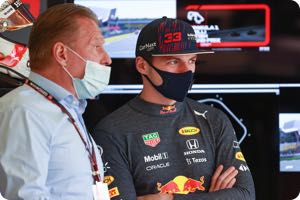 Jos Verstappen, a former teammate to the great Michael Schumacher, was ever-present at Max's side as the Dutch racer entered F1 and established himself.
But Verstappen senior, 51, is now seen much more rarely at grands prix - and is now much more likely to be spotted racing his own rally car in the Belgian championship.
Jos admits that his son no longer needs him at the F1 races, and is therefore seeking his adrenaline hit elsewhere.
Believe me, I felt that adrenaline rush when I was with Max, he told the Dutch magazine Formule 1.
But he has now reached a phase where I no longer have to do anything and the time has come for myself to do fun things again, Verstappen explained. "Because I still need that adrenaline a bit.
"The feeling of racing in a car yourself cannot be compared to the feeling you have when you are standing next to the track. It's very different.
"No, racing is not more exciting. I find watching Max just as exciting as racing myself. And I'd rather Max win than me.
But the best part of course is when Max wins in a Formula 1 car and I win in a rally car. That is our goal every time, Jos Verstappen said.
Jos has not contested over 10 lower-category level rallies, achieving his first victory in his Skoda Fabia RS at the beginning of May. He then won again last Saturday in the Belgian Rally Championship.
I think in a year or two I can really compete at the top Belgian level, Verstappen said. "If you look at world level, I come up short and I don't mind that.
"I enjoy watching WRC, but I have no ambitions in that direction. I took part in a WRC rally once last year, in Ypres, but that kept me busy for a whole week. Then I notice how long I am away from home for.
I'm fine with the way things are going now, the Dutchman added.
"Our team is called Verstappen.com Racing and we get support from Red Bull. We have a nice team with nice people and it's not always like that.
"I mean, we decide where we drive. That's the fun part, I think. I want to do it seriously and as well as possible, but above all it has to be enjoyable and not cause any frustration.
I invest a lot of time in it but if it's not fun, it's a waste of time.
(GMM)