SEPTEMBER 26, 2023
Perez at Red Bull to finish second
Sergio Perez is at Red Bull to finish in "second place" behind teammate Max Verstappen.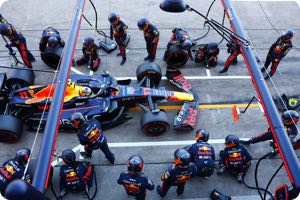 That is the claim of none other than the Mexican driver's own father Antonio, as major new rumours swirl around the questionable future of the 33-year-old amid an obvious performance slump.
Perez is already under contract for 2024, but multiple insiders and pundits think Red Bull is clearly shaping up to replace him at some point.
Everyone around him is working their behind off, giving him a great car and he drives so much slower than Verstappen and makes these stupid mistakes, said former F1 driver Ralf Schumacher.
In my opinion he won't be driving at Red Bull next year.
Unsurprisingly, Antonio Perez - a Mexican politician and motor racing official - is backing his son.
The most solid driver in Formula 1 today is called Checo Perez, he told the Mexican newspaper Esto.
You can see how many fans he has in the world - all the Mexican flags in Japan, Perez's father added.
He is the only Latin American, and when you add to that how many fans there are, any brand in the world would like to have a Checo Perez with them.
Antonio Perez admits that his son has struggled at times in 2023, but he continues to fight.
The car is made for Max because he drives with all the grip at the front and Checo has always driven with the grip at the rear, he explained.
"The position Checo is in is the one he was hired for - second place. There is only one champion and you have to understand that. He has to work for it and respect it.
All this was built for Max to be champion. But if he (Perez) moved to another team, he would be fourth or sixth, Perez senior added.
Red Bull was clearly frustrated with Perez's performance at Suzuka, but team boss Christian Horner made clear that he still supports his driver.
Sergio has had a hard time in the last couple of races, but he will definitely come back, he said. "He has some traditionally strong tracks coming up.
Although this was clearly a painful weekend for him, he played a key role in this constructors' title. Now we just have to focus on keeping him second place in the drivers' championship, Horner added.
Perez is currently a huge 177 points behind teammate Verstappen, but only 33 points in front of Mercedes' Lewis Hamilton with six races to go.
(GMM)