DECEMBER 31, 2022
Verstappen earns his spurs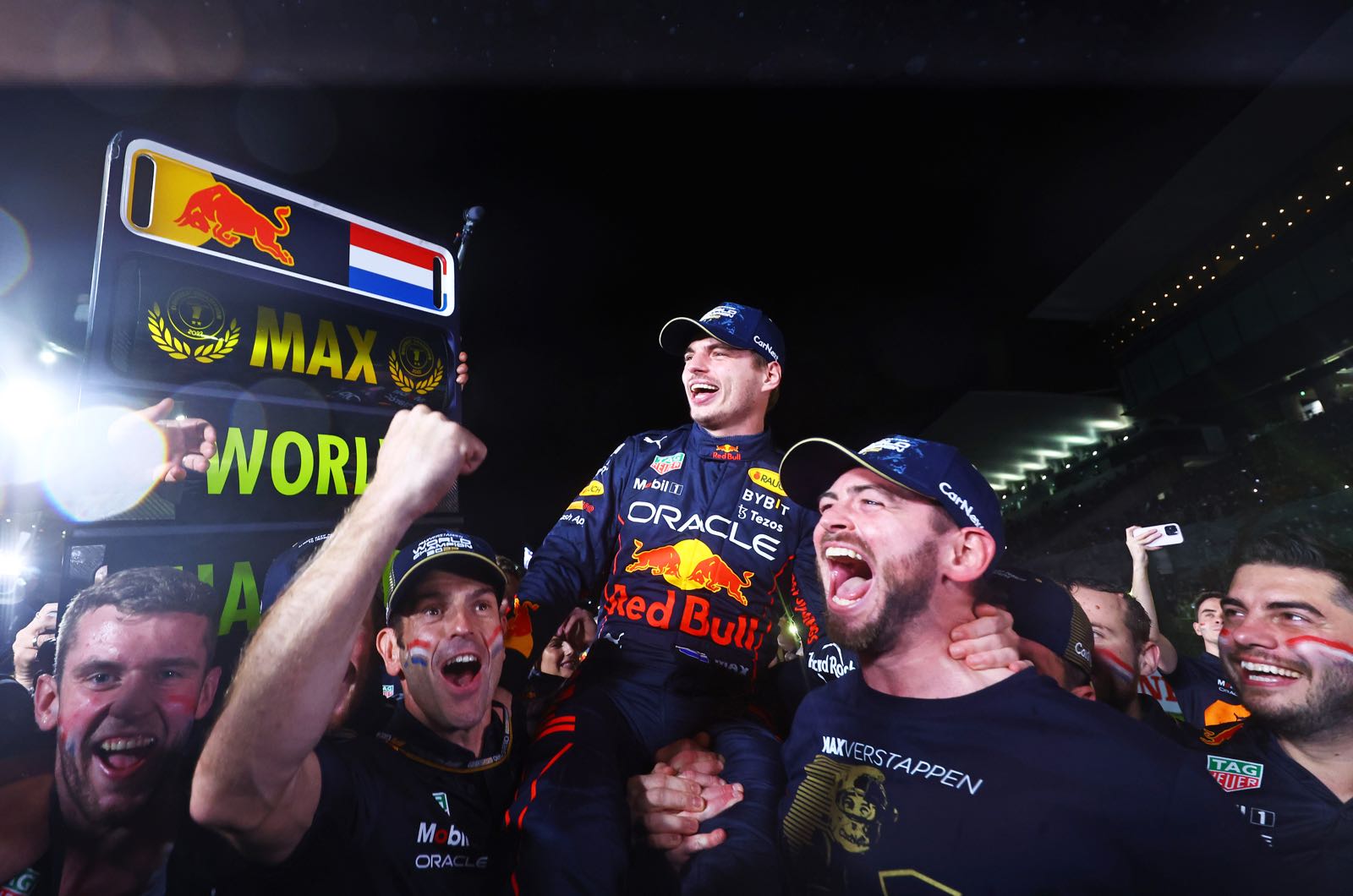 © Red Bull
By Luis Vasconcelos
Max Verstappen came into 2022 with a point to prove. Yes, he was the reigning World Champion, he proudly displayed the number one on his Red Bull RB18 and could not be blamed for anything that happened in the final round of the 2021 World Championship, but that doesn't mean the Dutch driver was deaf, bind and dumb to what was going on around him.
Although he didn't admit it - and why should he? - Verstappen knew the 2021 title was decided by a very poor call made by Race Director Michael Masi, who didn't follow the FIA regulations going into the final lap of the Abu Dhabi Grand Prix, thus denying Lewis Hamilton of an eighth World Championship the British driver had earned the hard way.
Verstappen saw and felt the commotion, understood his first title was going to be questioned forever, and only had one available course of action to put all the unpleasantness behind him: to win the 2022 World Champion in a clear, clean way, to shut his critics up and prove, once and for all, he deserves the World Champion title as much as those who won it before him.
Mission accomplished is the least that can be said at the end of 2022 Formula One World Championship, for with 15 wins out of 22 Grand Prix, 454 points conquered, recovering from a deficit of 46 points to still win the championship, and nine wins not starting in pole position, he set four new records on his way to one of the most dominant titles seen in recent years, probably only matched by Sebastian Vettel's triumphant march to the 2013 title.
And yet, things had looked rather gloomy for Verstappen and Red Bull team after the first three rounds of the season. Sure, he'd won the Saudi Arabian Grand Prix after thrilling battle with Charles Leclerc, but the Ferrari driver had won both in Bahrain and Australia, two races where the Dutchman didn't see the checkered flag, so there were 46 points between them and, to cap it off, the Ferrari F1-75 looked faster than the Red Bull RB18.
But then came Imola, at Ferrari's doorstep, and the pressure got to the Scuderia. Leclerc and Sainz made costly mistakes (the Spaniard in qualifying, making him vulnerable to first lap incidents, as it turned out), while the Monegasque forgot a third place would do nicely, spun in pursuit of Pérez and cost himself seven points, finishing 6th.
In Miami the Ferrari driver was on pole but, for the first time but not the last, the F1-75 had greater tyre degradation than the RB18 and it was Verstappen who won the race.
Then, in Spain, the second of Ferrari's Achilles' heel came to surface, as Leclerc retired with Power Unit issues when he was in a comfortable lead, one week before the third capital sin the Scuderia committed came to the surface in Monaco, where a disastrous strategy robber Leclerc of an easy victory, in a weekend he had been so dominant, ending up a very angry P4.
Now Verstappen led the Monegasque by nine points, the pendulum had swung the other way and Ferrari, under pressure, continued to make strategic mistakes, suffer mechanical failures and the F1-75 remained more adept to using up its tyres than the Red Bull and even the recovering Mercedes W13, so from then on Verstappen had an easy path to his second title.
When Leclerc and Mattia Binotto had a very public bust-up at the end of the British Grand Prix - after another tactical blunder that drop]ed the Monegasque from the lead to finish 4th, on a day when Verstappen had his issues and ended in P7 - they simply stopped talking to each other.
So the writing was on the wall and the Monegasque's main challenge became holding Sérgio Pérez off, to avoid the first one-two finish in Red Bull's history. Which he managed - just!
"EVEN WITH THE BEST CAR IT'S NOT EASY TO WIN"
Like with many dominant drivers in the past - Schumacher, Vettel or Hamilton, to name just a few - Verstappen's success was devalued by many, on the basis that he had the faster car - which he did from the French Grand Prix onwards - and his team mate was not really World Champion material, more a reluctantly compliant Number Two that, once in a blue moon, could be slightly ahead of the Dutchman.
Praise for Verstappen, though, came from the most unlikely source: Lewis Hamilton. When we asked him how he rated his rival's 2022 season, the seven-times World Champion didn't hold back in his praise: "This year he's delivered weekend in, weekend out and no one can take that away from him. It's never easy, no matter how good your car is, it's never easy to arrive at each weekend and perform at the level that he's been performing at. They've done an amazing job as a team, and he's done an amazing job as a driver."
Looking at the way Verstappen drove, it's clear he now has a better understanding of how you win a championship, as he took considerably fewer risks that in the past, especially in the races where due to grid penalties or pit stop issues he had to come through the field.
There were no heroics, in most case, there was room left for the other car - well, unless it was driven by Hamilton, with whom the Red Bull driver is always harder than with anyone else…
So this year's Max Verstappen was a better, more mature version of the immensely quick driver that failed to balance risk and reward quite often in the past.
There were, however, some clear signs that maturity can be broken when things don't go his way. In Bahrain, with a faster car on the last set of tyres, three times Charles Leclerc outsmarted him by letting him by just before the DRS detection points, to get back into the lead in the following straight.
And he did it again in Jeddah, one week later, but this time the Dutch driver had learned his lesson and got past him at the second time of asking.
Then, there was Monaco, and his public annoyance that Pérez's strategy had been better than his, notwithstanding the fact the Mexican had started ahead of his team mate and, therefore, had first call on strategy.
In Singapore, in his first occasion to seal the title, he made a mistake in the first lap in Q3, Red Bull's mistake with fuel calculations meaning he didn't get a proper second running, the race was mediocre by his standards, so he had to wait one week to secure the title, appropriately in Suzuka, the home of Honda.
Finally, we had the controversial refusal to give back the position to Pérez in Brazil, after being let through by the Mexican, justified by, "something that happened early in the season", a veiled reference to Pérez's Q3 ending spin in Monaco, allegedly done on purpose to preserve his grid position.
That he never confronted his team mate for nearly six months and then refused to disclose the reason for his actions, shows that as a man Verstappen still has some growing to do, which, in fairness, is to be expected from any 25-years old.
THE START OF AN ERA?
On the back of such a dominant season, it will be a brave man who bets against Verstappen adding a third title in 2023, but I wouldn't go as far as saying that we're at the dawn of a new era, one where the young Dutch driver will be the undisputed champion for the next few years.
There were exceptional circumstances that helped Red Bull and Max Verstappen to sweep the floor this year. First of all, the new technical regulations offered a new challenge to everybody, and only the Austrian team got them spot on, while Mercedes failed spectacularly, making the RB18 look even better than it was.
But with the rules being stable until the end of 2025, there's room for the other top teams to recover, as it always happens in the following years of a set of regulations changes, especially because Red Bull will have one quarter less wind tunnel time and CFD capacity than Mercedes in 2023, due to the penalty imposed for breaching the Budget Cap in 2021.
If Mercedes has to recover performance, Ferrari has to gain in performance and, also, put its own house in order, something that Frederic Vasseur needs to attend to when the Frenchman takes over from Binotto at the end of this year.
As the front end of the grid will become closer than it was this year, it's not a given Verstappen and Red Bull will continue to dominate, even if he has the advantage of being the clear Number One driver in the team, while at Ferrari and Mercedes their two drivers are treated equally.
For Formula One's sake one can only hope the 2023 championship and the following ones, will be more closely fought than this year's. Then we'll see if Verstappen has what it takes to join the greatest drivers of all times or if, like others before him, he's at his best when there's no direct challenge to his superiority.
Make your bets now and we'll know the result in the next couple of years.
Other stories for DECEMBER 31, 2022