MAY 9, 2023
Ricciardo to test 2023 Red Bull at Silverstone
Daniel Ricciardo will test Red Bull's dominant 2023 car in the days after July's British GP.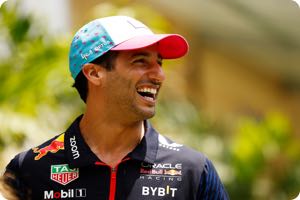 Daniel Ricciardo will test Red Bull's dominant 2023 car in the days after July's British GP.
Having lost his McLaren seat at the end of last year, the 33-year-old Australian accepted an offer from his energy drink-owned former team to become a reserve and ambassadorial driver.
The Telegraph now reports that his debut in Red Bull's 2023 car will occur at the post British GP test at Silverstone.
"I hope it's ultimately a car that gets my confidence back," Ricciardo confirmed. "The signs in the sim are good.
"I want this test to mean something. I did a test in the middle of 2013, which ultimately set up my seat in 2014 with the team. Ten years later I'm kind of in that same position again."
However, Max Verstappen's current teammate Sergio Perez, who like Ricciardo is also 33, already has a contract for 2024 and is only a few points behind in the drivers' standings.
When asked if Perez really can win the championship this year, Ricciardo answered: "It's hard to say. It's going to be interesting.
"As for myself, I've got to keep an open mind. Probably by mid-season I'll start to see what other teams are available.
"But yeah, coming back here has reminded me how much of a role Red Bull played in my career and how much I would love to go full circle. I won't lie.
"Have I imagined winning with them again? F*ck yeah. Absolutely."
But Ricciardo stopped short of saying his goal for the Silverstone test is to show Red Bull that he is actually faster than Perez.
"Not so much," he insisted. "It's more about me. I've been doing this long enough.
"I know if I put a good showing in, it won't go unnoticed. It might not be laptime at the end of the day. It might be like 'Oh sh*t, by the end of lap 2 he was already flat out'.
"By the end of the test, I just want them to be like 'Oh f*ck, this kid still has it. He's not just cruising around. He's not a test driver'."
(GMM)