MAY 9, 2023
Ocon attitude did not benefit the team says Alonso
Fernando Alonso has aimed a jibe at his former Alpine teammate Esteban Ocon.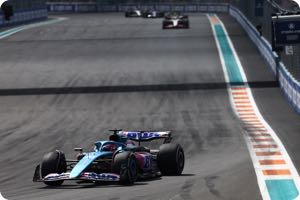 Fernando Alonso has aimed a jibe at his former Alpine teammate Esteban Ocon.
The 41-year-old former two-time champion is enjoying a true second competitive spring so far in 2023, with a string of podium finishes behind the dominant Red Bulls.
Alonso is also tackling his reputation for being a trouble-maker within a team, happily supporting his teammate Lance Stroll - the son of Aston Martin owner Lawrence Stroll.
Alonso says Stroll will be on the grid for the "next 10 to 15 years" so he is happy to offer support.
"You're like a life coach," Max Verstappen laughed after the Miami GP in conversation with Alonso. "The last race you were like 'try my brake balance!'"
But Alonso told El Mundo Deportivo that the reason he is getting on so well with 24-year-old Stroll is because of his attitude - which he says is in total contrast to his 2023 teammate Esteban Ocon.
"Lance is a driver who thinks like a teammate," he is quoted by the Spanish sports newspaper.
"Last year, the opposite happened to me. I was always my teammate's first target and that obviously is something that does not always benefit the team."
Alonso says he is also feeling the full support of Aston Martin.
"I think I've been always motivated, always working hard. I probably didn't always have the team believing in my performance - my ability to setup the car as well and to move forward.
"I didn't change anything but Aston Martin changed everything for me."
However, he admits that after four podiums from five races so far in 2023, he is now hoping to end up one or even two more steps higher on the podium.
"But, you know, the two Red Bulls are always unbreakable and they are always super-fast," said Alonso. "But maybe Monaco, maybe Barcelona we have a possibility."
(GMM)