JUNE 3, 2023
Newey admits rejecting Ferrari moves
Adrian Newey has confirmed that he turned down multiple offers to work in Formula 1 for Ferrari.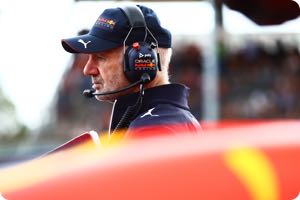 Adrian Newey has confirmed that he turned down multiple offers to work in Formula 1 for Ferrari.
Last month, founder Enzo Ferrari's son Piero, who is vice chairman of the Maranello based company, revealed that Ferrari tried to lure 64-year-old Newey to Italy.
"He said no to (Luca di) Montezemolo and to Jean Todt," Ferrari said. "Apparently he doesn't want to move - he likes to stay in England."
Reports indicate that amid Ferrari's current recruitment drive, yet another approach was made to the Briton - who is one of the most successful and famous F1 car designers in history.
However, he recently extended his deal to remain chief technology officer at Red Bull.
"I was very tempted to go there (Ferrari) in the past, it's a legendary brand," Newey confirmed to former F1 driver Ivan Capelli during an interview with Sky Italia in Barcelona.
"They contacted me in 1993, I think, and then in 1997, when I went from Williams to McLaren.
"And that was a very difficult choice. At the time, my children were very young and I didn't want them to change schools."
When asked if he's tempted now to go to Ferrari now that his children have grown up, Newey smiled: "Honestly, if I was 20 years younger."
Capelli asked Newey how he manages to be so successful in Formula 1 with his title-winning and often utterly dominant cars.
"When new rules come out, like in that transition period between turbocharged and normally aspirated engines, I spend a lot of time thinking about what opportunities the new rules offer you," he answered.
"I always look for the loopholes - situations where the rules ask you to do one thing but they don't oblige you, allowing you an original way to proceed."
However, he also credits Max Verstappen for Red Bull's current era of dominance.
"I think Max is the perfect prototype driver," said Newey. "He has a crazy talent for controlling the car and innate driving qualities.
"When he arrived, he was making a lot more mistakes because he was ve young, he was always pushing the limit. But it's certainly different now."
(GMM)