Spanish GP 2023
JUNE 3, 2023
Saturday Team Quotes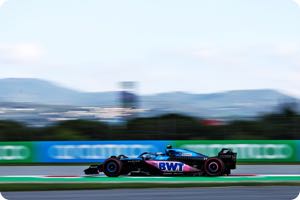 Oracle Red Bull Racing
Max Verstappen (1st, 1:12.272): "Going into that last corner brings a smile to my face because that's where an F1 car really comes to life. The weekend has been enjoyable so far. The car has been really performing well but of course we always try to find improvements here and there. Qualifying started off tricky, you needed to be on the track at the right time, not making any mistakes. Going into Q3 I knew there was good potential left in the car so I could finally push it to the limit. The first run was really quick, then of course we went out again for the second run, that would have been even better, but I was told to abort the lap to save the tyres. Looking ahead to tomorrow, we'll need to watch out for the tyre wear but going into that last corner brings a smile to my face because that's where an F1 car really comes to life."
Sergio Perez (11th, 1:13.334): "I think anything is possible tomorrow and we will try everything we can to recover the position and progress through the field. It hasn't been a straightforward weekend, the conditions were quite tricky and I wasn't that comfortable in qualifying. I've been trying to modify my driving style quite a bit this weekend and as soon as we had some variable conditions it put us on the back foot and I just couldn't get the full potential out of the car. Going into turn 5, the track was a little bit damp and I just lost the rear and went into the gravel, so we ended up losing a bit of time which was very costly for us. That incident meant that the tyres were too hot on my final lap and it was hard to come back from. However, I think anything is possible tomorrow and we will try everything we can to recover the position and progress through the field. I am looking forward to the race and I think we should be able to get some good points and hopefully get on the podium."
Christian Horner, Sporting Director: "There are still a lot of variables to consider; the weather, reliability, the start, strategy and then these final two corners. Max has certainly picked up where he left off in Monaco, he did tremendously well today but tomorrow brings new challenges. There are still a lot of variables to consider; the weather, reliability, the start, strategy and then these final two corners, so Max will not be resting on his laurels. Comparatively, Checo had a difficult qualifying. He went off and then tyre temperature unsettled him. P11 tomorrow leaves him a lot to do but we know he can do well here. He will race hard and come out fighting."
Scuderia Ferrari
Carlos Sainz (2nd, 1:12.734): "I'm happy with my qualifying today. The conditions were not at all easy out there, but we managed to put together some good laps and I think we extracted everything from the car. I left nothing on the table this afternoon. However, the weekend is not done and now we need to execute the best race possible. The time gaps have all been very tight the entire weekend and it won't be an easy one but we will go for it. I want to thank all the amazing support from the grandstands! It really makes a difference and I hope we can put on a good show tomorrow."
Charles Leclerc (19th, 1:14.079): "We will have to check the car and look at the data as there was clearly something really odd about the way it behaved and it felt very different to the way it had throughout the weekend up to that point. I basically had zero rear grip. The car was extremely oversteery and unpredictable. The car would be okay and suddenly it would snap away. It was something to do with the rear right corner. At first I thought it was something to do with my first set of tyres, so we changed for a new set, but there was still this very strange behaviour from the rear tyres. It's obviously very disappointing but it will be a long race tomorrow, overtaking is possible and degradation is a big factor so we will see, but of course we will be starting from very far back."
Frédéric Vasseur, Team Principal: "We had a very good result from Carlos and we are more than pleased for him. I think it is a good reward also for everyone working in Maranello as they pushed like hell to bring the all upgrades and the parts in time to Barcelona. It was quite challenging for them but I think it paid dividends today and, hopefully, also tomorrow in the race. However it was not an easy qualifying for us as our other car will be at the back of the grid tomorrow. We are investigating Charles' problem: he was complaining a lot about the car in the left hand corners. It's a shame and it shows how close qualifying is now between the teams. In the past, two or three top teams could get through Q2 on the Medium tyre, but that's no longer possible as the gaps are so tight and the slightest issue, like the one Charles had today, and you are out. Overall, I think we have made a step forward, but it's tomorrow that counts and we have to target the podium with Carlos. As for Charles, I'm not sure Barcelona is the easiest place to overtake but maybe the new layout will help and he will be able to fight for points tomorrow."
Mercedes-AMG Petronas F1 Team
Lewis Hamilton (5th, 1:12.818): "I was a little bit surprised to see us so far up today and ultimately competing for the front-row of the grid. We did some great work overnight with our analysis of yesterday; we all did a lot of work trying to figure out where we could find more lap time. I knew when I woke up this morning that I was on a mission, although I didn't expect we would be fighting for P2. On my final lap, I think I was on the front-row all the way until turn 10. I got on the power and the car just snapped into oversteer; I will have to check but I think that's where I lost two tenths. Nevertheless, I really enjoyed driving the car today and I'm really encouraged to see where it is at. A big thank you to everyone at the factory as it shows we are progressing. The incident with George was just a miscommunication. Obviously, we made some contact and I put a wheel on the grass. The car didn't feel different afterwards though, so I think it will be OK."
George Russell (12th, 1:13.447): "It was an odd qualifying session today. It was clearly tricky for everyone out there and it was quite a mixed-up order. Straight out of the box, I felt like I had no grip from the tyres, and I was really struggling with the car. It was starting to bounce a lot in the high-speed turns so I couldn't go flat out through corners we were able to in FP3. I wasn't surprised to be knocked out in Q2 because the car was off the pace. I didn't have a good feeling with it so it's disappointing. I'm not too sure what happened in the incident with Lewis. It was all quite surprising. I was starting my push lap and getting the slipstream from Sainz ahead. Next thing I know Lewis was alongside me. We're fortunate nothing more serious happened and it was clearly a big miscommunication from all of us in the Team. It didn't contribute to the lack of pace though and that was the main problem for me. We're starting quite a few positions lower than we should be, but I'm sure tomorrow will be a better day."
Toto Wolff, Team Principal: "I think we have more potential in the car that we couldn't unlock today. We had a good car in Q1, at least with Lewis, and both drivers were happy in FP3. I think we had everything today to fight for the front two rows of the grid. We should have been right behind Verstappen and that's why our disappointment is so great. Of course, it doesn't help when you have a misunderstanding between the two cars. It was a lack of communication that we should have handled in the garage. It was an intense moment at the end of Q2 though, so there is nobody we need to blame. We will now see what happens tomorrow. I think we can have a solid race; our long run pace looked strong on Friday so we will see what we can do. We are also building a good base to learn from with the car, and this weekend will provide us with a new baseline."
Andrew Shovlin: "It was a slightly frustrating day considering our pace in final practice was good. George struggled to get the tyres in the window through qualifying; they were working well in similar conditions in the morning so clearly, we have something to learn there. Lewis was in a better place, but we'd have been a lot happier if we were a tenth up the road on the front row. It's always annoying when you are the wrong side of a tight pack of cars, but we were in the mix for P2 and that is encouraging. Sadly, we didn't do a great job of coordinating the cars so they both lost their runs at the end of the second session, and we broke a front wing in the process. Hopefully tomorrow will be a better day; we had decent long run pace on Friday, and it should be a track where we can do something with that. There is still a risk of rain but even if it's dry, we've got every chance to come away with some good points tomorrow."
BWT Alpine F1 Team
Pierre Gasly (4th, 1:12.816): "I'm very pleased to qualify in fourth place in Qualifying today, my best result with Alpine this season. It was very close out there, very fine margins between many cars, and in the end we're just less than one tenth of a second from being on the front row. We built up our session well, kept finding improvements and then we finished with a very good lap in Q3, which was really enjoyable I must say. It's a real pity we will not start from the second row tomorrow after the penalty for impeding. I think it was very unfortunate with the traffic, cars so close together and the high-speed final corners. We have to accept it, move on and keep our heads down for tomorrow where I know we can still have a strong race."
Esteban Ocon (7th, 1:13.083): "It's been another positive day for us. A big shoutout to Enstone and Viry as the car has been strong again this weekend and the updates we have brought have been working well. We had both cars into Q3 which was the aim today so well done to the team for that achievement. We performed well all of Qualifying up until the last run in Q3 where I did not quite nail the lap and lost some valuable lap time. That said, seventh on the grid tomorrow is not a bad place to start and we will give it all to finish with some strong points. I also have to say it's great to see a bit of a mix up on the grid ahead of the race. It's great for the sport and I think we'll have an exciting Sunday and of course we'll be pushing for some good points."
Alan Permane, Sporting Director: "We can all be satisfied with the performance of our cars today with Pierre qualifying in fourth and Esteban in seventh. The car has been strong all weekend – we had a solid day yesterday in preparation – and we knew we would be in a very close fight in the upper end of the Q3 and inside the top five. Esteban didn't quite maximise his lap in Q3 and probably is a few places short of where his pace has been all weekend, while Pierre delivered a superb lap at the end to finish very close to the top three. Unfortunately, Pierre's penalty means we start tomorrow in sixth and tenth but we know we can still have a good race from there. There will be a real mix of strategies throughout the grid for the race and we will do our best to gain some places and come away with deserved double points."
McLaren F1 Team
Lando Norris (3rd, 1:12.792): "Things have turned around this weekend from Friday's running, when the car wasn't feeling too good at all. I didn't feel confident yesterday, but we went from lacking pace and car balance to doing our best quali by quite a long way this season. So, I'm very happy. Q1 wasn't anything special but in Q2 and Q3, I just found a little bit more confidence in the car when things dried out a little bit more and it all came our way, and we ended up P3. Very happy with the result. Big thanks to everyone here at track and back at MTC. We know we've got work to do but we keep pushing forward as a team and can be proud of today."
Oscar Piastri (10th, 1:13.682): "P10 this afternoon, obviously a very good day for the team with both cars starting in the top 10. It was a really competitive qualifying session, it's just a shame I didn't put it together right at the end of Q3. I was confident in finishing higher up the order but on reflection, it was certainly an encouraging day. We can now take lots of positive momentum into tomorrow's race to aim for another double points finish."
Andrea Stella, Team Principal: "This was a positive afternoon for the team here at the Circuit de Barcelona-Catalunya. Lando was running at the front of the order all through qualifying but having him starting P3 in tomorrow's Spanish Grand Prix is a nice surprise and an over-achievement. Oscar was quick all session and he was competing also for a spot at the front of the order in Q3. Unfortunately, a small mistake in turn 10 meant he went on to a wet patch and lost a lot of time, finishing in P10. Overall, we're happy with today but we must not get carried away. Tomorrow we race to stay in the points and that's what we are preparing for this evening."
Alfa Romeo F1 Team Stake
Guanyu Zhou (13th, 1:13.521): "I had a clean lap in Q2, probably the best I could, and I only missed out on Q3 for a couple of tenths. I gave it all, but we didn't have any new set of softs after the red flag in Q1: when you're fighting for such small margins, that was enough to put us out, so that was it. The experience I had with the car was a lot better today and I hope to carry this feeling onto tomorrow, to make up some ground. I expect us to be a lot closer to a few of the cars ahead of us, who had new tyres today. I feel we're in much better conditions this weekend than the last, but we still need to push and improve more to be even further up the grid. We will need to do a good job tomorrow and grab any chance we can."
Valtteri Bottas (16th, 1:13.977): "We can take one positive from today: the upgrades we brought in last week appear to be working, I could feel the difference during practice. Unfortunately, qualifying didn't really represent where we are really standing with our car: it's been quite tricky today, I never found the same grip I had in practice, and I didn't feel as comfortable as earlier in the weekend. I felt a lot of sliding, which was a shame because I really thought we had good potential here. The changing weather conditions didn't help, either: during the last run, in the out lap, I had to stop for over ten seconds after Turn 12, to let some cars on a flying lap through, and I think we lost a bit of tyre temperature there. Hopefully, qualifying has just been an outlier and we'll have better pace tomorrow. I am confident we can put up a fight and make some progress, and possibly reach the top ten."
Alessandro Alunni Bravi, Team Representative: "We showed a solid performance in the three practice sessions, so it's fair to say that the results from qualifying don't really reflect what could have been predicted. It is not easy to read this session properly, but we need to understand why this happened. We are disappointed because we know we did not extract the maximum we could from our package this time around. Overall, we could have done better today, especially in the transition between FP3 and qualifying, but our focus is now firmly on tomorrow. We have to execute a perfect race tomorrow to recover as much ground as possible. We have seen in the past that we can gain places on Sunday: that's when it counts and that's when we need to deliver."
Aston Martin Aramco Cognizant F1 Team
Lance Stroll (6th, 1:12.994): "We had a solid qualifying session today and found a strong rhythm on track. The car was feeling good – a big improvement from yesterday – so I'm pleased with the set-up changes that we made overnight. The field was incredibly tight though and there are a few cars that are out of position across the grid which will make for an interesting race. I think tomorrow is a big opportunity, so we'll be working through the data and strategy plans tonight to ensure we're ready to make the most of it."
Fernando Alonso (9th, 1:13.508): "I made a mistake on my out lap in Q1 and ran wide at the exit of the last corner which damaged the floor. This cost us some crucial lap time today. It's a shame as I think we had the pace to be fighting at the front. We'll see what we can do tomorrow as I felt like the car was still competitive even with the damage. If we can put it all together, I'm still optimistic we could score some good points tomorrow. The fans have been amazing, so we'll be trying to put on a show for them in the race."
Mike Krack, Chief Operating Officer: "It was quite a challenging qualifying session with a slightly damp and green track making Q1 especially difficult for all the teams. Fernando got caught out on a wet patch in the final corner during his out lap, he ran wide, and picked up significant floor damage by going through the gravel trap. With a big loss of downforce, it was a remarkable achievement to see him progress through to Q3. Lance had a clean session, kept his head down, and recovered well from a difficult day of practice yesterday. He felt there was a bit more performance to come, but we should not be disappointed with getting both cars into Q3 – something that a few of our direct competitors failed to do. For tomorrow, we know we have a quick car in race trim so we will be aiming to progress and come away from Spain with both cars scoring good points."
Haas F1 Team
Nico Hulkenberg (8th, 1:13.229): "That's our best qualifying of the season so far, clean and well executed by the team and myself. It's positive and a very decent position to start the race from tomorrow. Track position is pretty valuable here in Barcelona, so we'll take that and get ready for a tough fight. It's not going to be an easy race, it's going to be a tire degradation race with strategy, and we have to play our cards well, but the car has been performing and I feel within the midfield we're definitely competitive."
Kevin Magnussen (17th, 1:14.042): "It's disappointing, the other car showed what's possible and we haven't got it right this weekend. With the field being so tight, it's just a massive penalty when you miss that window. Nico went to the higher downforce set-up and it seems that it's working well, so a good job done by the team and I'm happy to see the car performing. Unfortunately, it's P17 for us tomorrow but we'll try again and hopefully our car set-up is good for the race."
Guenther Steiner, Team Principal: "We had pretty good speed in qualifying today and it showed that yesterday, it was real. Unfortunately, Kevin didn't make it into Q2. Nico did a very good job and we got into Q3 again, where we want to be, and now we'll get prepared for the race tomorrow."
Scuderia AlphaTauri
Nyck de Vries (14th, 1:14.083): "It's been a positive weekend, but I am disappointed with the outcome of qualifying. I had two spins at the exit of Turn 11 so I wasted two sets of the soft compound and had no new tyres left for Q2. There was a wet patch that I did not see but clearly felt, so my confidence got the best of me in the end. It's a shame because we had good pace, so I hope we can carry that into the race tomorrow. It will be a long race and a lot of focus on tyre degradation, with rain possibly creating even more opportunities, so let's see."
Yuki Tsunoda (15th, 1:14.477): "The team did a good job and my lap was good, but I made a mistake just going outside of the track and my time was deleted. I'm very frustrated with myself. I knew I had to give it everything to make it to Q3, so I don't have any regrets, but at the same time, it was just so close. The conditions were tricky going from damp to dry, which made things interesting. My expectations for tomorrow aren't too high, but anything can happen, and I'll be prepared for every scenario in order to maximise our chance for points."
Guillaume Dezoteux, Head of Vehicle Performance: "After a positive Friday during which we completed our programme on both cars, the main target was to extract more performance from the soft tyre over the first lap. On Yuki's side of the garage, we were also targeting car setup adjustments to increase stability. The changes applied worked well on the few laps we were able to do under dry conditions at the start of FP3. After a few minutes, rain hit the track and provided the possibility to test the intermediate tyres.
Williams Racing
Alexander Albon (18th, 1:14.063): "I really like the conditions we drove in qualifying, I normally tend to do well in them, but I just got caught out on my first lap and the damage affected the rest of the session, which is a bit of a shame, but we've got some pace. I feel like we've used this weekend as a bit more of a test session because of us being a bit more off the pace than normal. I think we've focused a little more on the Sunday car which should hopefully put us in a good place tomorrow."
Logan Sargeant (20th, 1:14.699): "Firstly, grateful to the team for turning the car around for qualifying. The first lap back out wasn't too bad. Everyone wants to get in front starting the last lap, and I had a comprised outlap with the tyres a bit out of the window for that last push, which was frustrating. I'm disappointed but I put us on the back foot earlier on today. Tomorrow's going to be tricky, but we'll see what we can do."
Dave Robson, Head of Vehicle Performance: "We made some large changes overnight to both cars and managed to progress the setup. Fortunately, we were able to complete a few laps during the early part of FP3 to confirm the balance. Logan went through the gravel at T14 just as the first spots of rain started falling and this did a lot of damage to his car, requiring another stellar effort from the team to get his car ready for qualifying. Meanwhile, Alex had a quick look at the intermediate tyre and was comfortable with his car. Conditions were tricky at the start of qualifying, but this was an opportunity for us to make some progress and in a clean session Alex was capable of making Q2. This would have been an excellent result but an early trip to the gravel at T5 damaged the floor of his car and he carried an aerodynamic penalty through the rest of qualifying. Logan had a compressed Q1 session following the repairs to his car. He had a tricky final outlap negotiating the traffic whilst preparing his tyres and couldn't put a representative lap together. There may be further rain around tomorrow afternoon and so we'll look to take advantage of that."