Spanish GP 2023
JUNE 3, 2023
Qualifying Report - Verstappen takes Spanish pole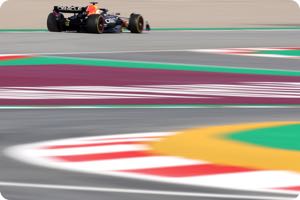 By Mark Karp
Max Verstappen stormed to his first Spanish Grand Prix pole position at the Circuit de Barcelona-Catalunya during a tense and unpredictable 2023 Formula 1 qualifying session. The Red Bull-Honda driver seized his fourth pole of the season, beating Ferrari's Carlos Sainz by nearly half a second.
The session began under threat of rain, and Alpine-Renault's Pierre Gasly set the initial pace with a 1m14.618 lap time, but a red flag interruption due to off-track excursions and resulting gravel on the track brought an unexpected halt.
When the session restarted, Verstappen rose to the challenge with a blazing lap of 1m13.660 lap, later bettering his time to 1m13.615. However, his teammate, Sergio Perez, struggled to find similar pace, his best effort of 1m15.122 momentarily putting him in the drop zone before rallying to fourth with a time of 1m13.874.
The real surprise of Q1 was the poor performance of Ferrari's Charles Leclerc, who fell afoul of the unpredictable conditions, qualifying in 19th position.
Verstappen continued to dominate in Q2, laying down a formidable 1m12.760 lap. Despite Perez's struggles, which saw him eleventh, Verstappen comfortably advanced to Q3 in the top position. An incident between Mercedes' George Russell and LewisHamilton, with Russell under investigation for impeding his teammate's progress.
Q3 cemented Verstappen's authority on the circuit as he achieved a 1m12.272 lap. His lead, over nine-tenths clear of Hamilton, seemed unchallengeable. Despite a traffic-compromised final lap, Verstappen comfortably secured his 24th career pole.
Behind Verstappen, Sainz secured a strong second place for Ferrari, while McLaren's Lando Norris took third. Alpine's Pierre Gasly also put in a notable performance, securing fourth place ahead of Mercedes' Hamilton. The remainder of the top ten included Lance Stroll, Esteban Ocon, Nico Hulkenberg, Fernando Alonso, and Oscar Piastri.
After the session, Gasly was handed grid penalties for blocking that move him back six grid positions.
All eyes now turn to the main race, where the drama of qualifying sets the stage for a thrilling Spanish Grand Prix. With Verstappen's impressive form, Hamilton's need for damage control, and Leclerc's redemption bid, we're set for an interesting race.