JULY 10, 2010
McLaren's trials and tribulations at Silverstone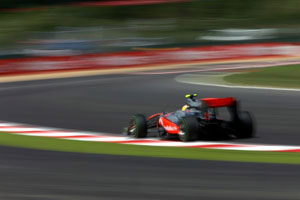 © The Cahier Archive
McLaren gave an insight into the fierceness of the development battle that is Formula 1 when it explained the time and effort that had translated into fourth and 14th places on the British Grand Prix grid for home heroes Jenson Button and Lewis Hamilton.
The team had originally scheduled the introduction of a blown diffuser at the German GP in two weeks time, but brought that forward in an attempt to protect its championship lead after four strong races. After difficulties on Friday, however, they had test and reserve driver Gary Paffett go back to the Woking factory with engineering support and conduct back-to-back tests in the simulator until midnight!
Paffett explained: "After Friday, which was more difficult than we expected, we decided we'd go back to Woking and try to figure out some of the problems and try to fix them for qualifying and the race. We first tried to dial the car into what we thought it was like here, got data from the circuit and tried to get a car that was representative.
"The first task was to try to back-to-back the new blown diffuser floor and the old floor to decide which one we would race for the weekend and once we'd decided that, go about working on the set-up. All the pre-race tests we'd done had been on the new floor, so we had to re-test all the components to try and develop a good set-up for Saturday. We arrived at Woking just after 5pm and left at about 11.45pm."
How had the two floor versions compared?
"When you are on the throttle with a blown floor obviously you get a lot of downforce and so there are differences in corner entry and corner exits," Paffett explained. "The pre-race simulations said the blown floor would give us a lot better performance but we didn't get all that performance yesterday."
Team principal Martin Whitmarsh, meanwhile, explained some of the detail behind the problems the team faced in Friday practice at Silverstone.
"We learned things about the durability and obviously if you put the rear parts of bodywork in 600 degrees of exhaust gas, you can expect some problems, and we experienced them. We had to do running repairs on the floor during the course of the day. I don't know how badly that hindered us but it certainly didn't help. If you looked at the back of the car it was relatively armour-plated by the end of the day and I suspect in critical airflow areas, that didn't help. Also, we learned a few things about the shape of the exhaust plume and the need to optimise the floor around that.
"The drivers experienced more grip (through the additional downforce of the exhaust gases blowing through the diffuser under power) under high throttle conditions and that was a positive, but as you go onto the brakes your foot is off the throttle and you've closed down that gas supply to the diffuser and the floor. In that condition the new floor was worse.
"It's probably not fun for the drivers to arrive at some of those high speed Silverstone corners without real confidence in the back end of the car. We learned a lot, it was a risk, we took it and I don't regret that. But it put both of our drivers on the back foot and we had to do very quick homework in Saturday practice, aided by Gary's efforts last night. I think both drivers did a great job.
"We're disappointed for Jenson but on that Q2 second lap he was just about matching Lewis until Turn 11 but lost time there. Maybe we hadn't had enough experience on the option tyre and we'll spend some time trying to understand that and make sure it doesn't happen in the race."
Hamilton, meanwhile, was unusually ecstatic about a qualifying lap that put him fourth on the grid, rating it perhaps the best lap he has done in F1.
"It's just a personal feeling," he explained. "To do the out lap, then have one lap to nail it... I've had many great laps, like the one in Montreal but this is a different circuit demanding different skills and with the wind direction and the high speeds it's about accuracy more than other circuits. It's one of those where you want to push and get as much from a corner as possible and sometimes you overshoot it. It's very difficult through Becketts to get the line perfect but that lap just seemed to come together. Usually at the end of a lap you know where you might have found an extra tenth, but I can honestly say I don't think there was anything left in my car. It was just a great feeling and with the package we had, I think I achieved the optimum."
Button, jinxed at Silverstone it seems, said: "I'm very disappointed because I love driving round here. This morning we had a lot of work on because everything had changed but I thought we went through the programme very well with both cars and I was very happy with the balance. We didn't actually change anything going into qualifying because I was happy but as soon as I got into qualifying I just had very low rear grip. I had to dial out a lot of front end, which means taking a lot of front wing out and locking up the diff, and I don't know where the grip went. It felt like I had less downforce but I don't know why. Maybe the conditions changed but we'll also have to have a close look at the car."
It was always going to be a big task to carry the battle to Red Bull at a downforce track like Silverstone, but McLaren was brave enough to try. Hamilton has now got himself back into a position to challenge for a podium and carry out a degree of damage limitation, while Button will be faced with using McLaren's F-duct to full advantage in the quest of scoring meaningful points from 14th.
Other stories for JULY 10, 2010