JULY 10, 2010
British aces floored at Silverstone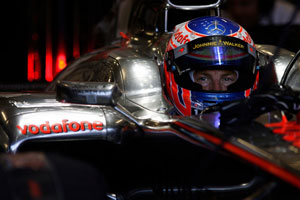 © The Cahier Archive
After a difficult start to its British Grand Prix, McLaren has elected not to run its blown diffuser for the rest of the Silverstone weekend.
The decision highlights the difficulty of introducing new components at a race weekend under the latest F1 regulations, which ban between-race testing. McLaren had hoped that the blown diffuser -- which aims to increase downforce from the car's aerodynamic rear underbody by blowing the exhaust gases through it -- would close the performance gap to Red Bull.
Lewis Hamilton, however, finished the opening practice day at Silverstone eighth fastest after a couple of off-track excursions, 1.5s behind Mark Webber's pace-setting Red Bull RB6, with team mate Jenson Button down in 13th place, 2s off the pace.
"Our day was a little trickier than we'd expected," Button said. "I couldn't get a set-up with the new package. There's still a lot of work to do, and we're not where we want to be with the balance yet. As always the Red Bulls look very fast and it's going to be tough to challenge them. So we've just got to hope we make a good step forward overnight."
That step comprised reverting the MP4-25s to original specification. McLaren mechanics had worked into the early hours of Friday morning to get the blown diffuser package ready, with parts still arriving at the circuit at 1.30am, but 24hrs later they were up late again converting the cars back as the team adopts a damage limitation approach to the weekend in the hope of protecting its narrow lead in both the drivers' and constructors' championships.
Using the exhaust gases to supplement air flow through the diffuser can lead to balance issues as the amount of downforce varies with the degree of throttle applied, which can upset the handling and is difficult for drivers to become accustomed to, especially without the benefits of testing. There are also heat issues to contend with, as Mercedes experienced when it had to remove some and insulate other aerodynamic components on debuting their blown diffuser in Valencia.
Other stories for JULY 10, 2010