British GP 2010
JULY 10, 2010
Qualifying Report - Red Bull dominates Silverstone qualifying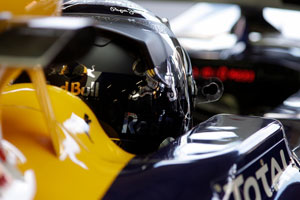 © The Cahier Archive
Red Bull Racing topped qualifying for the British Grand Prix with Sebastian Vettel (1:29.615) taking a fifth 2010 and 10th career pole after lapping 0.14s faster than team mate Mark Webber (1:29.758).
"We have a lot of races, then we come here to Silverstone and do the first couple of laps on Friday and it's just unbelievable here, the corner combinations," Vettel said. "It's so much fun, the speeds we reach are a bit crazy, but great! The new section is also great but I really like this track as a whole and our car always works well here. I wasn't perfectly happy in Q2 and was pushing a bit too much, so was a bit more conservative in Q3 but still pushing, obviously."
Vettel played down the front wing problem that affected him in the final practice session but it seems that the wing was decisive to the outcome of Silverstone qualifying. After Vettel damaged his new configuration front wing in the practice failure, it seems that Red Bull gave Webber's new spec wing to Vettel for qualifying.
"The front wing problem happened suddenly going out of Club approaching Abbey and I didn't really know what happened, just felt something was wrong. Fortunately we continued with the same kind of wing (which is new at Silverstone) and I think it was key for this afternoon. I hope we can repeat last year's story tomorrow!"
Webber, for the second successive Silverstone, was beaten by his team mate despite looking faster throughout the weekend. The Australian, post-qualifying, did not wear the demeanour of a happy man.
Asked to comment, Webber said pointedly: "I think the team is happy with the result today...."
Fernando Alonso (1:30.426) has looked the closest challenger to the Red Bull pair throughout the meeting but in the final analysis the best the Spaniard could manage was 0.81s away from the scorching pace of the Red Bull twins.
"We have improved the car no doubt," said Alonso. "We are performing better now. We had strong races in Canada and Valencia but we didn't score the points we wanted but we are competitive here and hopefully we will do tomorrow."
Lewis Hamilton (1:30.556) did an admirable job to pick up the McLaren by the scruff of the neck and haul it round to fourth fastest time, just 0.13s behind old foe Alonso. McLaren has had its back to the wall since abandoning its new blown diffuser overnight. World champion Jenson Button was more than half a second slower than Hamilton in Q2 and did not make it through to the Q3 top 10 shoot-out, meaning he starts his home Grand Prix 14th on the grid.
Nico Rosberg (1:30.625) put the first Mercedes fifth on the grid, ahead of Robert Kubica's Renault (1:31.040), Felipe Massa's Ferrari (1:31.172) and Rubens Barrichello's Williams (1:31.175). Pedro de la Rosa (1:31.274) did a great job to put the first of the Saubers ninth, ahead of the Mercedes of seven times champion Michael Schumacher (1:31.430).